The New Female Attorney General of New York Just Filed a Lawsuit Against Donald Trump—and Ivanka, Too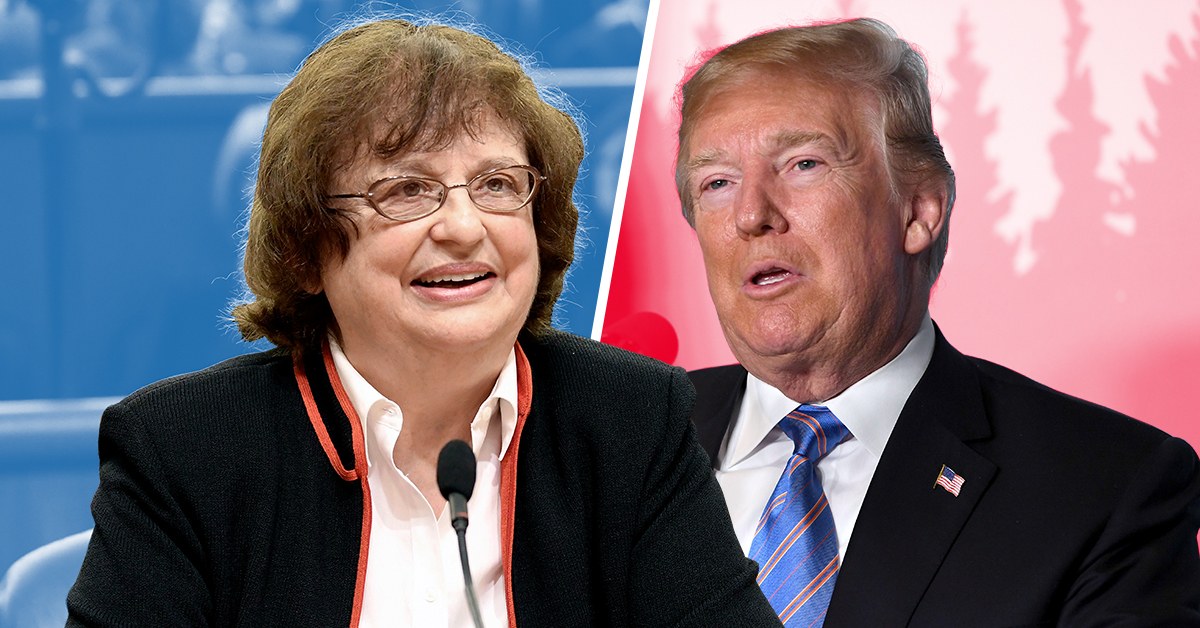 Barbara Underwood, New York state's new Attorney General, filed a lawsuit this morning against President Donald Trump and three of his children—Ivanka, Don Jr., and Eric—alleging "persistently illegal conduct" connected to the Donald J. Trump Foundation. (Underwood assumed her role after Eric Schneiderman resigned following accusations of physical abuse by four women.)
Underwood has asked a court to dissolve the foundation and have its remaining assets distributed to other charities. She also wants Trump to pay $2.8 million in restitution and penalties.
"As our investigation reveals, the Trump Foundation was little more than a checkbook for payments from Mr. Trump or his businesses to nonprofits, regardless of their purpose or legality," Underwood said in a statement. "This is not how private foundations should function and my office intends to hold the foundation accountable for its misuse of charitable assets."
She also said that she has notified the IRS and the Federal Election Commission about "possible violations" of tax law and federal campaign law.
For example, in 2007, he settled a dispute with the town of Palm Beach over code violations at Trump's Mar-a-Lago Club. The town agreed to waive outstanding fines if Mar-a-Lago gave $100,000 to a charity. Instead, the money came from the foundation, as authorized by Trump himself.
The case also claims that the Foundation engaged in "unlawful political activity" in 2013 by cutting a $25,000 check to support the re-election of Republican Florida Attorney General Pam Bondi (R). At the time, Bondi's office was considering whether to join an ongoing lawsuit by then NY AG Schneiderman alleging Trump had defrauded students at his now-defunct "Trump University."
The suit accuses Trump of exploiting and misusing the Foundation to burnish his image during his run for president. It specifically says the charity broke rules against political activity by getting involved in an Iowa fundraiser for veterans that Trump held in 2016 instead of attending a Republican primary debate.
The three eldest Trump children are also named in the lawsuit because they have served as board members for years and as such are supposed to examine the allocation of funds to make sure they are not being misused. However, the suit states that this did not happen and that the board has actually not met since 1999.
Underwood is asking the court to bar Trump from serving as an officer of any New York charity or raising money for one for 10 years and to keep his three children from serving on non-profits or soliciting donations for them for one year. This could affect, for example, the Ivanka M. Trump Charitable Foundation which the First Daughter set up last year.
The Trumps have been frequent targets of accusations surrounding the use of the platform of the presidency for personal gain. The New York suit comes immediately after Ivanka Trump and her husband, Jared Kushner, both senior White House advisors, filed disclosure papers showing they pulled in at least $82 million in income in 2017.
Trump has already fired off two tweets about the suit calling the New York Democrats "sleazy," honing in on Schneiderman (who did not, in fact, file the suit), and stating that he will not settle the case.
https://twitter.com/realDonaldTrump/status/1007278788009480192
https://twitter.com/realDonaldTrump/status/1007278825661784064
And the Trump Foundation released a statement that says, in part: "This is politics at its very worst. The Foundation has donated over $19 million to worthy charitable causes—more than it even received. The President himself—or through his companies—has contributed more than $8 million…The prior NYAG, who was recently forced to resign from office in disgrace, made it his stated mission to use this matter to not only advance his own political goals, but also for his own political fundraising. The acting NYAG's recent statement that battling the White House is 'the most important work (she) have ever done' shows that such political attacks will continue unabated."
https://twitter.com/fahrenthold/status/1007288047027843072?s=21
Ivanka, Don Jr., and Eric have yet to comment.