Here's Everything We Know About Harry and Meghan's Second Royal Wedding Reception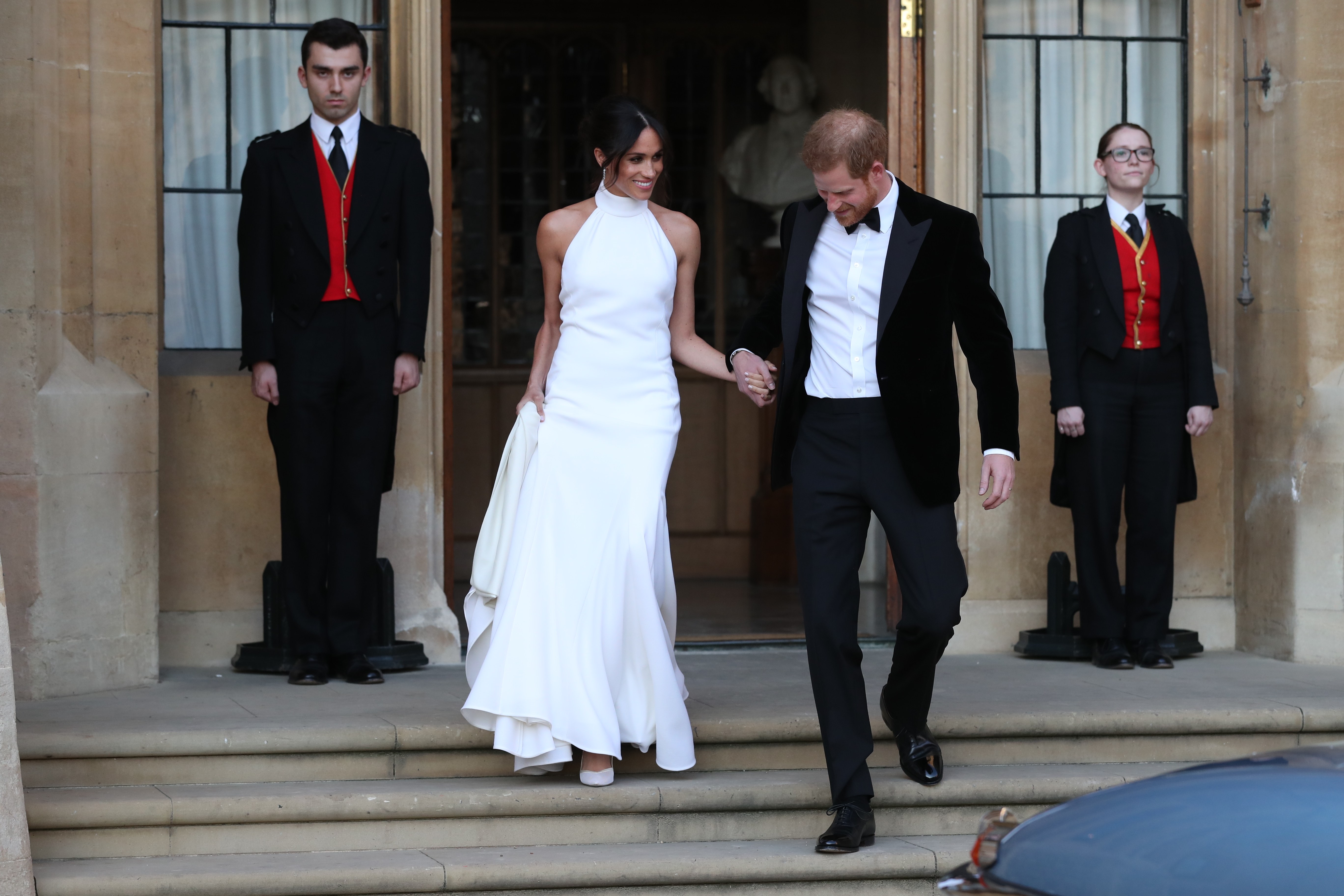 The royal wedding ceremony was, as to be expected, simply stunning—that gown! the vows! the kiss!—and as soon as the carriage ride through Windsor was over, the 600 wedding guests and newlyweds gathered for the first reception of the day, which was hosted by the Queen.
Afterward, Meghan reappeared for the cameras changed into a sleek Stella McCartney gown—Harry in a tux—and the couple decamped in a vintage Jaguar to Frogmore House for their evening reception. This reception, hosted by Harry's "pa" Prince Charles, saw a relatively small 250 people gathered at a royal retreat on the Windsor Castle grounds for what sounds like an incredible evening. The doors were closed to paparazzi and anyone not on the guest list—but here's what we know so far.
Obsessed with the royals? Same. Click here to get Meghan Markle updates—and more—from our daily newsletter.
The venue was one-of-a-kind.
Tucked inside 33 acres of Windsor Castle's private grounds—where Harry and Meghan picnicked when they first started dating—is Frogmore House, a 17th-century residence where the reception was hosted. Outside? A glass marquee which was rumored to be custom-built and thought to have cost £300,000, or more than $400,000.
There was a surprise host.
Prince Charles technically threw the bash, but the event was hosted—in a total surprise—host by James Corden, he of Carpool Karaoke and the Late Late Show.
They had a cute bus to take guests to the reception.
Guests staying at the Coworth Park Hotel in Ascot hopped on a double-decker bus to be transported to Frogmore around 7:15 P.M. Other guests came in their own cars, larger buses, and minivans. Princesses Beatrice and Eugenie rolled up in a Bentley around 7:30.
However, the carefully coordinated plans weren't without some snags: According to The Sun, George Clooney, who pulled up in a silver Audi, was apparently "delayed by cops" before heading into the reception. "The Hollywood A-lister was seen in an animated discussion with security guards for 10 minutes at the Frogmore House after-party on Saturday," it reported. (The policeman, however, reportedly had a big smile on his face, so all signs point to a friendly fan interaction.)
Photographs might be hard to come by.
According to ET Online, it's likely that guests were asked to surrender their phones upon arrival—meaning that what happens at a royal wedding reception stays at a royal evening reception. Will and Kate asked their guests to do the same, and to date, nothing's surfaced.
Of course, this means that the evening reception will be where all the fun really happens. At least we have this glimpse of Meghan and Harry driving off in their (gorgeous) Jag:
https://twitter.com/KensingtonRoyal/status/997910298601410560
Meghan Markle made a speech.
Royal expert Katie Nicholl told ET Online that Meghan would make her first speech as the Duchess of Sussex at the evening reception.
According to the Daily Mail, Meghan thanked the royal family for welcoming her into the family.
So did Prince William—well, his was more of a roast.
William and Harry had shared some adorable brotherly moments walking up to the church and waiting for Meghan, but William apparently really shone at the evening reception. A roast of the groom by his best man is pretty par for the course at British weddings, and according to the Daily Mail, Will got a bit "naughty." Oh, to be a fly on that wall.
The music was relatable—to a degree.
The couple, who reportedly took a lot of care choosing the music for their second, apparently got down on the dance floor to house music (Harry's favorite, according to The Sun). Apparently the playlist was whipped up by Sam Totolee, who also performed at Pippa Middleton's wedding last year. Sounds fair enough—but then Elton John sat down to the piano again. Incredible.
The food sounds amazing and totally down-to-earth.
According to British tabloid The Sun, guests at the wedding at some pretty great food. According to the Daily Mail's sources, guests sat down to "spring meets summer"-themed canapes and an an organic dinner lasting from 7:30 until 10.
There was more to come, too: After a long day (and after a few drinks), who wouldn't want to tuck into "dirty burgers" as a midnight snack? Candy floss—that's cotton candy to us Yanks—was also on hand for those wanting something sweet as the clock struck 12.
Their signature cocktail is adorable—and the rest of the drinks sound pretty great, too.
According to The Sun, the couple concocted a cocktail called "When Harry Met Meghan." The base was rum, and ginger (yep, apparently in a nod to the Duke of Sussex's hair) was also featured.
If you weren't keen on the signature cocktail, there was a "drinks of the world"-themed bar, according to the Daily Mail.
Fireworks rounded off the night.
Did we expect anything less from a royal wedding?
The royal newlyweds didn't have to worry about driving home.
According to Sky News, the couple and Royal Family spent their first night there, but guests were funneled out of an exit photographers didn't have access to.
But the party didn't end there.
Apparently a few guests headed out of the castle and into the big city for an after-after party, beginning around 1 A.M., at Chiltern Firehouse in the posh London neighborhood of Marylebone. According to the Daily Mail, there was another party in the works too—at a soundproofed private house in the equally-fancy neighborhood of Chelsea.
Related Stories:
Here's What It Was Actually Like to Attend the Royal Wedding
4 Times Prince Harry Made Us Swoon at the (Well, His) Royal Wedding
All the Little Ways Harry and Meghan Paid Tribute to Diana During Their Royal Wedding