'It's renewed my faith': Tumbling community unites for Grande Prairie family that lost home to fire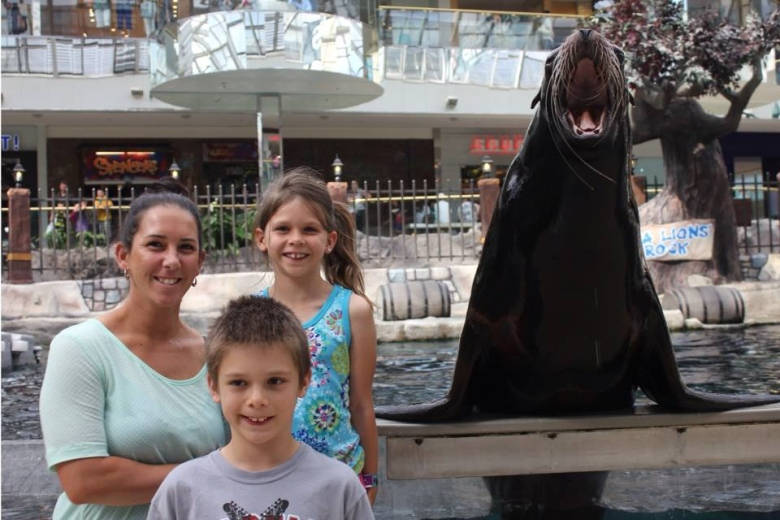 Allison Lockhart and her family lost everything when a fire gutted their home earlier this week in Grande Prairie, Alta.
The Tuesday blaze destroyed the Cobblestone neighbourhood house that she rented with her partner and two children, killing three pets trapped inside.
Lockhart recalled she stood on the street with her family that afternoon, stunned, and watched as their home burned.
"We literally left the fire with the clothes on our back," Lockhart said. "We had nothing left."
But she said her family has since gained back more than it lost, thanks to the overwhelming support of their community.
Lockhart and her two teenage children, Aaen and Katie, are active members of Grande Prairie's tumbling and gymnastics community. Together they coach, volunteer and train at three different gyms in the city.
Within hours of the fire, families from the various gyms launched clothing drives, furniture drives and two online fundraisers.
Allison Lockhart and her children Katie and Aaen, pictured here in 2013, are active members of Grande Prairie's gymnastics and tumbling community. (Supplied/Allison Lockhart)
Lockhart, who did not have renter's insurance, said the donations will allow her family to start fresh in Grande Prairie.
"I didn't see a future and now I do and it's because of the generosity of this community," she said.
"It gets better every moment that passes, and every phone call, and every text message … It's amazing, the amount of people that just came together for us."
Allison Lockhart, pictured here in 2016, is a popular gymnastics coach in Grande Prairie. (Supplied/Allison Lockhart)
The Red Cross helped her family find a hotel room for the days following the fire. Boardwalk Rental Communities then offered a longer-term solution, with a free one-month stay at one of their townhouses.
Lockhart, who works three jobs in Grande Prairie, said her employers also stepped up with gift cards and paid leave.
"It's renewed my faith in the world, this is a good place to live," Lockhart said. "If anyone, anywhere doubts the good in the world, they can give me a call because it's there and it's there in multitudes."
Members of Adrenaline Athletics, The Jump Yard and Gymniks All Star Cheerleading are also organizing a fundraiser for the family.
The Jump Yard, a trampoline gym where Lockhart works as a tumbling instructor, will host the community event on May 27.
"I just want Allison to know that she has support and that people around her do love and care for her," said Melanie Bell-Fournier, the gym manager.
"We're very fortunate to live in a community where we do come together for one another … Knowing that they're a good family has made people want to return that good fortune to them."
Melanie Bell-Fournier, manager at The Jump Yard, says Allison Lockhart is extremely popular with the children she teaches at the gym. (Zoe Todd/CBC)
​Lockhart said the sudden outpouring of support caused her to shed as many happy tears as sad ones over the past week.
Once her family recovers from the fire, she said they plan to give back to each of the charities and organizations that helped them along the way.
"I can't explain it in words, the feeling that you get when so many people just care about you," Lockhart said.
"I must have lived my life in the right way for this amount of people to just care about me this much and my family."