Not All Bodies Are Exactly the Same—This New Plus-Size Fashion Brand Gets It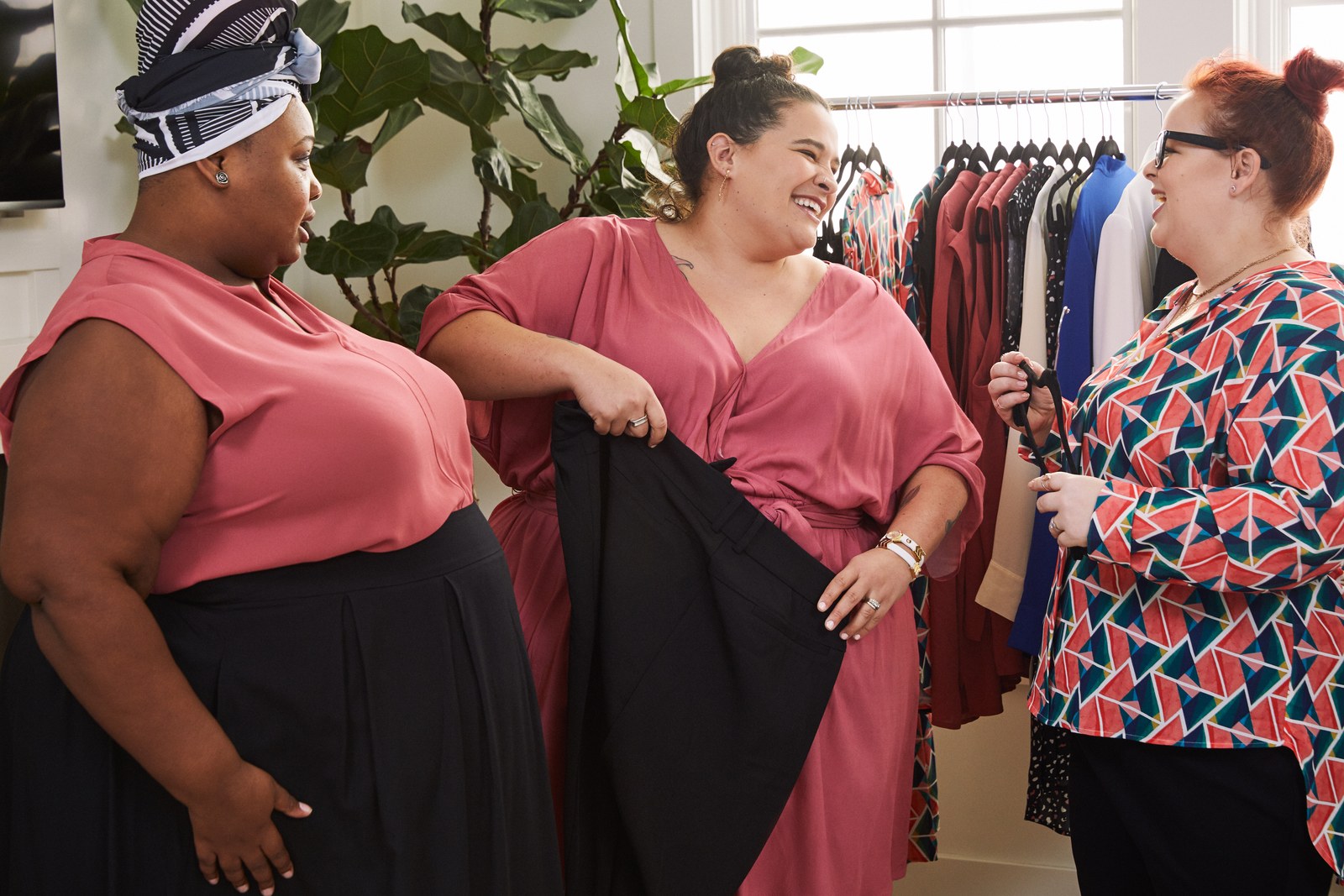 If you're a plus-size shopper, you know the frustration that comes from brands taking straight-size clothing, making it larger, and assuming it'll fit the same. This practice (which is still, unfortunately, common) doesn't take into account how the body changes when weight is added, how a silhouette might need to be readjusted for different body types, how hemlines might need to be longer. Even with more options on the mass market than ever before for sizes 18 and up, it can be difficult to know if the number on the tag will actually work for your body. That's precisely why fashion blogger Lauren Jonas felt the need to start her own brand.
"It always felt to me that clothing should fit us as we are, not that we should fit clothing as it comes," she tells Glamour about Part and Parcel, a new plus-size women's wear brand that drops on May 14. Designing for a plus body, after all, is slightly more complicated than a size small or medium: Three women who all wear a size 18 might carry their weight differently—how can clothing fit correctly with so many variations? Jonas thinks she has the key.
Part and Parcel's distinguishing feature is something Jonas calls dimensional sizing. It's an approach that's closer to custom, made-to-measure clothing than you normally see at an affordable price point. (Everything at Part and Parcel is under $150.) For each apparel item, the customer is given the choice between two fits on the bust, biceps, and waist; for shoes, coming this fall, they get three options. An online brand representatives assists in real time, helping them pick the best option.
Jonas began working on this concept in 2017, when she started a Kickstarter campaign to design a better wide-calf boot for plus-size shoppers, allowing backers to pick from a range of calf measurements. It took off, so over the next eight months, she began gathering groups of people in her target demographic to really flesh out the concept. Where did dimensional sizing need more fit variations? How could they offer a range of fits at an affordable cost point? From those conversations, one thing was clear: Men have been able to shop dimensionally forever with varying neck, arm, and inseam measurements (and pretty affordably, Jonas adds), but it was time women got the same options.
In recent years different made-to-measure brands have gone about a similar route of bringing that menswear approach to women's. Sene, for instance, tackles modern silhouettes, whereas Careste focuses on blouses. There haven't been any efforts specifically for the traditionally underserved plus-size community. With that in mind, Part and Parcel debuts with an easy, versatile range of pieces, which make it easy to bring dimensional sizing to a wider audience—blouses, pants, blazers, skirts, dresses, and more. The question becomes: Could this be the next great innovation in the plus industry?
All of Part and Parcel's clothing is available in sizes 14 through 36. "It was a huge, huge, huge priority to me not only that we offer past a [size] 24, past a 30, and up to a 36, but that it be fitted and graded in a way that made sense," Jonas says. "Not just fitted on a size 18 and then [scaled] upward, but fit every two sizes so that it's really, genuinely tailored to [every size]."
"We're very focused on serving her as a human being, and not only putting clothing on her body or shoes on her feet, but serving her soul," she continues. "This is our community and this is our woman, and we're most proud to be plus exclusive and to create that plus-to-plus community beyond the product."