Trump Bragged About His 'Accomplishments' and the U.N. General Assembly Cracked Up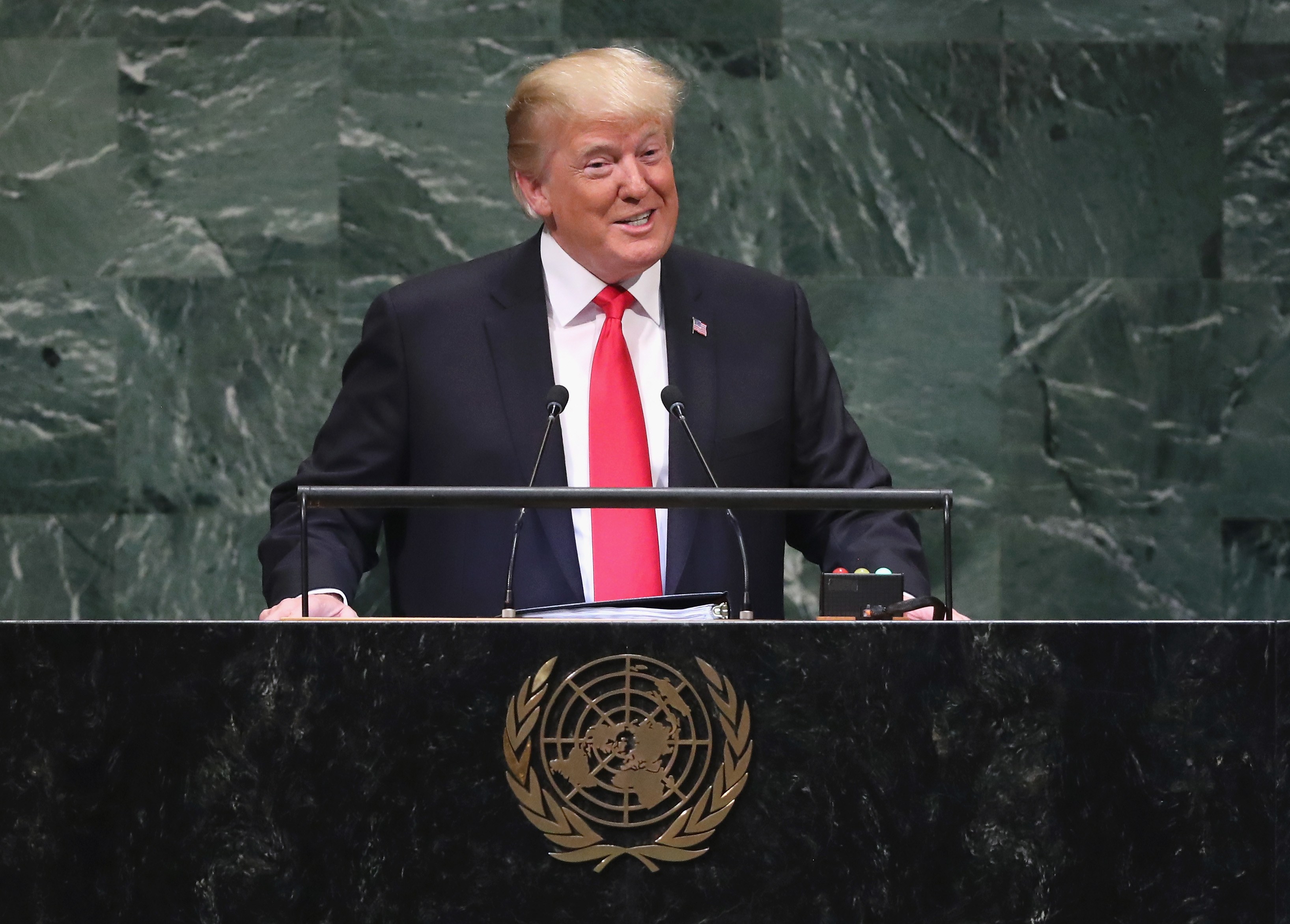 The United Nations General Assembly isn't known for being an especially jubilant bunch, but they couldn't help cracking up during Tuesday morning's session.
The laughter was prompted not by a visiting comedian, nor by a scroll through Chrissy Teigen's latest clapbacks, but rather by one Donald J. Trump. As seen in NBC News's video of the moment in question, President Trump was boasting about what he claimed were the many "accomplishments" of his administration when those present at the United Nations Headquarters in New York City — mostly world leaders and delegates — couldn't hold it in any longer.
"In less than two years, my administration has accomplished more than almost any administration in the history of our country," Trump said. As he began another sentence, he cut himself off to confirm his own brag, grinning at someone in the audience and saying, "So true." It was at this point that the assembly lost its composure, breaking into a low rumble of laughter that continued as Trump paused, evidently waiting for it to stop, with a confused smile on his face. After a chuckle of his own, he quipped, "Didn't expect that reaction, but that's OK," which prompted even louder laughter from the crowd.
According to CBS News, the giggles did die down long enough for Trump to complete his thought. He referenced job growth, tax cuts, and his crackdown on border security as evidence of the aforementioned "accomplishments," concluding, "In other words, the United States is stronger, safer and a richer country than it was when I assumed office less than two years ago."
Additionally, that boastful moment wasn't the only one that had the U.N. laughing. Per CBS, later in Trump's speech, the German delegation lost it when the POTUS claimed that "Germany will become totally dependent on Russian energy if it does not immediately change course."
As has now become commonplace, people have already dug up an old Trump tweet that perfectly contradicts his latest words and actions. Politico reports that in 2014, Trump tweeted, "We need a President who isn't a laughing stock to the entire World." The U.N. General Assembly may not be the entire world, but it is a pretty good representative sample.
https://twitter.com/realDonaldTrump/status/498008486551506945
Related: Congresswoman Maxine Waters Corrects President Trump's Tweets