This Video of Prince Harry Singing a *Hamilton* Song Will Royally Make Your Day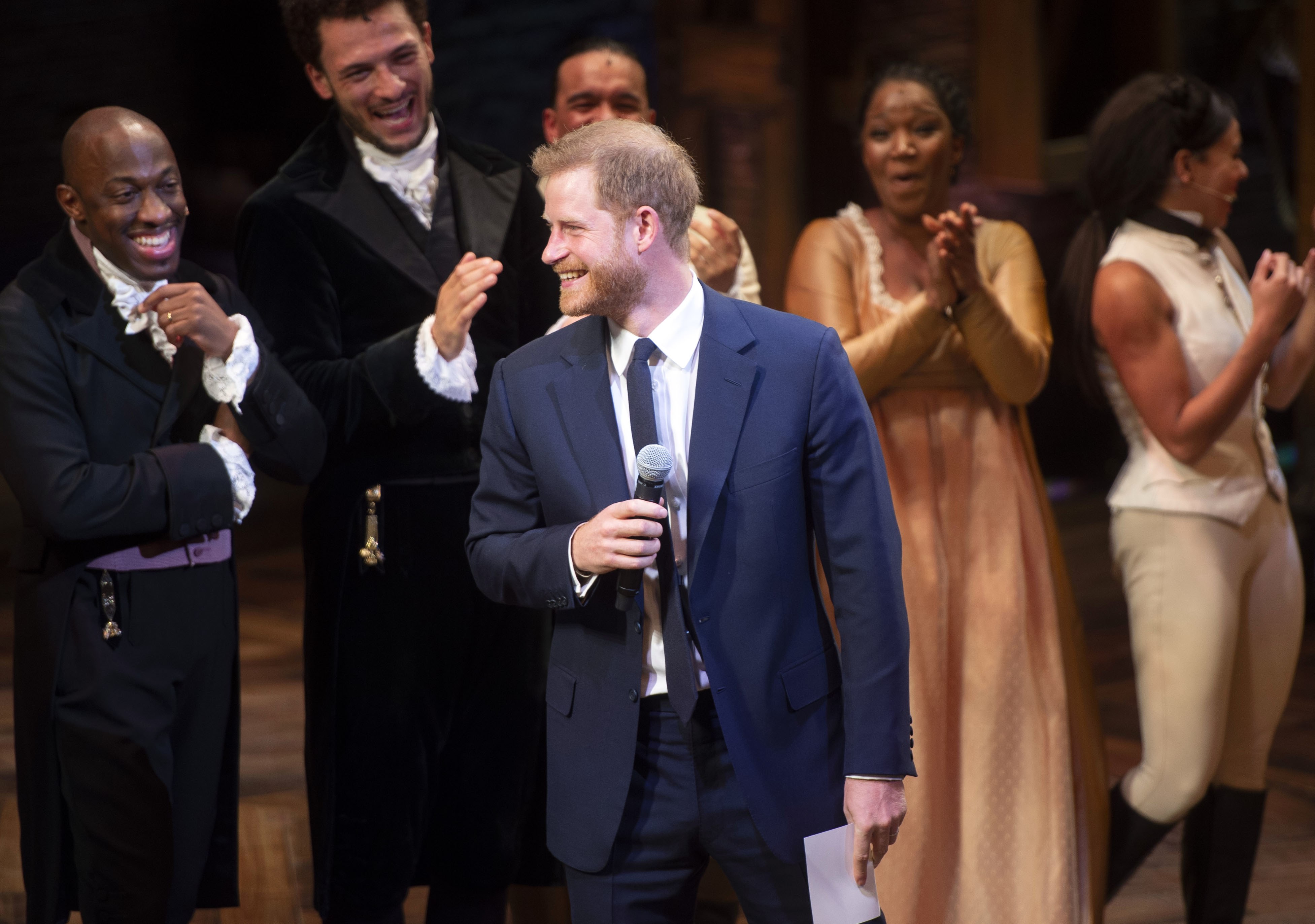 Prince Harry and Meghan Markle were able to loosen up a bit on Wednesday night (August 29) while taking in a performance of Hamilton alongside Lin-Manuel Miranda, who created the Tony Award-winning show. Hamilton, of course, is the critically acclaimed Broadway musical that premiered three years ago (and still costs your college tuition to see). It's now getting more accessible for people — and by default, royals! — to see it, as it's now playing in London, Washington, D.C., Chicago, and Los Angeles. Prince Harry, in particular, showed his Hamil-spirit by belting out King George's showstopper "You'll Be Back" when the show ended. (Adding another layer of hilarity, King George is Prince Harry's great-great-great-great-great-great-grandfather.)
"We saw it back in January, February and thought it was incredible," Markle told one of the actors after the show, per People. "Harry loved it, it was the first time he saw it, and now he can't stop singing the songs! We could just feel the energy. It was so engaging." Added the prince, backstage to another actor: "The first time round [I saw the show] I was laughing so much. Just fantastic." Still don't believe us on the singing part? Watch the below video, captured by an audience member.
https://twitter.com/byEmilyAndrews/status/1034934531151855618
As People notes, while the couple's first visit to see the musical together earlier this year was just a social engagement, this time, the performance served as a fundraiser for Prince Harry's Sentebale charity, which raises money for youth empowerment and HIV awareness in Southern Africa. "A round of applause to yourself for taking part of this evening's activities, because together you've raised a huge amount of money for the children in Botswana," he explained in the video, before acknowledging the actors. "I don't know how you guys do this every single night, over and over again, and in this heat as well."
Unsurprisingly, the evening turned out to be a rousing success. "We knew Harry and Meghan had been to the show almost secretly, although a cast member tweeted it, and loved it," the charity's chairman explained to People. "Harry and Meghan love the show. This is the third time that Meghan has seen it. They were very involved in the event; we chatted about it and they were so excited about doing it." As for the cast, they clearly relished the opportunity to be in the presence of the royals — Prince Harry even joked with them about how much the king's crown weighed! (It's heavy.)
https://twitter.com/TarinnCallender/status/1034967348267114496
Maybe they'll be back another time.
Related Stories:
Meghan Markle Went to See Hamilton in a Stunning Tuxedo Dress
Meghan Markle and Prince Harry Have Reportedly Welcomed a New Addition to Their Family