It's Not Just Confederate Monuments—all Statues of Problematic Men Must Go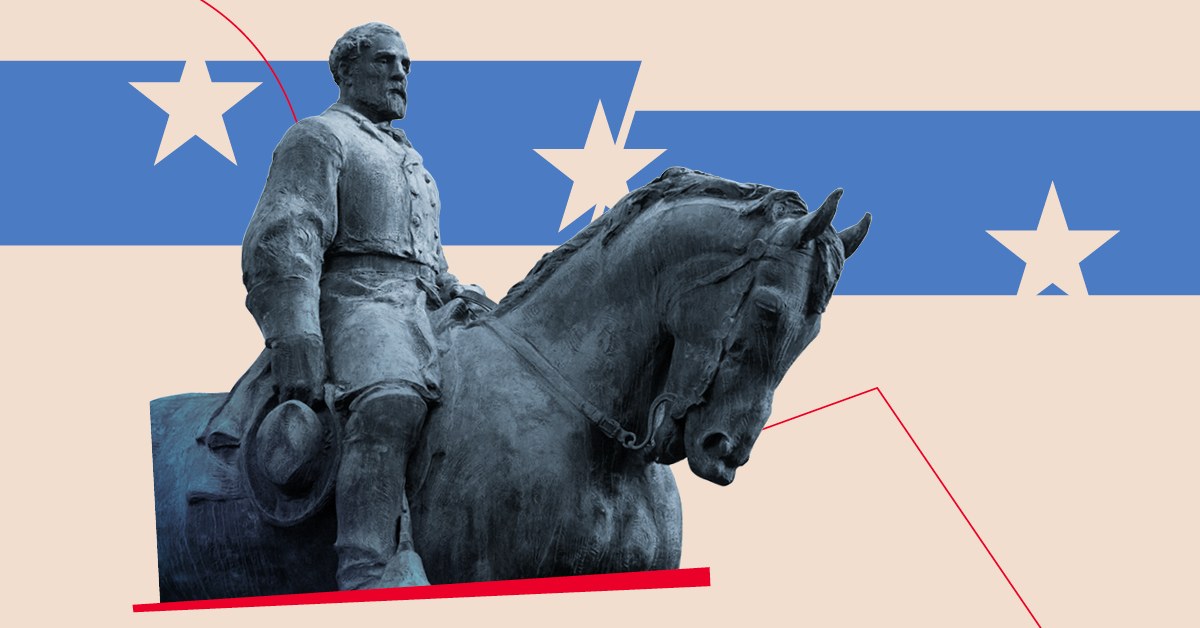 The death of Heather Heyer, the brutal beating of DeAndre Harris and the shatter of Marcus Martin's lower leg as he pushed then-fiancée Marissa Blair from the path of James Alex Fields's Dodge Charger weren't enough to stop another white supremacist rally from taking place exactly a year after the violent Unite the Right rally in Charlottesville, Virginia.
On Sunday, the world will watch as right-wing groups, white nationalists and neo-Nazis observe the anniversary of a deadly day in history—this time in Washington D.C.—that marked a turning point in national dialogue about Confederate monuments and racism. The groups rallied on Aug. 12, 2017 to protest Charlottesville City Council's vote to take down a monument of Confederate General Robert E. Lee, which a 2016 petition demanded be removed from one of Charlottesville's parks. That petition was written by Zyahna Bryant, a Charlottesville High School rising senior with serious eyes and a quick wit that sliced through the rapid rhythm of her words. Bryant was just 16 when she penned the petition, inspired after watching human rights activist and artist Bree Newsome snatch the Confederate flag from atop a pole on the South Carolina statehouse grounds in June 2015. "This flag comes down today!" Newsome shouted, clad in all black, dark brown dreads swinging beneath a helmet.
"It blew my mind," says Bryant.
Many who are taking to the streets for the Unite the Right Rally 2 would argue that there's no harm in keeping these symbols. But when is a statue more than a statue? At this moment in America's present reality, we question: Are monuments to men who rebelled against their mother country to preserve the institution of slavery appropriate in public spaces? How can a flag marked with stars and bars be a visceral symbol of shame to some, and pride to others? Women—like Newsome and Bryant, of different ages and heritages and in every quadrant of the country—are galvanizing efforts to remove, contextualize and understand these symbols of who we were to help us determine who we are. But for all that we lost in Charlottesville, we gained something else too; a seismic shift in public consciousness. Women are organizing to confront not just men of the Confederacy, but the problematic figures we've revered who used the tools of patriarchy and power to hurt women and people of color.
The message is clear. Women have had enough of bad men. And they aren't going to let them stand forever.
Bryant's petition helped push Charlottesville into a national conversation about Confederate monuments and their place in American society. "I wasn't the first to talk about the [Lee] statue in Charlottesville," says Bryant, whose petition stated that for her, Lee's monument evoked slavery and called up thoughts of the "physical harm, cruelty, and disenfranchisement" her enslaved ancestors suffered. Her sentiments were shared and keenly felt by many in her community, she says.
"I talked to a lot of elder Black folks [who said] 'This is a problem.' They had been saying that for years."
Women have had enough of bad men. And they aren't going to let them stand forever.
Elsewhere in the country, women lead efforts to examine and contextualize statues of men other than Confederate soldiers, but whose place in history are also hotly debated.
In April, the life-size, metal likeness of man once lauded as the "father of gynecology" was deposed from a Central Park pedestal it had occupied since 1934. Doctor James Marion Sims mastered a method of repairing fistulas—abnormal openings between the vagina and the bladder, uterus or rectum—using enslaved black women as his guinea pigs during years of experimentation. Sims didn't give the women anesthesia; their pain, he himself noted, "was extreme." Sim's unethical work was the bedrock of racist medical practices that persist today, many that result in the rising maternal death rates of black women, who are three to four times more likely to die from pregnancy-related causes than white women. Black women were at the forefront of activism to remove Sims' statue from the Park; Black Youth Project 100 staged a protest last August, where a group of women rallied in front of Sims' statue, their gowns saturated with blood-red paint. They represented Sims' enslaved victims Anarcha, Betsey and Lucy and the other women butchered at the expense of Sims' career.
Melissa Mark-Viverito, Vice President for strategic engagement at Latino Victory, was serving as Speaker of the New York City Council when Sims' statue came down. (She had also advocated for its removal.) The previous years' national dialogue about Confederate monuments "gave us the opportunity in New York to reevaluate who is being revered, who is being honored," says Mark-Viverito.
"My district [New York City's 8th District] is predominantly a community of color," says Mark-Viverito. "[It is] largely Spanish speaking, largely Latina, with a sizable Black demographic." The heritage of Mark-Viverito's constituents, as well as her own as a Puerto Rico-born woman of color, led to her view that Sims' statue had no place in the Big Apple's public domain.
"History is about learning and about awakenings," she says over the phone between meetings. "If we get an accurate portrayal of who [Sims] was, we evolve. [Sims' expertise] was at the expense of women who were enslaved; he used them as objects because he viewed them as his property. Anyone who believes in equity and justice, when they realize what the statue represents, [they realize] it's just not appropriate."
With Sims' statue relocated to the Brooklyn cemetery where he is buried, Mark-Viverito senses an opportunity.
"It's really about being inclusive of indigenous communities, and the contributions that they have made."
"So now the statue has come down, and now the conversation is, what replaces it? It's created an opening to engage in that conversation."
Meanwhile, communities of indigenous people lead calls to rename holidays evoking the name of Christopher Columbus. Though he was indeed a remarkable navigator and explorer, Columbus also led violent campaigns of enslavement and ushered in centuries of abuse and exploitation of native peoples in the Americas by European forces. Indigenous Peoples Day now replaces Columbus Day in at least 55 cities nationwide. In January, the city council of San Jose, California, voted to remove a statue of Columbus from its city hall lobby. Like all other dialogues concerning memorializing controversial historical figures, the decision to boot Columbus from city hall was not an easy one, says council member Sylvia Arenas.
"We went through a process about the statue," says Arenas, citing the concerns of the city's Italian American community which contested removing the statue, believing the action was an affront to their heritage. (Columbus was Italian.)
"It's not in opposition of Italian Americans, or to negate the contributions of Italian Americans," says Arenas. "It's really about being inclusive of indigenous communities, and the contributions that they have made."
Arenas, who says her heritage is Mexican, rarely saw her ancestors' contributions to history reflected in common historical narratives. It was part of the reason she voted "yes" to the Columbus statue's dismissal from city hall.
"As a woman of color, to be able to contribute to this decision of where the statue goes, it gives me the opportunity to correct that narrative about indigenous people here, and to create a new narrative about who we are as Californians and as people. … Everybody wants to find their community's place in history."
But even on the backdrop of a deadly Charlottesville day, it's still difficult to convince protectors of these symbols otherwise.
And, there's proof that the resolve to keep statues standing is strong, particularly of the Confederate type. Last month, the Southern Poverty Law Center reported that 113 Confederate monuments and symbols have been removed from public spaces in various states and cities since 2015, while another 1,740 still stand and more monuments are cropping up. The United Daughters of the Confederacy, a women's group which contributed to the creation of an estimated 450 monuments and commemoratives since its 1894 founding, continues its mission to "protect and preserve" Confederate symbols. When the San Antonio city council voted to remove a Confederate monument from one of the city's parks last year, the local UDC chapter—one of the group's chapters in 33 states—sued the city.
Debates about historically and socially significant symbols will likely keep rolling through the country. Whether the monuments and flags stay up or come down, whether we rename roads and schools to reflect standards of our time instead of the past, it's clear that women enrich this national dialogue. By sharing their diverse perspectives gleaned from a range of identities and life experiences, women play a critical role in contextualizing the ideals and people in American history that we choose to memorialize—and those that we won't.
Samantha Willis is a freelance journalist and co-creator of the #UnmaskingCville and #UnmaskingRVA series, based in Virginia. You can follow her on Twitter @WordsByWillis.
Related Stories:
'We Made It Through': Charlottesville Couple's Marriage Is an Act of Resistance in the Face of Hate
Elizabeth Sines and Leanne Chia Were in Charlottesville When White Supremacists Descended—This Is What They Saw