What It Costs to Be Me: Lynn Le, Founder of Society Nine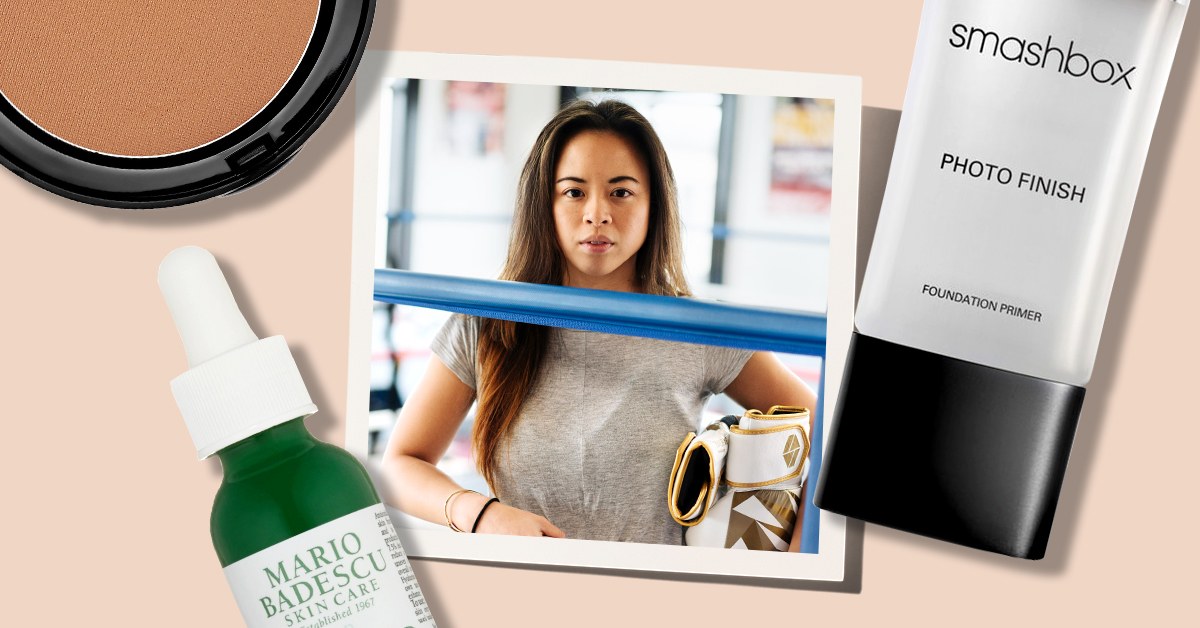 These days it's nearly impossible to know what women are spending on the way they look. Someone with Instagram-flawless contouring might have honed her craft using the finest from the drugstore aisles, and the utterly makeup-free type might be spending thousands on laser treatments or face serums. Enter our series "What It Costs to Be Me," where we're asking interesting women for radical transparency.
Up this week: Lynn Le, 29, founder of women's boxing brand Society Nine, from Portland, OR. Her annual total? $3,929.
My Everyday Makeup: $265
I didn't start wearing makeup until I was 18 years old, so I feel like I'm so new to a lot of beauty tricks and ideas. Even now, I wear very little makeup—I'm proud to embrace what makes me unique. So the products I use are pretty simple. For my face, I love Smashbox's Photofix Primer ($36), MAC's Studio Fix Powder ($30), and Bobbi Brown Bronzer ($44). They're not too cheap, not too expensive—just great staples. I'm also into NYX's Precision Brow Pencil ($10) and Tarte's Skin Twinkle Lighting Palette Vol 2 ($42) for a natural look. If I have to go to a meeting or an event, I'll typically add a few extras to make my makeup stand out slightly more. I'm so sad they discontinued Urban Decay's Naked Smoky Palette ($54)—it's the best for a subtle, smoky eye. That plus a flick of Benefit's They're Real Mascara ($24). And then I'll do a light—very light!—contour with Fenty Beauty's Match Stix ($25). It's not a look you want to overdo.
My Morning Skin Care Musts: $56
My morning skin care routine is very low key, because I tend to get more intensive with skin at night. So all I use are two products: Mario Badescu Vitamin C Serum ($45), which gives your skin an amazing glow, and Alba Botanica Hawaiian Aloe + Green Tea Oil-Free Moisturizer ($11).
My Shower Essentials: $146
I shower every day, but I only wash my hair every three to four days. Not My Mother's Dry Shampoo ($5) is amazing—it makes my third-day hair look super voluminous. Then I'll add a little Goldwell Elixir Versatile Oil Treatment ($23) to my ends if they feel dry. I'm not super picky about shampoo, conditioner, or body wash so long as they hit my list of "free-of" ingredients: they can't contain parabens, SLS, or triclosan. Otherwise, it comes down to smell. I like beachy scents, like seaweed or sea salt. And I'm a sucker for nice packaging. Ulta, Target, and TJ Maxx usually have great options under $10.
For body lotion, I like anything that smells like roses. I am obsessed. My favorite at the moment is Philosophy's Amazing Grace Firming Body Lotion ($39). It's a treat-myself thing. If I feel like splurging, I'll buy the lotion or the perfume ($49).
My Hair Routine: $200
My hair is about as simple as my makeup. I get a haircut once every three or four months—just a simple trim of long layers. As a personal rule, I don't spend any more than $50 on a haircut, which is why I love going to this locally owned chain called Bishops. It's basically a barber shop.
My Evening Skin Care Routine: $142
I don't spend much on skin treatments, mainly because I'm blessed to have pretty healthy skin. But I do tend to put more time into it at night. I use an cleansing brush from Ulta (its Ulta Sonic Advanced Facial Cleansing System, $43) once a week to exfoliate. Otherwise, every night, I use Clinique's Take The Day Off Cleansing Milk ($28)—I like the milky consistency)—Pixi Skintreats Glow Tonic ($15) to tone and gently exfoliate, and if my skin is being mean to me, I'll use CosRx's Advanced Snail Mucin Power Essence ($19) from Korea. Yes, I said snail mucin! It sounds weird, but if my cheeks are red or I'm starting to see unevenness in my skin, I'll put this on, and wake up the next morning without any redness or bumps. It's amazing. Lastly, I tend to bounce between two different moisturizers. Yes To Cucumber Night Cream ($15) is my more affordable favorite. Otherwise Mario Badescu's Seaweed Night Cream ($22) is heavenly. I love that shit.
My Periodic Beauty Musts: $360
My ideal "treat yourself" splurge is getting a massage. Between running around for my business—either in meetings, at the warehouse, or traveling—massages save my life and make me feel like a brand-new person. Usually I'll get a 30-minute one, but if I'm super-sunk, I'll do 60 minutes. There's a great place called Löyly where it only costs between $40 to $75. They also have an awesome massage package that makes it a little bit cheaper. I'll buy a 5-pack, and use it at least once a month. Also, if I'm really overcome with stress, soaking pools are life.
My Wellness Routine: $2,760
My workout philosophy is that there's nothing better than to lift heavy and punch hard. Strength-based training and boxing makes me feel like I can take on the world. I go to various combat sports gyms—boxing, kickboxing, Krav Maga. I usually just do day passes or punch cards ($10 to $20, three times a week), because I like to change it up. I do have a monthly membership to LA Fitness ($35 a month), though, because I can get a full range of weights and lifting equipment, as well as access to boxing heavy bags for cheap.
My Society Nine gloves are always in my gym bag and packed with me in the car, or in my carry-on if I travel—the shattered glass print is to celebrate women who've broken barriers. I want women to feel that every time they throw a punch. We all deserve to feel like Wonder Woman.