The jig is up: no more Highland Games at Fort Edmonton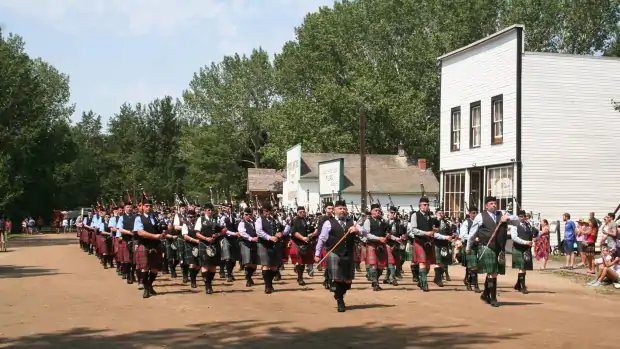 There will be no Highland Games at Fort Edmonton Park this summer after park management deemed the two-day celebration of Scottish culture "not financially viable."
The event, featuring pipes and drums, Highland dancing, the caber toss and other competitions, has been held at the park for the last 28 years.
It had been scheduled for July 14-15, but park management cancelled it earlier this week, said John Stewart, president of the Alberta Society of Pipers and Drummers, one of the groups involved in the games.
"The main cause of our shock and disappointment is the lateness of the cancellation," Stewart said Thursday.
"We've already hired judges that come from out of town, so there's non-refundable plane tickets."
Stewart said he doesn't know how much money people may have lost as a result of the decision.
People who have contacted Fort Edmonton Park to ask about the cancellation have been given various reasons, he said.
"Some people are told the event doesn't fit the criteria, some people are told that it's completely financial," Stewart said.
'Not financially viable'
But in a Facebook post, Fort Edmonton Park said the event was cancelled because it "was not financially viable" and management "could no longer subsidize" it.
"We need to make sound business decisions that are in the best interest of the park," the Facebook post said.
In previous years, the games have attracted 400 to 500 participants from across Alberta and other parts of Canada, Stewart said.
The decision to cancel the games was announced in a letter from Carl Damour, vice-president of operations with Fort Edmonton Management Co., to the group that organizes the event.
The letter has been posted on the Alberta Society of Pipers and Drummers Facebook page.
"We apologize for any inconvenience this may cause you, especially those who have already made travel and accommodation plans," Damour said in the letter.
Stewart said plans are already underway for a new event.
"There will be a Highland Games put on next year in place of this, just not at Fort Edmonton Park," he said.