How to Shop for Bridal Lingerie That Feels Cool, Not Corny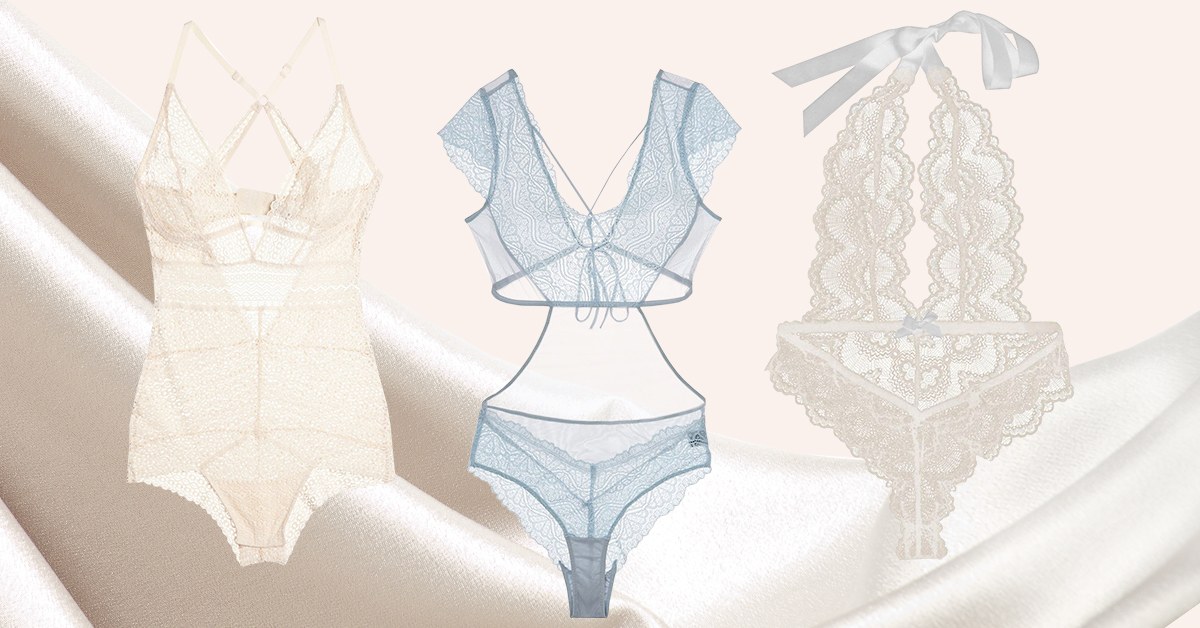 Bridal lingerie can be broken down into two categories: what you wear underneath your wedding day look, and what you change into afterwards.
"Brides are either looking for solution pieces to go under the dress, or for gorgeous sets for the honeymoon and time thereafter," explains Lyn Lewis, CEO of Journelle. The handful of delicates worn before the festivities begin—silk robes, chemises, camis, and so forth—also fall into this category. The way you shop for each of these, though, can be quite different: "As gowns have become less structured, what one wears [underneath] is often nude, very simple, and shaping," says Emily Bendell, founder of Bluebella, differentiating that from the "beautiful, ivory, and lacy" pieces some change into afterwards. "I tell brides to separate out in their minds their dream wedding dress and their dream wedding lingerie," she adds, since usually "one [isn't] worn with the other."
"Bridal lingerie customers are usually very traditional—people really want romance and softness," Helena Stuart of Only Hearts tells Glamour. When it comes to shopping for those special pieces, she applies the same philosophy she uses for everyday undergarments: "Comfort first." Plus, if you're into the idea of bridal lingerie, she recommends buying pieces to be worn over a few days, for a very clever reason—"most brides think only of their wedding night, but often newlyweds are too wiped out to really enjoy it."
This particular type of lingerie isn't one that's necessarily touched by trends. According to Stuart, it's "still very classic and traditional"—though, you'll see designer play with silhouettes and fabrics. ("What I'm enjoying right now is an interest in simpler shapes, cut from quality materials," she adds.) But that's part of what makes it special, argues Sandra Rose, Head of Merchandising, Planning, and Product Development at Journelle: "What makes bridal lingerie so fun is that it's not always subject to the broader trends taking hold in the intimates world. It's all about finding something special for the bride-to-be; something that makes her feel her most beautiful on her special day."
There has been some innovation in bridal lingerie design: Lewis believes it's "getting more modern—we used to see mostly feminine cuts and silhouettes, and there are still many great options options of this ilk, [but] now there are also lingerie pieces in bridal white that are modern or more whimsical."
Customers are looking for alternatives, too. "I feel that people are moving away from traditional silk styles [and] are looking something more fresh, contemporary that suits today's modern woman," notes Ela Onour of Else. "The fabrics are lighter, more comfortable, and the styles enhance natural shapes rather than being padded and heavy." She highlights the rise of longline silhouettes and bodysuits over the traditional strapless bra as an example. The latter in particular is a good option for someone who wants to stray from textbook notions about bridal lingerie, and go for something you can wear in a variety of scenarios—Heidi Zak of ThirdLove suggests "[wearing] it with a skirt for the rehearsal dinner" or "[packing] it for the honeymoon," since it's "equal parts lingerie and layer."
And it might not be a bad idea to think beyond your wedding itinerary while you're shopping for these special pieces—in fact, Bendell encourages brides to think beyond the ceremony and honeymoon because, "if you're treating yourself to beautiful lingerie, choose something you can wear again—[something] romantic and beautiful that doesn't only scream 'bride'."
If you, too, are looking for bridal lingerie that's special and cool, but doesn't feel too precious, check out our picks in the gallery ahead.
We bring you the trends. You make them your own. Sign up for our daily newsletter to find the best fashion for YOU.