Michelle Obama Says She's Tired of Seeing Men 'Fail Up'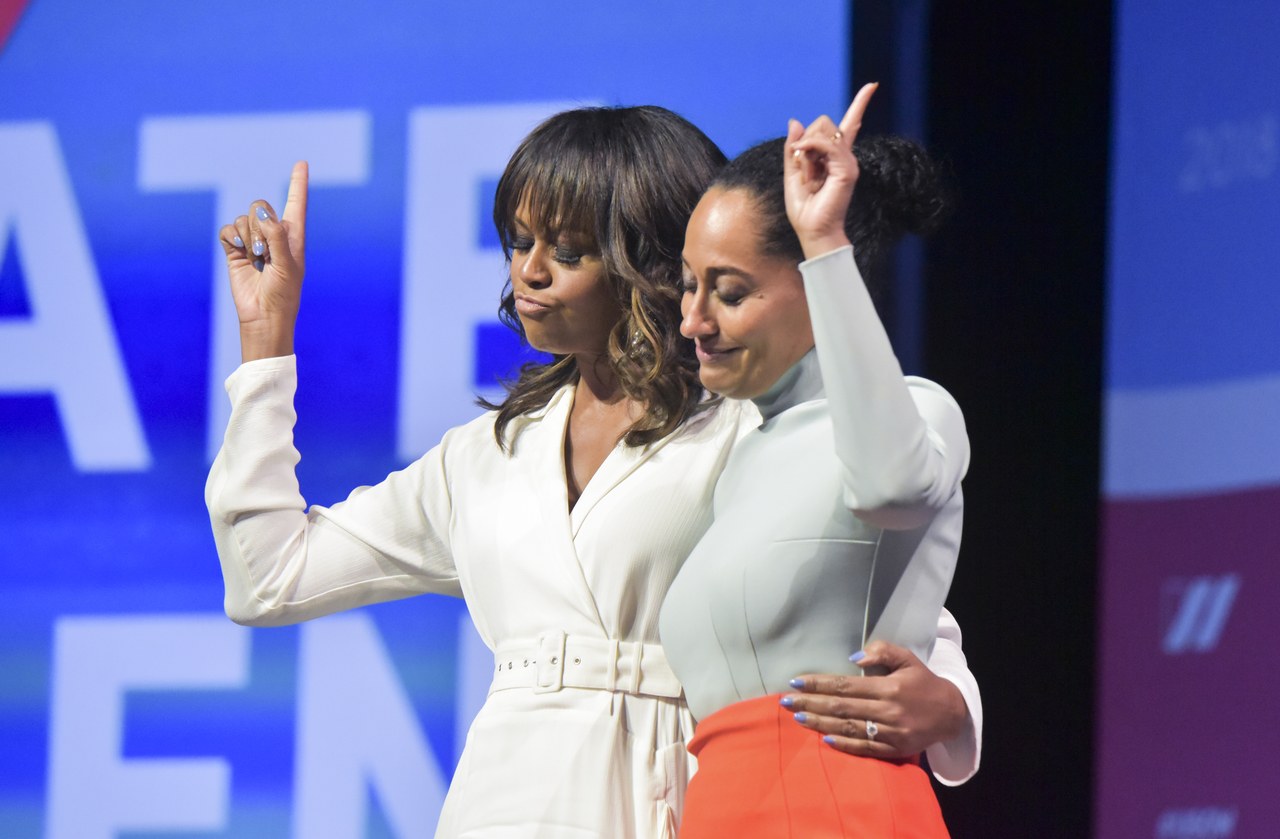 If there are two people whose conversations we'd love to listen in on, they would 100 percent be Michelle Obama and Tracee Ellis Ross. And lucky for us, that dream came true yesterday, when they got together at the United State of Women Summit in L.A. on Saturday for a frank—and oftentimes pretty funny—conversation about life lessons they've learned.
The summit's main theme, gender equity, extended to the conversation Obama and Ross shared. Someone in the audience shouted out something about Michelle running for President—which she has repeatedly said she's not even considering—and she responded: "That's not the answer, either," she said. "When I hear people say, 'You run,' it's part of the problem. We still didn't get 'Yes we can' right. It's not yes you can, it's yes we can. And until we get that right, it doesn't matter who runs."
As she's done in the past, she discussed Trump without outright mentioning his name. Obama said she had no patience for men who could fail repeatedly and still do things like, say, become President.
"I wish that girls could fail as bad as men do and be OK," she said. "Because let me tell you, watching men fail up—it is frustrating. It's frustrating to see a lot of men blow it and win. And we hold ourselves to these crazy, crazy standards."
PHOTO: Rodin Eckenroth/Getty Images
Obama and Ross also touched on inequality in the workplace. The former First Lady talked about what both women and men who find themselves with a "seat at the table" can do to ensure that the future is more equal for the next generation.
"So many of us have gotten ourselves at the table, but we're still too grateful to be at the table to really shake it up," Obama said about women in the workforce. "That's not a criticism, because for so many, just getting to the table was so hard, so you're just holding on. But now we have to take some risks for our girls… just holding onto our seats at the table won't be enough to help our girls be all that they can be."
And then she had some words for the men: "What I've been telling men is, you can't have it both ways: You can't whisper these magical thoughts in your daughter's ear about who she can be or what she can do… If you're tolerating [inequality at work], that is the workplace that's going to be waiting for your little girl, but you sold her a bill of goods. You told her she could be anything, but then you're not working to make sure that can be actualized. And so men have to understand things don't just work out for your little precious pea."
The rest of the conversation was incredibly powerful (I mean, look who was speaking). Grab a coffee, listen to these ladies, and then head into the week feeling like you can take the world on.
[embedded content]
Related Stories:
–This Powerful Photo of a Young Girl Staring at Michelle Obama Portrait Is Going Viral
–Here's Why Michelle Obama Absolutely Won't Be Running for President in 2020
–Michelle Obama Says Any Woman Who Voted Against Hillary Clinton Voted 'Against Their Own Voice'