Quarantining Away From My Husband Brought Out the Best in Me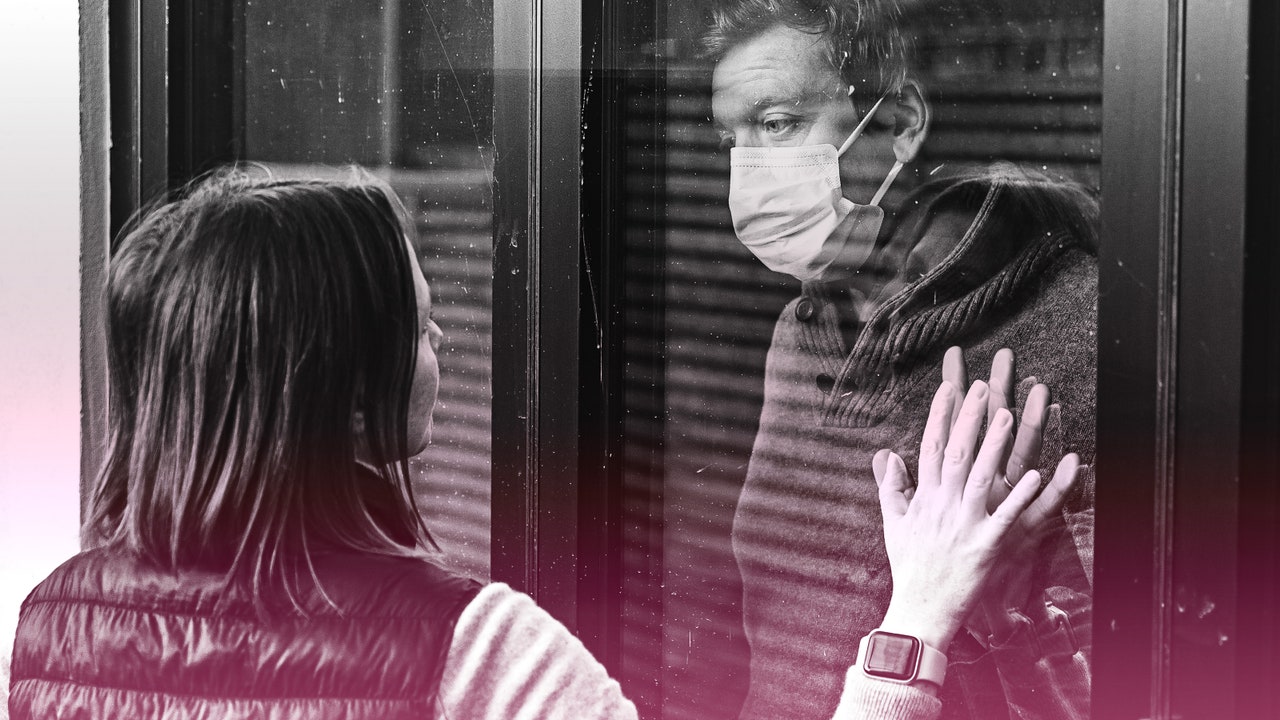 With my husband now on his way home from the hospital, I sat our daughter in front of cartoons and sprang into action, throwing a week's worth of my basic necessities into the living room: underwear, T-shirts, sleep clothes, a toothbrush, pillows, power cords, and my Dr. Dennis Gross Ferulic + Retinol Wrinkle Recovery Overnight Serum. The "old" me would've pleaded with him not to self-isolate because it would have soothed my anxiety, but for whatever reason, call it the COVID era, I felt courageous. I was swift and efficient, gliding around and moving furniture to assemble a pop-up bedroom for myself. Maybe I was being over the top (it's certainly something I've been guilty of in the past) but these were unfamiliar times.
Once he arrived he quarantined himself in our bedroom, where he would live and work alone for the foreseeable future. It was a hard decision but we both knew it was smart. I saw outlines of his face through a filthy patio screen, and I fed him by opening up the basement door, which he had access to from the bedroom, and sliding in plates of food across the floor.
Five days into his self-quarantine our governor Gavin Newsom announced a statewide shelter-in-place. Not that I was going anywhere, but life felt especially foggy in that moment. I craved a reassuring hug that would tell me we'd be okay.
Quarantining together but apart was taking its toll. Mealtimes were a blur. I'd cook whatever I could get our toddler to eat, then slide my husband's food to him atop a storage lid I'd fashioned into a tray (somehow this felt more sterile at the time). Afterwards, I'd disinfect with Lysol all plates and silverware he'd touched. Then the dog ate. Then I ate. Rinse, repeat. A few days, I was so wrapped up in juggling newly single parenthood and working that I completely forgot to feed my husband at all. My stress peaked any time our daughter called out for Dada or tried to open up the bedroom door.
But as I got into a rhythm, I found an unexpected sense of peace. Every morning I woke up in the living room ahead of our daughter, stretched and thanked my bones for tolerating the couch that sounded like it would be comfortable at the time of purchase, and dug into work emails, relishing the quiet of being all alone. I've missed out on so many things because of anticipatory anxiety—thinking about the possibility of a panic attack has caused me to do everything from chaotically canceling vacations to delaying motherhood for years because I feared being pregnant and anxious. Yet here I was, on day whatever, managing more calmly and more focused than I thought I was capable of.
When my husband finally emerged symptom-free from his self-isolation I'd stopped counting the days. I'd sat with fear and the unknown—things I'd always avoided—without him for longer than I thought I could ever tolerate. Isolating him in a section of the house without the ability to explain to our daughter why she couldn't see her dad was stressful (though not nearly as trying as other things people are experiencing across the country). Wondering if my husband would come down with COVID-19 symptoms punctuated the intensity of my own isolation. At some point, though, I was just too tired to think anymore about the what ifs.
When we finally hugged, emotion roared inside of me. But it was because I'd genuinely missed his face—not because I needed to be helped.
The seemingly benign memory of self-quarantining away from my spouse enabled me to sit with something I've spent my life avoiding: the agony of being out of control. I succeeded, and hope I can find a way to remember it.
Rebecca Brown is writer and editor in San Francisco. Follow her on Instagram @rebecca_nyc_sf or find her memoir, Stop, Drop, and Panic…and Other Things Mom Taught Me on Amazon.