Katy Perry and Taylor Swift's Feud: A Timeline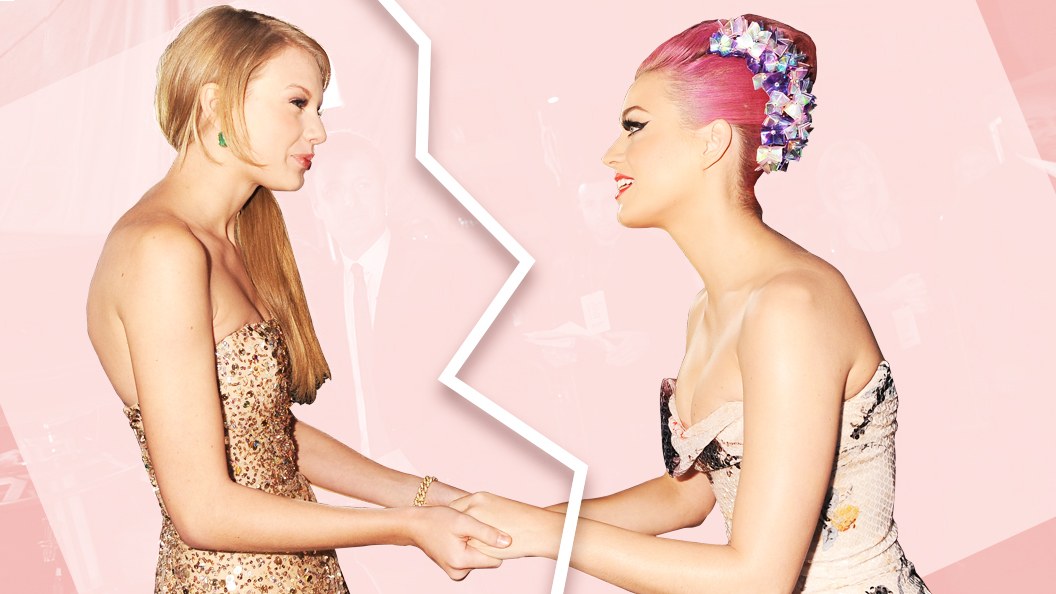 "I've done nothing but love & support you. It's unlike you to pit women against each other. Maybe one of the men took your slot," Swift tweeted at Minaj. Queen Nicki said her tweet wasn't about Swift—or any artist in particular—but that didn't stop Perry from making this comment on Twitter:
"Finding it ironic to parade the pit women against other women argument about as one unmeasurably capitalizes on the take down of a woman," Perry wrote.
October 2015: Swift doubles down on not revealing the specific inspiration behind "Bad Blood."
"I never said anything that would point a finger in the specific direction of one specific person, and I can sleep at night knowing that," Swift told GQ. "I knew the song would be assigned to a person, and the easiest mark was someone who I didn't want to be labeled with this song. It was not a song about heartbreak. It was about the loss of friendship." At this point, however, we all knew exactly who this song was about.
February 2016: Perry puts Swift on the guest list for her Grammy after-party
Swift did not attend, but many took this as a sign a truce was in sight. They were wrong.
May 2016: Perry's Twitter is hacked.
Before we knew this, though, people thought Perry actually tweeted, "miss u baby" to Swift. Unfortunately, it was just a hack. The drama still raged on.
June 2016: Perry announces that she's launching a perfume called "Mad Love."
…which is a lyric in "Bad Blood." Subtle.
July 2016: Calvin Harris says in a Twitter rant that Swift is trying to "bury" Perry.
Harris' Twitter tirade stemmed from "What You Came For" credit drama, but he managed to throw in a comment about Perry in between his other gripes. "I know you're off tour and you need someone new to try and bury like Katy ETC but I'm not that guy, sorry. I won't allow it," he wrote. Perry responded with a Hillary Clinton GIF and a retweet from 2015: "Time, the ultimate truth teller."
What Harris meant by "bury" is still a mystery, but his tweet seemed to confirm that Swift did have some kind of grudge against Perry—as if that needed confirming.
September 2016: Perry tweets she'd collaborate with Swift if she apologized.
We'd soon learn what Perry meant by this.
October 2016: Perry rocks out to "Famous" at Kanye West's concert.
She posted a clip of herself dancing at the exact moment West raps about Swift. If you forget, this is the song that caused all the drama between Swift, West, and Kim Kardashian. West claimed Swift approved of him calling her a "bitch" in the song, but she says she never green-lit the verse. This feud came to a head when Kardashian released a private conversation between West and Swift, which proved Swift was cool with the song…but not necessarily the "bitch" lyric. The fact Perry shared a video of herself jamming out to this song is shady, to say the least.
May 2017: Perry says there isn't a response to "Bad Blood" on her new album, Witness, but then she releases "Swish Swish."
"There is no one thing that's calling out any one person," Perry told Entertainment Weekly about her album, which everyone believed—until they heard "Swish Swish." The track, which clearly is a response to Perry's haters, contains lyrics like, "You're about as cute as an old coupon expired" and "Your game is tired; you should retire."
It didn't take long for people to connect the dots, including a member of Swift's squad, Ruby Rose. Shortly after "Swish Swish" dropped, the actress went on a Twitter rant ripping Perry apart—and inadvertently sticking up for Swift.
May 2017: Perry hard-core opens up about the feud on Carpool Karaoke.
Perry confirmed everything during her ride with James Corden. She said that yes, there's a situation between her and Swift, and yes, it's about backup dancers. Perry also said she tried to talk to Swift about the incident, but Swift ignored her and instead chose to "write a song." "Could that song perhaps be "Bad Blood?" Here's everything Perry told Corden: