The Best Plus-size One-piece Swimsuit From Target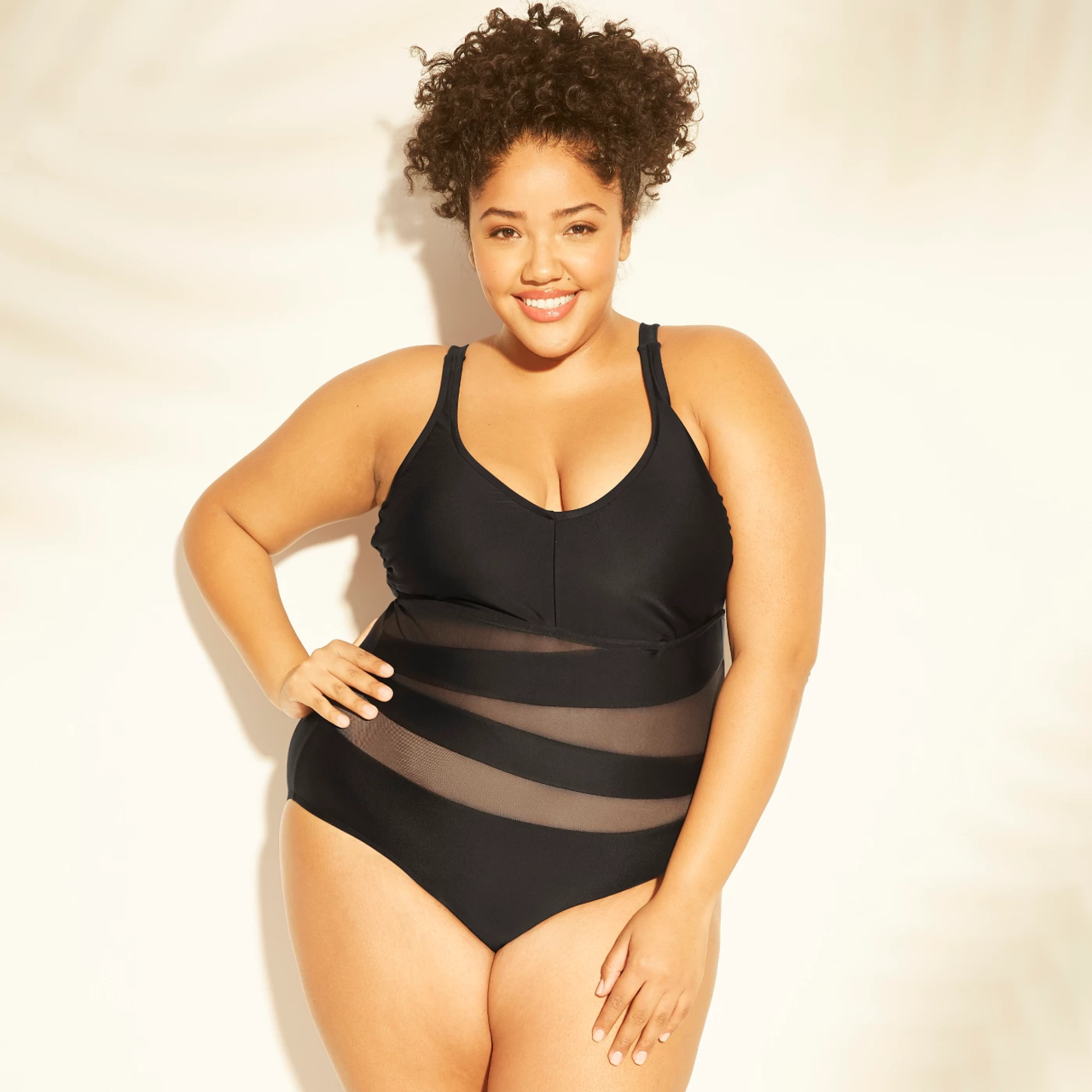 This carried on until last year, when four of my best friends, my boyfriend, and I booked tickets for a weeklong trip to Hawaii. It was my first real adult vacation—to celebrate turning 30!—and the stress of finding at least one suit to get me through the week was looming over me like the clouds on Maui's mountain range.
Where did I even start? I had no idea what my size was, but I was pretty certain anything straight-size wouldn't cut it. (Even as a size 6, I'd often have to buy XLs to fit my curves.) I still had yet to buy clothing in proper plus sizes, and my feelings about it were complicated. But I felt fortunate to know that I least had options. I've long been a fan of advocates like Gabi Gregg and Ashley Graham, who have not only spoken out the lack of cool, comfortable swimwear for curvy shoppers, but have set out to fill that void by designing styles themselves. I constantly think about how if I'd been plus-size earlier in my life, I might have never returned to wearing a swimsuit at all.
I spent hours trolling through pages of plus-size swimsuits online. I fell in love with at least 10 different styles from Gregg's and Graham's collections with Swimsuits for All. (This one is in my cart as I type.) But as much as I was into them, I felt sick to my stomach that I'd order the wrong size and ultimately give up in my search.
It was time to face the dressing room again—which obviously meant a trip to Target.
The retailer has been at the forefront of plus-size swim for a few years now. I applauded when it released swimwear images of models with stretch marks and cellulite, much like my thighs and boobs have. The Internet said Target had a range of extended sizes from 16 to 26 in stores, so I took notes of the styles I liked (black, one-piece, with cool details that didn't make me look matronly), and hopped into an Uber.
The second I stepped into the stall, all the annoying, familiar feelings came rushing back: the dingy lighting that somehow highlights every single dimple on your thigh; the awkward sensation of your underwear bunching as you pull on a pair of bottoms over them. But there was another that blocked the noise of everything else out. For the first time in forever, I felt the joy of finding a swimsuit that's so perfectly me (and, you know, also made my boobs look great).
This black one-piece was everything. The nylon-spandex blend was comfortable and fully lined, as were the soft, molded cups that offered great support. The leg holes were cut wide and high so they didn't dig into my thighs, while the back offered good butt coverage. The straps were adjustable too—just like a bra—so you could set them however looked and felt best. And it had mesh cutouts, which are perfect if you want a peek of skin. I loved how it looked so much I didn't even care it was a size 20. I bought it, and one other black one-piece for Hawaii. And I wore the shit out of them the entire week.
Even better: This year Target actually launched a new and improved version of my one-piece from its new in-house line Kona Sol. It has all the elements I love and want: the supportive cups, the wide-cut leg holes, the adjustable straps, the cutouts. And because it's Target, it's only $40.
I wish I could say a swimsuit could magically erase the years of mental warfare I've had with my body. But that's just not how dismantling beauty ideals works. It takes time and constant challenging of what we've been taught to believe for years—that having fat or cellulite somehow makes you less than. I know it doesn't, and yet the number of swimsuit photos I took of myself in the most beautiful place on earth totals a whopping number of zero. A friend did catch one of me though. It's candid, it's cute, and I look happy in it (probably because we were in deep discussion about Garrett Yrigoyen—Bachelor drama!), which makes me wish I'd taken more.