The 'wow' factor: Cowessess First Nation launches solar power project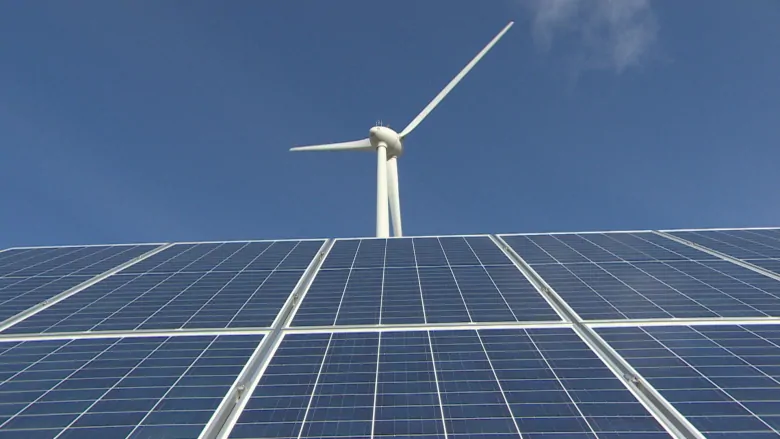 Looking at the four imposing rows of solar panels on the east end of Regina, Cowessess First Nation Chief Cadmus Delorme says the band's latest renewable energy project has a definite "wow" factor.
It's clear that renewable energy is an emerging powerhouse, Delorme said, with SaskPower stating its own goal is to to see 50 per cent of the power used in the province come from renewable sources by 2030.
"Today it's just to show the world that First Nations in this province and this country, we want to play a part," he said.
Wednesday marked the launch day for the Cowessess project, which will generate 400 kilowatts of solar energy.
Cowessess First Nation, located about 140 kilometres east of Regina, first joined the renewable energy sector in 2012. At that time, the band began a wind turbine project that uses battery storage as a means to collect and store the wind energy generated, Delorme said.
"It fills the battery, because it's not always windy in Regina, it's not always sunny in Regina," he said. "So these batteries are really key to keeping the energy consistent into the grid."
The wind and solar together will generate one megawatt of energy to feed into the grid, according to Delorme.
The solar project will generate 400 kilowatts of energy. (CBC News)
He credited the chief and council in 2012 for early leadership in adopting renewable energy, noting the band has also been able to form key partnerships, working with groups like SaskPower, the federal government and the Saskatchewan Resource Council.
"We are not trying to do this on our own. We know we have to partner," Delorme said, adding that Cowessess wants to share new technology and innovations with the rest of the province.
"It's just a lot of bringing everybody to the table, and trying to move forward together."
On the Tuesday evening before the launch, Cowessess First Nation invited band members for a community barbecue. Delorme said he could see the amazement on the faces of everyone from children to elders — something he said filled him with joy.
"We all know this land is for children yet unborn, and so hopefully we can show this today and we can look at the next big project," he said.