Edmonton archdiocese to publish info on past criminal convictions of priests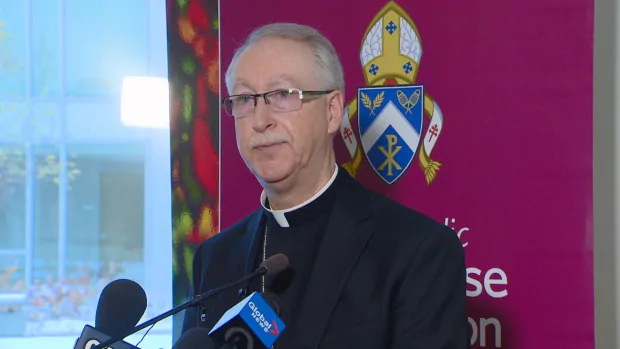 In an effort to promote transparency, the Edmonton Catholic Archdiocese will post information related to the six cases of city priests who were convicted of abuse.
Archbishop Richard Smith said the cases go back to the 1960s. The privacy of victims will be protected.
"We know the Archdiocese of Edmonton has not been immune from this plague. It is already public knowledge that some priests who have served in this archdiocese have been charged and convicted of this crime," he said on Wednesday.
"We believe it will be helpful to people to have this information made public again in a way that is readily accessible."
Smith was speaking at a news conference about a new set of guidelines designed to deal with the legacy of sexual abuse and prevent future abuse. The guidelines were developed by a national organization of Canadian Catholic bishops
The guidelines have been released in the aftermath of hundreds of sexual abuse cases, such as a Pennsylvania grand jury report released this summer that detailed on-going, systemic abuse in the Catholic church.
Smith said people wrote to him, wanting to know what had happened in Edmonton. The online information is one answer to that question, but Smith couldn't say when the cases would be published on the archdiocese website. Smith said the archdiocese may also contain information about substantiated claims, that did not result in criminal charges.
In addition, victims who might have once signed a non-disclosure agreement as part of court proceedings won't be held to those agreements, Smith said.
"I will not demand secrecy on their part and I will also not hold past victims to confidentiality agreements they may have signed in the past," he said.
"We recognize that in order to heal, victims need to be able to speak freely of what they've experienced."
'Nobody gets a free ride'
The recently updated national guidelines on preventing abuse contain many suggestions that have already been implemented in Edmonton, the archbishop said.
Eight years ago, the archdiocese contracted a company called Praesidium, which works with large organizations on how to prevent abuse of children. Ten thousand members of the diocese have since taken some form of training.
"Nobody gets a free ride," said Teresa Kellendonk, who is the bishop's delegate on safe environments and abuse prevention.
"No bishop, no priest, no volunteer. Every employee must take our training…because we're committed. We're in it together and no one gets to say it's not important to me."
Nobody gets a free ride. No bishop, no priest, no volunteer.– Teresa Kellendonk, Edmonton Catholic Archdiocese
Kellendonk is the first contact person for people who wish to report abuse. In her seven years on the job, Kellendonk has not received a complaint against a current clergy member, but there has been one complaint against a church volunteer.
More often, she hears from victims of historic abuse cases.
On Wednesday, Smith also told media that a priest who once served in Edmonton is now being investigated after a complaint in Vancouver.
Father Peter Hung Cong Tran served as pastor at Queen of Martyrs Parish in northwest Edmonton from 2007 to 2016. The allegation against him stems from a report to the Archdiocese of Vancouver, where he served from 1998 to 2003.
Tran was most recently a priest in Calgary. He has not been charged with any crime.
Smith acknowledges such an allegation arises at a time when many have lost faith in the church to properly handle the scenario.
"My hope and my prayer is, over time, trust can be restored. It also will require a frank admission on the part of all us right now that that trust has been seriously wounded."