Unsanctioned overdose prevention site to open in Toronto neighbourhood after province freezes funding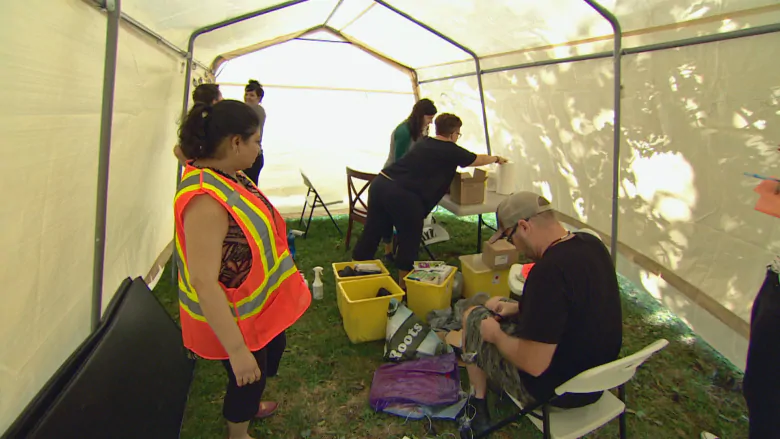 A grassroots group of drug users, healthcare workers and activists say they will open an unsanctioned overdose prevention site in Toronto's Parkdale neighbourhood, just weeks after the province announced it would "pause" funding for future sites across the province.
The Toronto Overdose Prevention Society (OPS) announced the move in a press release Monday, saying the decision is a direct result of the Ontario government's decision to block the opening of a legally-sanctioned site in the area.
The new Parkdale site will be housed in tents in a neighbourhood park and staffed by healthcare workers, similar to the Moss Park pop-up site that the group opened almost exactly one year ago. The group is not disclosing the exact location until 4 p.m. Monday evening, after which spokesperson Gillian Kolla will speak to the media.
Overdose prevention sites are approved by the province and are temporary facilities set up to address an immediate need in a community, the group says. Drug users are supervised and can access harm reduction supplies, including naloxone, along with safely disposing of used needles and other drug paraphernalia. They are a key plank of the city's overdose action plan, which the Toronto Board of Health approved in March 2017 to prevent and respond to overdoses.
"We are in the midst of a public health crisis and we will not allow lifesaving services to be paused while Parkdale community members are dying," said Molly Bannerman, a Toronto OPS member who lives in the area.
"We will stand together and fight against this crisis with other communities across the province."
The announcement comes amid a spike in overdoses in the area and across the city. Toronto police issued a public safety warning last Thursday after seven people died from overdoses over the past 12 days in 14 Division, which includes south Parkdale.
Province cut funding for official site
The Parkdale Queen West Community Health Centre was set to open an overdose prevention site last Monday after receiving approval under an emergency response program that provides funding and legal sanction to temporary sites for six months at a time.
But two days before doors were supposed to open, the ministry announced it was suspending funding for any sites that were not already running.
In a letter to local health integration networks and health units across the province on Aug. 10, Roselle Martino, assistant deputy minister for population and public health, said Health Minister Christine Elliot will be "reviewing the evidence and speaking to experts to ensure that any continuation of supervised consumption services and overdose prevention sites are going to introduce people into rehabilitation and ensure people struggling with addiction will get the help they need."
The Moss Park pop-up overdose prevention site is pictured here in August 2017. Despite being illegal, Toronto police allowed the Moss Park site to operate until June of this year. (John Lesavage/CBC)
Critics slammed the decision, arguing access to emergency treatment measures is just as important as access to treatment programs.
The Toronto OPS said in its press release that overdose prevention sites are "critical low-barrier entry points into the health system, including to treatment programs."
"Where does Minister of Health Christine Elliot think people go when they want a referral to treatment services? That happens every day at overdose prevention sites across the province," said Sarah Ovens, of the Toronto OPS.
Mayor, police react
One major question is how the city, province and police will react to the opening of the new site, which is different from the permanent supervised injection sites that are currently functioning with full approval from the federal government.
While illegal, Toronto police allowed the Moss Park site to operate until June of this year when it moved indoors after receiving approval under the same program the province is now reviewing.
Toronto police spokesperson Mark Pugash said the force's approach will be consistent with its approach toward the Moss Park site.
"Our officers will use the discretion which the law gives them," said Pugash in an email.
"We will monitor the impact this site has on the area. We will pay attention to residents' complaints."
Mayor John Tory's spokesperson said in an email while the mayor supports supervised injection sites, he does not believe a public park is a "suitable place" for this type of facility.
Instead, the mayor would prefer overdose prevention sites operate in approved locations.
"The Mayor will continue to advocate for strong supports and services around the approved sites in approved locations so as to ensure that the quality of life of local residents is respected," said Don Peat.
Tory has urged the province to streamline its review so sanctioned sites can open as planned, Peat added.
With files from Amara McLaughlin and Kate Bueckert