Montreal names councillor in charge of reconciliation with Indigenous people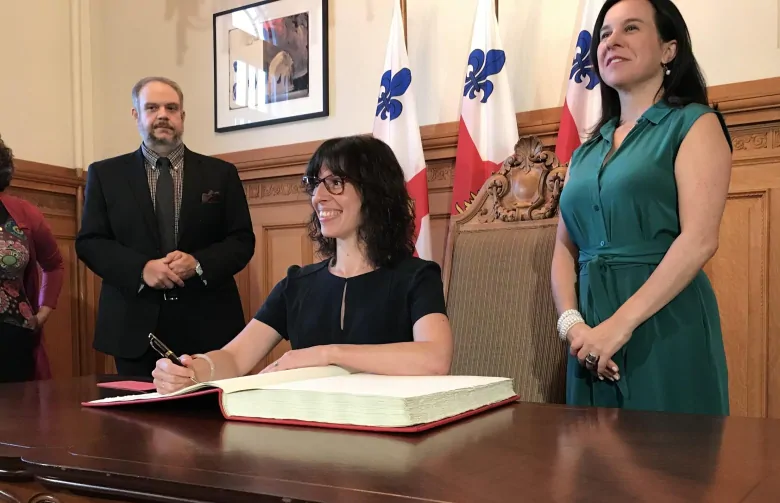 The Plante administration has made Marie-Josée Parent, a Verdun city councillor, its point person for issues related to reconciliation with Indigenous people.
Parent became the first Indigenous councillor elected to Montreal City Hall last fall.
"It's a societal project that we're building, and we're working in a very positive manner to create bridges between nations," she said.
"That will be my priority to make sure that we create a table where everybody has a seat, and everybody is equal in their ability to speak and be heard."
Parent is of Mi'kmaq and Acadian background and has a background in reconciliation work. She was the director of DestiNations — an organization working toward reconciliation with, and teaching about, Indigenous cultures.
Parent won her city council seat under the banner of former mayor Denis Coderre's party. She now will sit on the executive committee as an independent, the third member of Coderre's former team to do so.
Parent poses for a photo flanked by executive committee chair Benoit Dorais and Mayor Valérie Plante. (Elias Abboud/CBC)
Mayor Valérie Plante said she and Parent started to talk and realized that the best way to work together was for her to be part of the executive committee.
"It's something I feel like we share a lot, (the issue of) the reconciliation process," said Plante. "It's not about erasing history, but how do we create bridges? How do we create dialogue, how do we make sure that different sides of our history is out there, is known, is shared?"
The city's commissioner of Indigenous affairs says she's looking forward to having another person at city hall help with the reconciliation dossier.
"The reconciliation process is an extremely complicated and multi-faceted process," said Marie-Ève Bordeleau. "So having more people on our team is definitely positive."