Freeland announcing compensation for metals sector as she unveils list of U.S. products to be hit with tariffs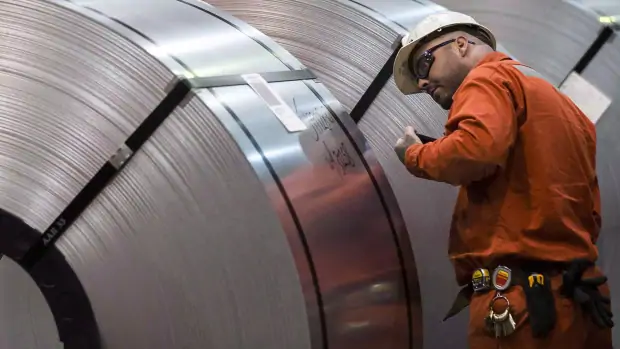 The federal government will announce a compensation package for Canada's steel and aluminum industries on Friday when Foreign Affairs Minister Chrystia Freeland releases the final list of U.S. products to be slapped with retaliatory tariffs starting Sunday.
Freeland, accompanied by Innovation Minister Navdeep Bains and Employment Minister Patty Hajdu, will make the announcement in Hamilton — the heart of Canada's steel production and home to roughly a third of the 23,000 workers directly employed in the industry.
Both measures are a direct response to the 25 per cent tariffs U.S. President Donald Trump imposed on Canadian steel and aluminum imports nearly a month ago under a little-used national security provision in American law.
They also signal Canada's willingness to fight the $16.6-billion in tariffs rather than capitulate to Trump's protectionist agenda.
"Our point to the government has always been that we expect the Canadian tariffs to be truly reciprocal to protect producers and jobs in this country," said Joseph Galimberti, president of the Canadian Steel Producers Association.
"If it's 25 per cent being put on steel going to the U.S., it has to be 25 per cent on steel coming into Canada."
'We have nothing to be ashamed of'
Ken Neumann, Canadian national director of the United Steelworkers, said he's also been told federal assistance for the industry is on the way.
"We're a sovereign nation. We have nothing to be ashamed of. We have lived by the rules, we're not cheaters, we're not manipulators," he said. "And that's why it's so important that the government send that message clearly to the U.S. that we're going to look after our citizens and we're going to fight because this is just wrong-headed and it's illegal."
Details of the compensation package aren't clear, but sources suggest it will be in the same range as the $847 million in loans made available to the softwood lumber industry.
They didn't just pick these products alphabetically. They really do look at where the tariff could have the most political impact.– Laura Dawson, Wilson Centre
One option on the table for the federal government is to support job-sharing in companies hit by the U.S. tariffs. Workers would be allowed to claim Employment Insurance for the hours they give up during the tariff dispute, instead of the usual 26 weeks.
Government and industry officials say there have been some changes to the original list of U.S. products to be hit with a 10 per cent tariff starting Sunday.
The adjustments were made after public consultations to reflect concerns that some of the items meant to be hit with duties — such as motor boats — were not widely available from non-American producers.
Other products, including some home appliances, can't be imported from other countries that build them to standards that are different from those used in North America.
But the underlying objective remains the same: Canada is joining the European Union in targeting products from states where the tariffs will have the most political impact.
They include bourbon produced in Kentucky — the state represented by Senate Majority Leader Mitch McConnell — and dairy products that come primarily from Wisconsin, the home of House Speaker Paul Ryan and a key takeaway state for Donald Trump in the presidential election of 2016.
"You're able to link the product to the tariff to a member of Congress," said Laura Dawson, director of the Canada Institute at the Wilson Centre in Washington DC.
"They didn't just pick these products alphabetically. They really do look at where the tariff could have the most political impact."
Sources tell CBC News that the value of the tariffs on the original list drawn up Freeland's office added up to nearly $19 billion — a sum calculated to give Ottawa leeway to remove some items from the list following public consultations while still matching the U.S. tariffs on a dollar-for-dollar basis.
But that doesn't mean Canadian consumers won't feel the pain of what is shaping up as a prolonged and costly battle over Trump's protectionist trade policies.
Starting Sunday, tariffs on steel and aluminum will be applied in both directions. And Trump is threatening to use the same national security rationale to impose tariffs on Canadian-built vehicles imported into the U.S.
This probably won't end soon
Canada's 10 per cent tariff will still apply to a wide range of consumer items — prepared foods, mattresses, table linens, cucumbers and pickles, appliances, candies and paper products — in order to fulfill what Freeland has said will be a dollar-for-dollar response to the Trump administration's actions.
Dawson, for one, believes Canadians should brace for a long battle. She said she expects Trump won't budge on the tariffs until after the midterm elections in November.
"I think that the president is setting up a situation to make Republicans as electable as possible by his base, the folks who were promised no more unfair trade, no more NAFTA. So he's keeping that promise and that's what the Republicans will take into the midterms."
Canadian industry representatives are also bracing for a long battle and an extended period of uncertainty generated not only by this dispute, but by the protracted negotiations to renew NAFTA and the Trump tax reforms that lowered corporate rates in the U.S. from 35 per cent to 20 per cent.
Business groups have urged Morneau to lower Canadian corporate rates — and to match the U.S. policy of allowing companies to write off 100 per cent of their investments in new technology and machinery — to encourage business investment in this country.