Cannabis companies on hiring sprees, Edmonton recruiter says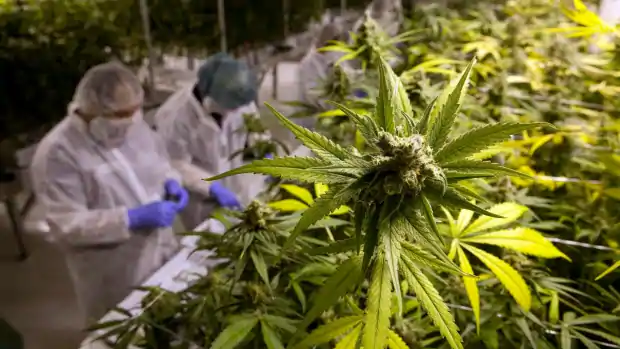 With the legalization of recreational marijuana coming soon, cannabis-related companies across the country are on hiring sprees, says an Edmonton-based recruiter.
The industry is buzzing, said Alison McMahon, founder and CEO of Cannabis At Work.
"It's been great and very busy as the cannabis industry ramps up toward legalization," McMahon said in an interview Thursday with CBC Radio's Edmonton AM.
"Now we have the date [Oct. 17] for retail to go live, so the industry overall is really busy. And that means lots of companies are hiring lots of people."
Cannabis at Work is capitalizing on the rush to fill thousands of new jobs across Canada.
The Edmonton-based company is among dozens of recently established job portals designed to connect start-up employers with prospective employees in the new pot economy.
McMahon said her company is the only recruitment agency exclusively focused on the cannabis sector.
The company also provides training and consultation about the impacts of legalization for employers outside the cannabis industry, she said.
'An educated risk'
McMahon, who has a background in human resources, launched the site in 2015 when talk in Ottawa of legalization first ramped up.
Like many entrepreneurs in the sector, she was willing to bet that the Liberal government would follow through on its promise to end prohibition.
"I could also see there was a big opportunity from a business perspective, so I took an educated risk," she said.
A research report from accounting firm Deloitte suggests around 150,000 new jobs will be generated as a result of the legalization of recreational cannabis.
The new industry is valued at $23 billion, which includes growers, retailers, transportation, security, taxes and tourism.
A whole new industry is being created, and new cannabis companies are expanding at breakneck pace, McMahon said.
Her site listings for Alberta show a range of available job postings, from quality assurance positions to grow operation managers.
The cannabis job market is already changing, McMahon said. Along with jobs that focus on cultivation and laboratory experience, retail and sales jobs are now cropping up in every market.
"As the supply chain related to cannabis matures, we've gone from production, now we're going to have retail and now this consumer market," McMahon said.
"We're really seeing those jobs in all aspects start to fill out."
Experience is valued by employers, McMahon said, but Canadians with experience in the black market will have a tough time going legitimate, she said.
While some job seekers may have years of experience selling or cultivating cannabis, transferable skills won't guarantee them positions in the legalized industry.
"There are some challenges with people who have worked in the black market before," she said.
"It can actually be quite hard for people to get that clearance if they've had any sort of possession or trafficking charges in their background, or any connections to organized crime.
"Although I would love to be able to bring every kind of grower … into the legal system, sometimes it's not that straightforward."