City of Edmonton to hold off on parking enforcement change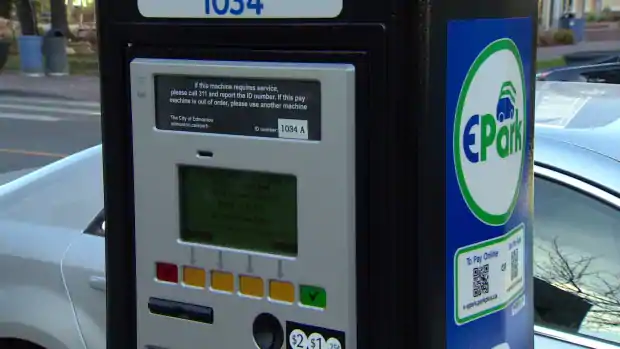 The City of Edmonton has put its EPark enforcement plan on hold until it figures out how to accommodate disability placard holders.
On Tuesday, city council told staff to re-evaluate the new electronic enforcement system, which would have reversed a policy that allowed placard holders free street parking for two hours.
Gord Cebryk, deputy manager of city operations, apologized to council and the public.
"We didn't act on what the community told us and there was no logical reason for that, other than we were dedicated to moving the project forward and we didn't realize the impact that we were having," Cebryk said.
Placard holders were told they would no longer be able to park for free in automated parking areas, starting on July 15. The change was due to the rollout of new parking enforcement technology, which scans licence plates in EPark zones to check for payment. The cameras can't identify disability placards, which meant placard holders would have been ticketed.
A letter dated June 13 informed placard holders about the change. The decision brought criticism from people with disabilities, as well as the accessibility advisory committee, which advised against the change.
The city does have nearly 100 marked accessible parking stalls that are reserved for people with disabilities to use. Cebryk said more accessible parking spots will be installed over the next few months.
Coun. Andrew Knack raised the parking issue at Tuesday's meeting and asked the city for more accessible stalls. He said asking people with disabilities to pay for parking without the city providing adequate accessible options is not fair.
"If you don't have enough accessible stalls that people can actually move around our city and get to where they need to go, then it does become unreasonable," he said.
City staff will review the electronic enforcement system and are expected to present a new plan in September.