Edmonton's 4-year budget plan murky until province steps up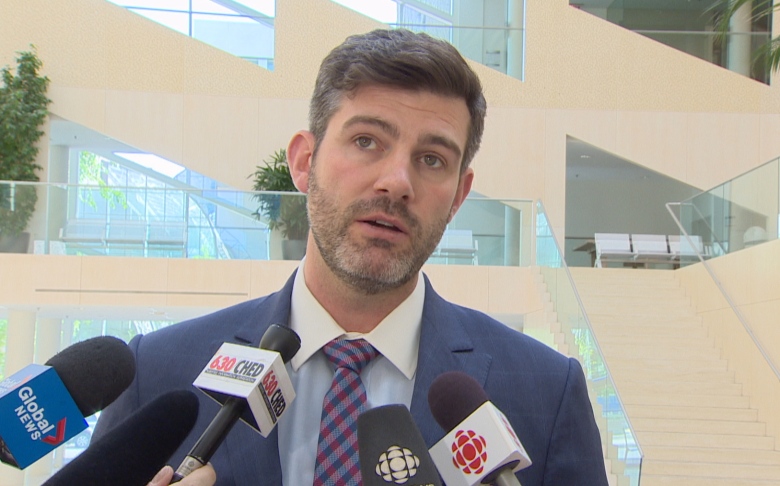 The City of Edmonton is facing an uncertain budget outlook as it waits for the province to make decisions on cannabis and new infrastructure money, council heard Tuesday.
The financial and corporate services branch presented a preliminary outlook for the 2019 to 2022 operating budget cycle, which projects a drop in some revenues along with rising costs in areas like fuel and labour.
Mayor Don Iveson said it's difficult for the city to plan future projects without a financial commitment from the province.
"We essentially have total uncertainty right now when it comes to support from the province and we're hoping to fix that."
Edmonton is receiving $180 million from MSI over the next three years, but the city used to get more than that every year.
The NDP government announced in March an end to the municipal sustainability initiative, or MSI, but haven't announced what will replace it.
"How much we'll be able to build and meet the needs for Edmontonians for things like rec centres and certain roadway upgrades will depend on some extent on the settlement we get from the province to take the place of the old municipal sustainability initiative grant program," Iveson said.
Municipalities are also waiting to hear from the province on how much they'll get from cannabis sales tax.
Fuel, LRT and police
The city estimates it will pay $6-8 million more per year in fuel costs to operate city vehicles and buildings.
Revenue from a franchise fee, which the city collects from utilities like ATCO and EPCOR, is projected to fall by $11 million after the utility companies lowered consumer rates.​
Under new federal law, municipalities aren't allowed to charge property tax to people living in social housing, giving the city a $3.5 million drop in revenue.
Coun. Scott McKeen said it puts the city is an uncertain position.
City facing $6-8 million more a year in fuel costs, Coun. Scott <a href="https://twitter.com/Scott_McKeen?ref_src=twsrc%5Etfw">@Scott_McKeen</a> wants to know if city can get creative in saving from fleet vehicles and buildings <a href="https://twitter.com/hashtag/yegcc?src=hash&amp;ref_src=twsrc%5Etfw">#yegcc</a> <a href="https://twitter.com/hashtag/yeg?src=hash&amp;ref_src=twsrc%5Etfw">#yeg</a>

&mdash;@natashariebe
"They waved their magic wand, did a good thing, but did not make us whole," he said.
Increases identified
In addition to higher costs for ongoing services, three areas have been identified as requiring dedicated property tax increases over the next four years.
Building and operating the new Valley Line LRT will require a 0.6 per cent tax increase for the first two years, followed by 0.3 per cent in the last two years of the budget cycle — 2021 and 2022.
The report shows Edmonton's alley renewal program will need a 0.3 per cent increase in each of the four years.
The city portion to fund the Edmonton police could add an additional 1.0 per cent tax increase in each of the four years.
Mayor Don Iveson hopes to keep the property tax increases in the coming years at about two per cent to match economic growth. (CBC)
Iveson wants to keep property tax increases modest for homeowners and business owners to match economic growth, which is forecast to be between 2 and 2.5 per cent.
Coun. Mike Nickel believes the city can aim for zero per cent tax increases and that middle management positions are flooding the city's coffers.
Finance and corporate services will present the operating budget with specific amounts Nov. 1.