Tim Hortons sees ranking slip on annual list of brand reputations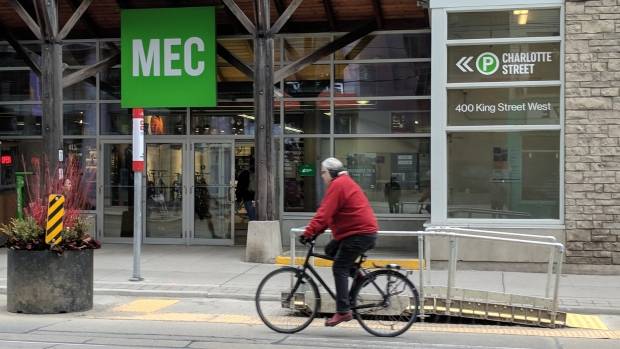 A number of Canadian retailers have seen their reputations improve sharply this year, while a well known coffee and doughnut chain declined, according to an annual ranking published Wednesday.
For the second year in a row, Mountain Equipment Co-op has topped the list of Canadian companies with the best reputations, compiled by market research firm The Reputation Institute.
MEC sat atop the annual ranking, followed by Jean Coutu Group, Canadian Tire, Pharmaplus/Shoppers Drug Mart and Home Hardware.
Coffee and doughnut chain Tim Hortons saw its ranking fall to 14th place among Canadian companies. Last year, the chain was ranked third among the Canadian names.
It has been a rough year for the restaurant chain.
The company spent much of the year squabbling with franchisees over cost increases and other issues, and that was before the company's reputation took a nosedive after CBC News first reported that a number of franchisees were cutting back on employee perks and working hours following minimum wage hikes.
To come up with the rankings, the company surveyed 27,000 Canadians online for their views on more than 250 companies, and rank them based on their reputations in January and February of 2018.
Participants are described by the research firm as members of the "informed general public" — meaning they are Canadians who were somewhat familiar or very familiar with the companies evaluated.
As such, it isn't a random sample and doesn't have the same sort of margin of error that, for example, a standard political poll might have.
MEC got a score of 79.5, followed by Jean Coutu Group at 78.5, Canadian Tire at 76.9, Pharmaplus/Shoppers Drug Mart at 75.5 and Home Hardware at 75.4.
Tim Hortons scored a 71 — six points lower than it scored a year ago.
The rankings looked at Canadian companies, but also foreign-based companies that operate here. By that metric, the three atop the list were Google, Rolex and Lego, which all scored over 80.
Canadian names followed after that, with nine placing in the top 50 overall, including Cascades (74.3), Cineplex (74.2), Roots (73.8) and Sleep Country Canada (73.4).
When international companies are included, Tim Hortons score of 71 dropped it to 67th place. Last year it was 13th by that metric.
The study comes after similar rankings were released in April by research organization Leger, which ranked Tim Hortons in 50th spot, down from fourth place.