'Stinky friend' of Putrella the corpse flower ready to bloom at Muttart Conservatory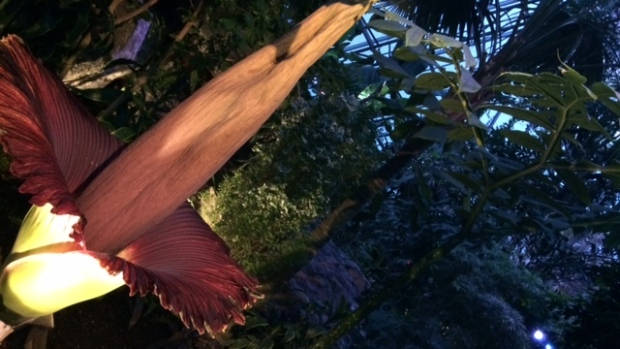 A putrid flower said to smell like death itself is ready to bloom at Edmonton's Muttart Conservatory.
While Putrella the corpse flower has been the stinkiest attraction inside the Muttart pyramids for years, it's not the only corpse flower in the conservatory.
A second plant is getting ready to raise a stink.
The Muttart received the yet-unnamed bloom with a handful of other tubers when it first acquired Putrella.
"The guy gave us about five tubers to kind of experiment with, so this is actually one of the tubers he gave us back in 2012," said Sarah Birmingham, team leader with the Muttart Conservatory.
The tuber has been growing in a custom-made flower pot ever since. This will be the first time it has ever bloomed.
When in bloom, the Amorphophallus titanum flower emits a foul odour some describe as being similar to rotting meat, dirty diapers or hot garbage.
The reason for the rotten odour? The smell attracts insects, such as carrion beetles, which are needed for the plant's pollination.
"There have only been three blooms in Canada. One from a university, one from Niagara Falls and one from us," Birmingham said in an interview with CBC Radio's Edmonton AM.
"We're excited about it because they're not really that common."
The giant flower, found in the jungles of West Sumatra, Indonesia, is a rare sight and the impending bloom is a smell-it-while-you-can experience.
The flower can go five or 10 years between blooms, and the stench is supposed to last only one day as the short-lived blossom unfurls and quickly begins to decompose.
Unlike Putrella — which has climbed to more than eight feet tall — the younger bloom is only five-foot-five.
"It kind of snuck up on us," Birmingham said. "It hasn't been growing for very long."
While the plant is not as big as Putrella, Birmingham said it's "still massive and it's still going to stink."
The Muttart will not extend its hours when the new plant blooms, said Birmingham. People will have to come during regular operating hours.
Should you want to experience the impending stench first-hand, the Muttart is watching the plant closely and will post updates on social media.
Staff don't want the new bloom to live in the shadow of Putrella forever, so visitors will be asked to provide naming suggestions for the new big sprout.
"We want to make sure Putrella still stays special. But this one is equally as special, just in its own way."