New Edmonton film festival shines spotlight on Indigenous stories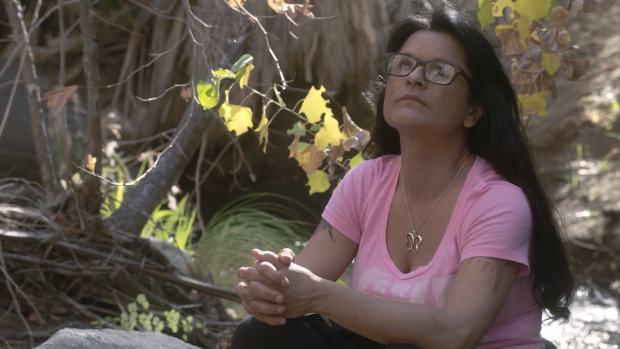 Reconciliation is the theme of a new Edmonton film festival that runs until Saturday at Metro Cinema.
The RISE Reconciliation Film Festival started Saturday.
The co-founder of Reconciliation in Solidarity Edmonton (RISE) — a volunteer group that supports reconciliation — said she created the festival to celebrate Indigenous films and make it easier for people to see them.
"I think Indigenous people have recognized that if there's not going to be space created in mainstream media for Indigenous people to tell their own stories, they need to step up and create the space themselves," Miranda Jimmy told CBC's Edmonton AM on Wednesday.
The festival kicked off with kid-friendly shorts from the National Film Board and a screening of Gord Downie's The Secret Path, an animated film about the life and death of Chanie Wenjack.
Tonight at 7 p.m., there will be a preview of Georgina Lightning's newest film, Grandmother's Medicine, which is currently in post-production.
Lighting, 54, grew up in Edmonton but moved to Los Angeles in 1990 to attend the American Academy of Dramatic Arts and pursue a career in the film industry.
After a near-death experience in 2012, she returned to Edmonton and began examining the relationship between her health and the trauma in her past. The film documents her journey toward healing.
It's a story about suicide, post-traumatic stress disorder and intergenerational trauma, but Lightning said she wants people to know there's an uplifting ending.
"It's a story of hope, for everyone and anyone," she told CBC's Radio Active on Wednesday.
Following a discussion with the filmmaker, the festival will screen her 2008 film, Older than America. In that film, Lightning stars as an Indigenous woman learning about her mother's experience at a residential school.
The festival also includes several screenings of Indian Horse, the new film based on the novel by Richard Wagamese.
All of the screenings except Indian Horse are free, but space is limited. Festival attendees who donate $40 for a festival pass may reserve seats and skip the lines at the door. Passes are available here.