Loonie sinks to two-week low: Is this the start of another big drop?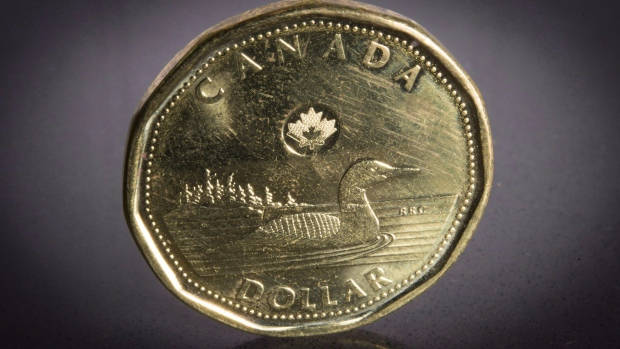 The Canadian dollar fell to a two-week low against the U.S. dollar on Friday as lower oil prices and global trade tensions continue to weigh on the currency.
The loonie is already down more than three per cent this year and was at 77.11 cents US on Friday. But analysts say the risks facing the Canadian dollar could intensify further next week, pushing the currency closer to a "tipping point."
Bipan Rai, head of North American foreign exchange strategy at CIBC Capital Markets, said that downside risks for the loonie are being driven by political events such as NAFTA talks and the uncertainty around Canada's exemption from the U.S. steel and aluminum tariffs that could be renewed next week.
"We're monitoring [Canadian dollar] price behaviour closely now, but the tipping point will come if markets chase the Canadian dollar-U.S. dollar cross below the 76.40 to 77.00 [cent] range," he said.
Canada's exclusion from the Trump administration's hefty tariffs on steel and aluminum is set to expire next week on June 1, with U.S. officials hinting this week that tariffs could be imposed if the U.S. does not get a better NAFTA deal as its deadline also looms.
In addition that, the U.S. launched an investigation this week into whether vehicles imported from Canada and other countries posed a security threat.
The investigation allows the world's biggest economy to impose tariffs if national security is under threat.
"I think there is a hefty 'NAFTA discount' being applied to the currency at this point due to concerns that the agreement may lapse," said Shaun Osborne, chief foreign exchange strategist at Scotiabank.
Oil factor?
Meanwhile, U.S. crude oil prices were down for a fourth consecutive day on Friday for a total weekly drop of more than three per cent. The drop came after reports that top producers Saudi Arabia and Russia could boost production later this year, increasing supply in the market.
Because oil is one of Canada's major exports, its price has weighed on the loonie in the past, but the correlation between the two has eased off lately.
However, Mazen Issa, senior foreign exchange strategist at TD Securities, said falling oil prices still represent one less positive working in the Canadian dollar's favour.
He sees the Canadian dollar "on the cusp of an appreciable downleg" and is calling for investors to favour currencies that would benefit from a weaker loonie.
"Naturally, this has us eyeing $1.30 as the next major topside attractor for U.S. dollar-Canadian dollar cross, though a move towards $1.32 should not be ruled out in the coming weeks," he said in a note on Friday. That is an almost two per cent increase in the value of the U.S. dollar against the loonie.
But Scotiabank's Osborne thinks that even if oil prices dropped closer to $65 US a barrel in the near term, the general trend in commodity prices is strong and that will bode well for the Canadian dollar. Oil is currently trading around $67 US.
"Rising commodity prices boost Canadian terms of trade and usually produce positive economic outcomes — rising incomes etc.," he said. "This is the opposite of what occurred in 2015 when oil prices slumped. The terms of trade effect is not fully reflected in the Canadian dollar at this point."
Impact of higher rates
He also thinks that the Bank of Canada's interest rate policy meeting next week will lend support to the loonie as the central bank talks positively about the Canadian economy in preparation to rising interest rates later in the summer.
"Despite the uncertainty over the NAFTA outlook, the Bank of Canada may sound a little more hawkish [in favour of higher interest rates] in next week's policy statement to prepare markets for a late summer tightening," Osborne said. "If it does, the Canadian dollar should rally modestly."
Rai of CIBC agreed that the Canadian economy is performing well and said it likely grew faster than the Bank of Canada's growth forecast of 1.3 per cent in the first quarter of this year.
"We still need to see the national accounts data to confirm this, but that is a step in the right direction for a rate hike in the coming months," he said.