Cannes 2018 Video #6: Shoplifters, BlacKkKlansman Earn Top Prizes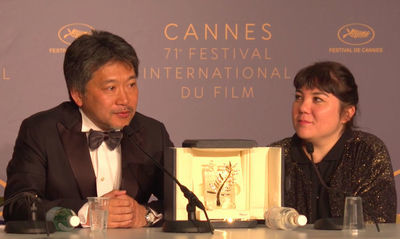 Here is Chaz Ebert's sixth video dispatch from the 2018 Cannes Film Festival, accompanied by a transcript of the video…
The sun has set in the south france, on the port of Cannes and on the 71st edition of the film festival as well.
Tonight the prizes were awarded by Cate Blanchett and her jury, but before I give you the rundown I have to report that the #MeToo TimesUp movement made an appearance on the stage before the awarding of prizes: Italian actress Asia Argento was called to the stage to help present a prize for the Short Film, the Cort Metrage; but instead she announced that she was raped by Harvey Weinstein here at Cannes when she was 21 years old and she called out those who protected him and also put others on notice. After a moment of stunned silence the audience broke into applause, then the show continued.
Now let's get to the top four prizes. They went to very worthy films.
Number four, The Best Director award, went to Pawel Pawlikowski for his beautiful postwar drama, "Cold War."
Number three, The Jury Prize, went to the heart-wrenching tale from Lebanon "Capharnaüm," by Nadine Labaki.
The Grand Prize went to Spike Lee, nearly 30 years after bringing "Do the Right Thing" to Cannes. He won for his latest film, "BlacKkKlansman."
Finally, the top prize, the Palme d'fOr, was given to the Japanese film by director Hirokazu Kore-eda, "Shoplifters."
And in a bit of a twist, the jury asked to be allowed to award a Special Palme d'Or. The Festival agreed, and the Special Palme d'Or went to the grand master, Jean-Luc Godard for his latest experimental film "Image Book".
The full list of awards will shown at the end of this video.
This year's festival started a bit slow, but by the end it featured a very solid slate of excellent films. And the prizes this year all went to very deserving winners.
We've had a wonderful two-weeks in the midday sun, reporting on the fun and the films here in Cannes. Check RogerEbert.com/Cannes for more in-depth reports on these films. Hope to see you next year. Au Revoir!