Firefighters holding back wildfire near northern Alberta community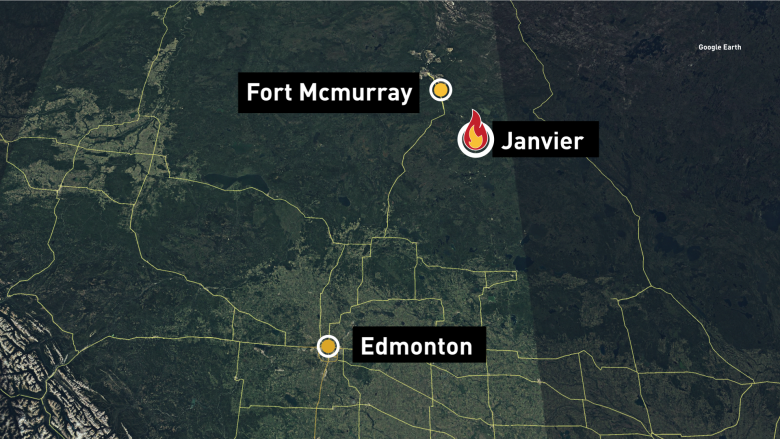 Firefighters are holding back a wildfire from the northern Alberta community of Janvier and the Chipewyan Prairie First Nation.
The municipal hamlet, the First Nation and the Métis community are about 120 kilometres south of Fort McMurray and have been on an evacuation alert since Wednesday.
The municipality and the province have warned residents to be prepared to leave if the fire gets close to the community.
(Charlie Brockman/ CBC News Graphics)
Jody Butz, fire chief for the Regional Municipality of Wood Buffalo, said forestry crews aided by the Indigenous community have been holding back the fire, which covers 237 hectares.
Bulldozers are building fire guards and water tankers have been bombarding the flames.
"Alberta forestry has deemed the wildfire as out of control in its current status," Butz said. "But the suppression efforts and the amount of resources that have been placed on it have had a positive outcome on it."
Wood Buffalo Fire Chief Jody Butz told me earlier this afternoon the wildfire situation outside Janvier is improving thanks to water bombing &amp; the work of bulldozers <a href="https://twitter.com/hashtag/ymm?src=hash&amp;ref_src=twsrc%5Etfw">#ymm</a> <a href="https://twitter.com/hashtag/ABemerg?src=hash&amp;ref_src=twsrc%5Etfw">#ABemerg</a> <a href="https://twitter.com/hashtag/rmwb?src=hash&amp;ref_src=twsrc%5Etfw">#rmwb</a> <a href="https://t.co/bpTByIal4m">pic.twitter.com/bpTByIal4m</a>

&mdash;@CBCDavid
People in the community remain calm, said resident Marina Nokohoo, though the air is clouded with smoke.
"It's quite peaceful around here. It's very, very smokey," Nokokoo said. "I am sitting here with two elders, one of them being my dad and an experienced firefighter. And my dad knows exactly where that fire is and at what point we were really going to have to worry."
Nokohoo, a member of the band, said some elders and people with breathing problems were evacuated on Wednesday.
Wood Buffalo municipality said in a news release that busses are stationed in the community if needed to evacuate residents to the Anzac recreation centre north of the community.
Though this fire has not grown, the fire chief cautioned that conditions remain dry and hot, making more wildfires likely.
The province has imposed fire restrictions near the southern boundary of Big Lakes County, north of Peace River, within Wood Buffalo National Park, and in the Lac La Biche and Fort McMurray areas.
Fire permits have been suspended and backyard fire pits, campfires, charcoal briquettes, turkey fryers, torches, exploding targets and fireworks are banned.
Propane fire pits, gas stoves or propane barbecues can still be used in communities and in back country and camping areas.
Connect with David Thurton, CBC's Fort McMurray correspondent, on Facebook, Twitter, LinkedIn or email him at david.thurton@cbc.ca