Amazon to bring 1,000 jobs to Ottawa with new warehouse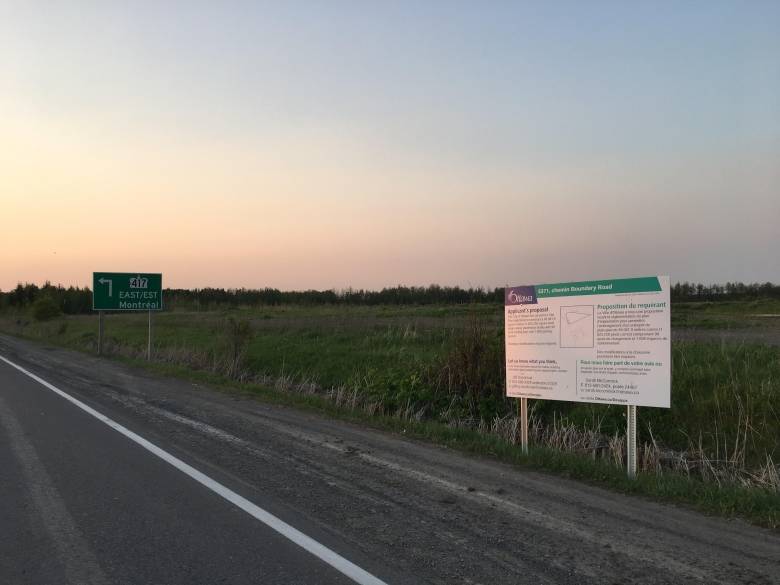 Online retail giant Amazon is set to make a major investment in Ottawa, with a warehouse that will employ roughly 1,000 people, according to two members of Parliament.
Orléans MP Andrew Leslie confirmed in an interview with CBC News that the company plans to take over a giant warehouse proposed for 5371 Boundary Rd., near Highway 417. An application submitted to the city says the facility will be over one million square feet and require 99 truck bays and more than 1,000 parking spaces.
"It will employ approximately 1,000 people, good middle class jobs, and it's going to be a transportation hub," said Leslie, late on Thursday. "We have been working with Amazon for a couple of months now and we are just thrilled that it's all coming to maturation."
The warehouse site is adjacent to Highway 417 in the eastern end of Ottawa. (Felix Desroches/CBC)
3 levels of government involved
Leslie said that provincial, federal and municipal governments have all been involved in efforts to attract the firm.
He said an announcement of the project was planned in the future. He did not have details of any government funding that might have been involved in attracting the project.
Leslie said it's a fantastic opportunity for the city and the site is well-situated.
"We are thrilled. I think this is fantastic news for Orléans."
Francis Drouin, MP for the adjacent riding of Glengarry-Prescott-Russell, said it would be good for the entire region and the site is perfectly situated, with highways nearby and close to both Ottawa and Montreal.
"It will drive traffic away from the downtown core, which is perfect," he said.
No comment from mayor
CBC reached out to Amazon, but had not received a response before publication.
According to the city lobbyist registry, a representative of Amazon met with Mayor Jim Watson and city manager Stephen Willis in January 2018.
In 2015, city council voted to extend municipal water services to the area and in 2016 council identified the site as an important employment opportunity.
Ottawa Mayor Jim Watson and local Coun. Stephen Blais both declined to comment.