'Be prepared to charge me,' says Sask. chief after gov't restricts when people can hunt on certain lands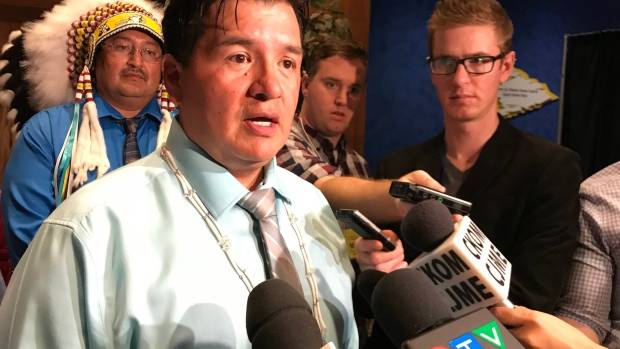 The Federation of Sovereign Indigenous Nations (FSIN) is speaking out against a Saskatchewan government policy reversal that restricts when people can hunt on certain lands in the province.
The change, shared with Indigenous groups earlier this month, means that hunters must now receive the permission of pasture managers or lessees before hunting on former federal pastures or land covered under the provincial Saskatchewan Pastures Program during pasture operations.
Unrestricted access was previously granted 365 days a year, according to the Saskatchewan Wildlife Federation.
'A legal battle in the making'
"This is what the government has to understand. Long before any settler or government arrived on these lands, it was First Nations people who hunted, fished, trapped and gathered off of these lands," said FSIN Chief Bobby Cameron on Thursday.
"It's a legal battle in the making," he added. "Our hunters are saying they're going to hunt anyway.
"I'm going to hunt on these lands, so be prepared to charge me."
Under the newly-tweaked rule, "First Nations and Métis can access the [lands] in the fall after regular pasture operations have ceased on the same terms and conditions as licensed hunters," according to Lauren Golosky, a spokesperson for Saskatchewan Ministry of Agriculture.
"They can also access at other times of the year [during pasture operations] with permission from the lessee," she said.
Ministry responding to concerns about safety
Agriculture Minister Lyle Stewart said the change was made "due to recent court cases and the outcomes of them and requests, concerns, I guess, over safety from patrons and others, the safety of people in the pastures, the safety of livestock, fire safety, and biosecurity issues."
Asked about those safety concerns, Cameron said, "They [the provincial government] are to blame too. It's not just focusing or trying to blame special groups. That's the common error — 'it's special groups.'
"They're saying no special groups will have access to these lands except on these dates. Well, isn't that a racist comment? I think it is."
Supreme Court case cited
The decision was partly based on the R. v. Morris case from the Supreme Court of Canada, in which "safety is paramount," according to an emailed statement from the Ministry of Justice.
"The court was very clear in saying that hunting rights must be exercised in a safe manner that respects the lives and property of others," according to the statement.
"The argument is that fence riders and other employees may well be present checking cattle or fixing fences and the hunters are not aware of their presence because their view is obstructed by trees or other objects.
"This creates a real safety risk."
The Saskatchewan Pastures Program includes 51 pastures across the province, covering 780,000 acres of land.