Cat Fest, Rainmaker Rodeo and medieval battles: What to do this weekend in Edmonton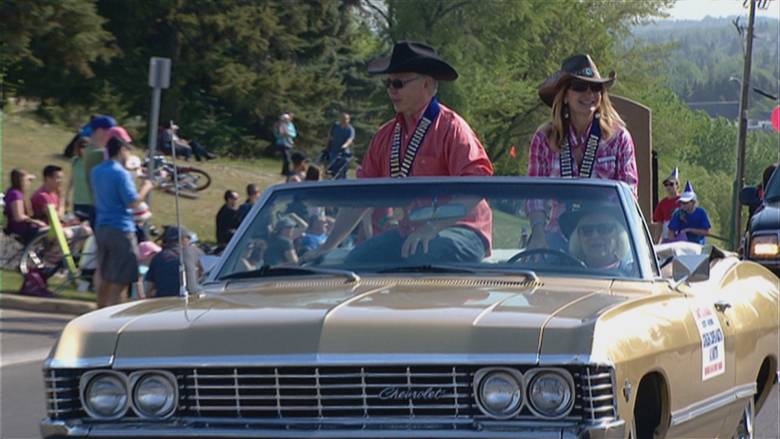 In St. Albert, a tried and true tradition you can giddy up to, the
Rainmaker Rodeo
goes rain or shine with a parade, pancake breakfast, exhibits and concerts all weekend.
The parade is part of the fun of the Rainmaker Rodeo in St. Albert. (CBC)
More rodeo action to the south as Leduc hosts the family-oriented Ranch Rodeo Saturday, one week ahead of the 50th Black Gold Pro Rodeo.
Borden Park is the spot to be to catch a new event called UFest Edmonton Ukrainian Festival featuring culture, food, music, dance and a lot more on Friday and Saturday.
Over at the King Edward Community League, knights battle for supremacy and bragging rights as part of the eighth annual Medieval May event on Saturday.
The Edmonton-based Knights of the Northern Realm present Medieval May this weekend. (CBC)
This is purrrfect! The Edmonton International Cat Festival is on Saturday at the Robbins Health Learning Centre.
You knew this was coming. The 2018 Psychic Fair runs Saturday at River Lane Ranch outside of Edmonton.
The Rossdale Community League Field is the spot to be Sunday for the
MS Walk
fundraiser.
Chief conductor of the Edmonton Symphony Orchestra, Alex Prior, conducts Beethoven's Fifth Symphony Sunday. (Edmonton Symphony Orchestra)
You know it, you can hum it and now Beethoven's Fifth, conducted by Alexander Prior, is front and centre Sunday at the Winspear Centre.
One of Willy Shakespeare's best plays is being staged at the Citadel Theatre with performances of A Midsummer Night's Dream featuring actors from Young Companies Production until Saturday.
Opera NUOVA, the Opera and Music Theatre Festival on at various venues until June 30.
Sunday sees another batch of inductees into the Edmonton Blues Hall of Fame with performances and a ceremony at
Blues on Whyte
.
This is the second year for the Snow Valley Aerial Park. (John Robertson)
That aerial park over at Snow Valley is open again featuring high-rope adventures with a new family day-pass for up to five family members as well as full-season passes this year.
Football is back with the green and gold facing off against the Saskatchewan Roughriders in a preseason game on Sunday afternoon in Commonwealth Stadium.
For more community events you can catch Our Edmonton Saturday at 10 a.m., Sunday at noon and Monday at 11 a.m. on CBC TV.
The Edmonton Eskimos gear up for the season at Commonwealth Stadium. (CBC)