Alberta's strengthening economy helps ATB Financial post record-setting earnings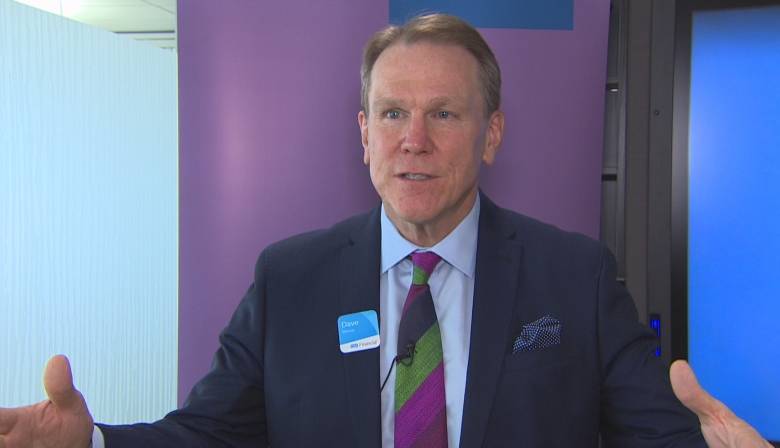 ATB Financial saw an 82-per-cent increase in net income in a record-breaking year last year.
ATB released its financial results Thursday for the fiscal year ending March 31, 2018.
The provincially-owned entity pointed to growth in loans and assets for the strong fiscal year, as well as a strengthened Alberta economy.
"There's simply increased activity over last year," said Dave Mowat, president and CEO of ATB.
"There's another situation where existing companies are buying inventory or they're expanding, or putting an addition on their building.
" The price of oil is stable and I think that's most important for Alberta," says ATB CEO Dave Mowat. (CBC)
"As they start to see business improve, they're looking to try and improve their businesses and lots of times that involves capital."
ATB's net income was $274.6 million, up from $150.8 million the previous fiscal year.
A news release noted the financial institution's fiscal highlights include highest-ever operating net income, best income before provision for loan losses, highest operating revenue for a single quarter and highest operating revenue in a single year.
Loans up by $4B
Loans finished the year at $44.1 billion, up from $40.8 billion the year before. Deposits dropped to to $32.7 billion, a decrease of 3.7 per cent.
ATB business and agriculture more than doubled its net income from the previous year, finishing the fiscal year with $140.7 million.
ATB's retail financial services rebounded with a net income of $12.3 million after finishing the prior year with a loss.
"When you see a beginning of a recovery, it seems to us that small business are the ones that seem to react first, they can sense opportunity, they're entrepreneurs," Mowat said.
"So then the number of loans that we would've done, the number of customers would've had increased in the small business end."
Corporate financial services continued its pattern of growth, posting a net income of $239.7 million up from $221.9 million last year and a significant increase from $31.2 million two years ago.
Net income for ATB investor services was $39.6 million.
Mowat predicts next year will be another year of growth both for ATB and businesses in the province.
"We've seen agriculture has had relatively good yields and prices. The price of oil is stable and I think that's most important for Alberta," Mowat said.
"So that's bringing back confidence and when you bring confidence we see more activity in the banking sector."