Michelle Obama Says Any Woman Who Voted Against Hillary Clinton Voted 'Against Their Own Voice'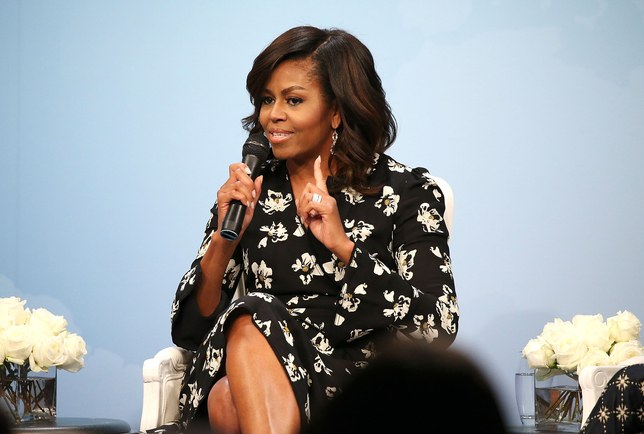 PHOTO: Paul Morigi/Getty Images
Former First Lady Michelle Obama has some pointed words for women who voted for Donald Trump. During a conversation with author Roxanne Gay at Boston's Inbound marketing conference on Wednesday, Obama told the audience that "Any woman who voted against Hillary Clinton voted against their own voice."
Despite assuring America that he would be terrific for women, Donald Trump attitude, actions, and comments toward women throughout his pre-presidential life seem to contradict his claims. And since taking office, the President has taken numerous steps to roll back women's rights (case in point: last month he reversed an Obama-era policy meant to promote equal pay).
Nonetheless, the former first lady made clear that both she and Barack are still hoping for the best when it comes to Trump. "We want him to be successful," Obama said. "He was elected."
And as someone who has first-hand experience living in the White House—and whose husband dealt with Congress that was determined to make his time in office as unproductive as possible—Obama understands the stress that comes with the job.
"We've chosen to be supportive of this administration," she added. "There was an entire party that didn't support my husband."
Moving on from Trump, Obama hit back at Republicans in Congress who have repeatedly tried—and failed—to repeal the Affordable Care Act.
"The Affordable Care Act isn't Barack's legacy," she said. "It's the country's legacy."
She also told the crowd that, despite missing "the people and the work" in the White House, she does not miss being first lady. Saying the experience was like "being shot out of a cannon…with a blindfold and the spotlight on you," Obama said that being out of the office feels like she and her family are "breathing for the first time."
As the Q+A drew to a close, the first lady's conversation with Gay ended on a lighter note. When asked what her favorite song on Beyonce's Lemonade is, Obama answered "all of them," before adding that "Love Drought" was the one she played "over and over."