Eugenie Bouchard looking ahead to upcoming big tournaments rather than dwelling on U.S. Open exit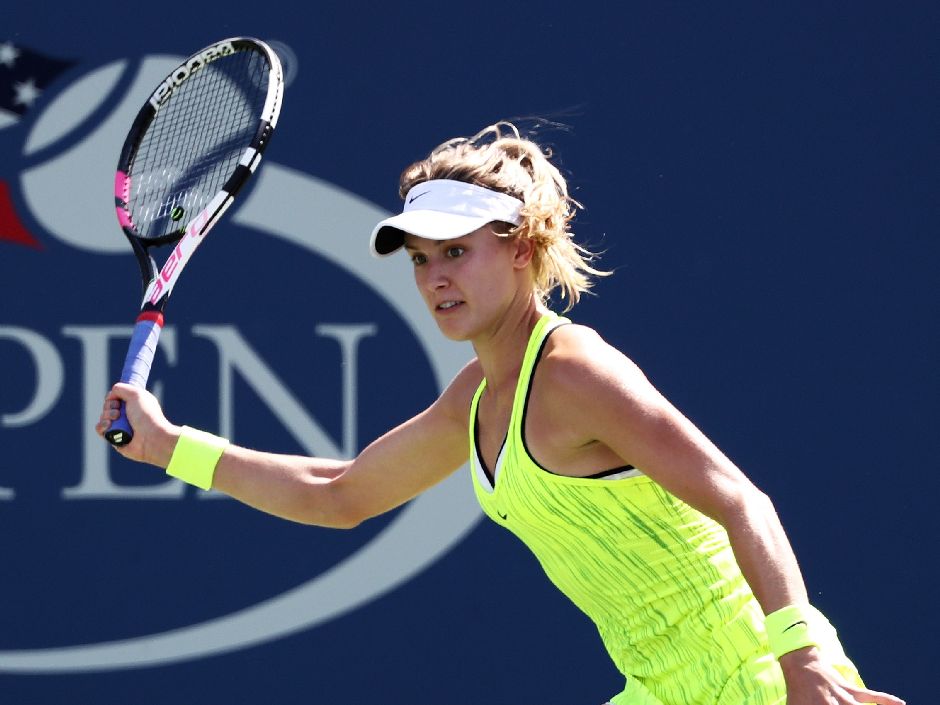 NEW YORK — Where does Eugenie Bouchard go from here?
Following her first-round loss at the U.S. Open, she is definitely going down in the world rankings — at least to No. 44 if not further.
The Canadian entered the final Grand Slam event of the year ranked No. 39 and will lose valuable points after Tuesday's 6-3, 3-6, 6-2 loss to the Czech Republic's Katerina Siniakova, who is ranked No. 72.
"It's a loss … she'll recover and she's got opportunities," Bouchard's coach, Nick Saviano, said. "Some big tournaments coming up and she'll be fine. She's played some of the best tennis of her life the last couple of months, just has not sustained it."
Bouchard is still involved in a negligence lawsuit with the U.S. Open and the USTA after slipping on a wet floor in a dark locker room at last year's tournament and suffering a concussion that ended her season after she had reached the fourth round here. She said she was "treated well" during her very brief stay at this year's tournament.
"If I sit down and think about it yeah, it's definitely a strange situation," she said. "But it's something that's so far in the back of my mind … I don't think about it on a daily basis at all. I have people … lawyers working on that side of it, so it's really not something I think about much at all. Obviously, being here it's crossed my mind, but besides that it has nothing to do with my day-to-day life."
Bouchard, who climbed as high as No. 5 in the rankings two years ago, is only 22 so it's too early to give up on her ever getting back into the top 10. But it will take a ton of work on her game, both physically and mentally. She packs it in — and starts throwing rackets — too easily now when the going gets tough, losing deciding sets by lopsided scores, and it seems like opponents have also figured out her game.
"Of course, when I broke through I think I was the underdog a lot," she said. "Maybe a lot of the players didn't know who I was or knew my game so well, so that's an advantage for any young player coming up and I think you can see that happen a lot.
"There's that saying 'sophomore slump' … things like that," she added. "It's hard to maybe keep up really good results year to year. I don't know … it's just the way it goes. I think it happens to a lot of players and it's something that happened to me and that I'm trying to work with."
When asked what her goals are for the rest of the season Bouchard said: "My goals? To try and do well in the last few tournaments of the year. We still have a couple of big ones in Asia and things like that, so I want to kind of prepare well for those. Right now, obviously, I'm disappointed so I won't give a positive answer on that. So ask me in a few days."
She added: "I think this year has kind of been a bit up and down and, obviously, I wish I could have been better."
Does Bouchard still love tennis after all she's gone through?
"Every time I step on the court I love playing tennis," she said. "I love the feeling of hitting the ball and competing and having that competition and trying to win. So, yeah, when I was out for a couple of months last year I realized how much I love it and missed it when I was forced not to play. So for me, I wouldn't want to be doing anything else."
Pospisil goes down in second round
It's not often that someone who is 6-foot-4 plays the role of David in a battle with Goliath, but that was the case for Vancouver's Vasek Pospisil on Wednesday.
Unfortunately, the Canadian wasn't big enough or good enough to beat 6-foot-8 South African Kevin Anderson, losing the second-round match 7-6 (3), 6-4, 6-4. Anderson, the 23rd seed, has one of the biggest serves on the ATP Tour and it topped out at 138 mph Wednesday with 16 aces. Pospisil's fastest serve was 129 mph, with 13 aces, but he only put 50 per cent of his first serves in play.
"I think the difference today was his serving and my lack of serving," Pospisil said. "I was just not serving the way I should be serving and the way I can serve. Today it was just not there, which was disappointing. I think that was the big difference.
"Once the points started, I was playing well," added Pospisil, who is ranked No. 123. "I think it was a positive match. I'm playing much better now … this week. I think today just his serve was the difference, for sure.
"Unfortunately, I wasn't firing today (while serving) and that kind of let me down. Because I felt like I was ready … the rest of my game was feeling good enough to pull off an upset, but that was the difference today."
Pospisil will stick around to play doubles now, teaming up with fellow Canadian Daniel Nestor of Toronto. They are seeded sixth.
"It's always great playing with Daniel … he has so much experience," Pospisil said about his 43-year-old partner. Most recently they lost in the bronze-medal match at the Olympics.
Good news for Djokovic
Top-seeded Novak Djokovic caught a big break Wednesday when his second-round opponent, Jiri Vesely, withdrew from their match because of inflammation in his forearm. Vesely is only ranked No. 49, but he beat Djokovic 6-4, 2-6, 6-4 in Monte Carlo in April.
Djokovic won't play again now until Friday, giving him extra time to deal his own health issues. The No. 1 player in the world has been trying to overcome injuries to his left wrist and right shoulder and wasn't himself Monday when he needed four sets to beat Jerzy Janowicz, a former top-15 player who is currently ranked No. 247.
scowan@postmedia.com