What to do in Toronto on International Women's Day: Two must-see exhibits at the Gardiner Museum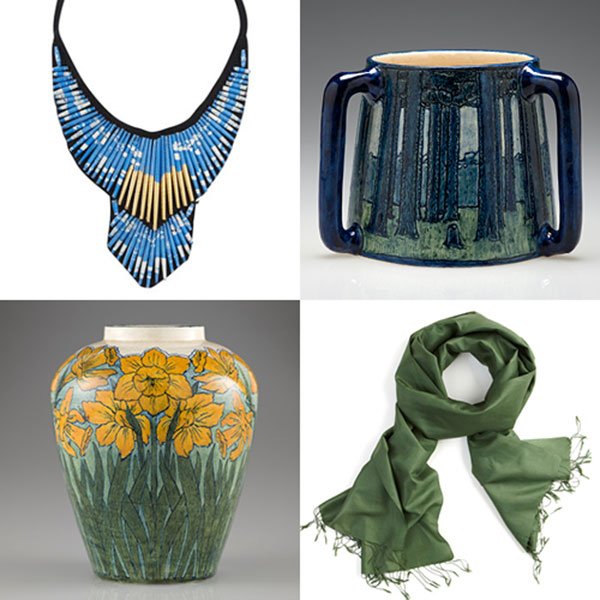 Pottery from the Women, Art and Social Change: The Newcomb Pottery Enterprise, a Smithsonian travelling exhibition, at Toronto's Gardiner Museum until May 18, and handmade products by Far & Wide Collective artisans, which are on special display (and for sale) at the museum on March 8.
The "messy" work of throwing pottery and mixing glazes was long considered "men's work." In North America and Europe, it wasn't until the 1930s that female ceramic artists actually began throwing the pots, bowls and vases that they so skillfully decorated. "Before the studio pottery movement of that era, women were known as paintresses and men did the heavy work, the heavy lifting," Rachel Gotlieb, the adjunct curator at the Gardiner Museum, explained to me as we walked through the museum's Women, Art and Social Change: The Newcomb Pottery Enterprise exhibit.
Today, in many parts of the developing world – Afghanistan[1], for instance – this gender divide is still a common cultural practice among artists. "Still today in Afghanistan, women cannot throw pots, but they can decorate them. They can make jewellery, but only with less valuable materials like silver. Men make the gold jewellery. These things are starting to change, but this is very much a reality there," says Hedvig Alexander, the founder of the two-year-old Toronto-based social enterprise Far & Wide Collective. "When I saw the Newcomb exhibit, I couldn't believe the details were quite that similar," she says.
This is just one of the fascinating commonalities between the Newcomb exhibit, and a special display and sale of Far & Wide Collective's modern-day hand-made artisanal pieces – jewellery, scarves, pottery, baskets, and more – from Afghanistan, Pakistan and Swaziland, among other countries, that is happening at the museum this International Women's Day[2], Sunday, March 8.
Alexander, who lived in Afghanistan for seven years, and who knows most of Far & Wide's artisans personally, will be on site throughout the day to share slideshows, show the products, and tell the stories of artisans like Nasreen Ismail, a Pakistani embroiderer who is now able to send her seven children to school through her work, and Shugufa Yousofzai, a 28-year-old Afghan woman who runs her own jewellery business – selling products made out of gold and precious and semi-precious stones.
"The thing about Afghanistan, and other places as well, is that yes, it is a traditional country and economy, but it's pragmatic. Today, if families can see that their women can make money by throwing a pot, they'll let them throw a pot. So if you can show an incentive, give the economic argument, that is really what drives change," say Alexander, who, through Far & Wide Collective, is helping connect these artisans with an international market for their goods.
"All artisans today, male or female, face challenges in selling their work," says Gotlieb. "Whether you choose to work in furniture, or pottery or ceramics, you are always competing with companies like IKEA or Crate & Barrel that can offer contemporary design at very affordable prices. So people who are buying craft and supporting that market are doing it consciously," she says.
The Gardiner Museum is open this Sunday March 8 from 10 a.m. to 5 p.m. and the Far & Wide Collective event with Hedvig Alexander runs from 11 a.m. to 4 p.m. Far & Wide Collective goods will continue to be on display (and for sale) at the museum's gift shop following the event and are also available at farandwidecollective.ca[3].
READ MORE:
ELLE World: Elevating Artisans[4]
Writing a new future for Afghanistan[5]
ELLE World Roundup[6]
ELLE Canada on feminism
[7]
Similar Posts:
You might also like
About Christina Reynolds
There aren't many jobs where you get to travel to South Sudan with Unicef one week and then cover London Fashion Week the next. I've got a pretty varied gig at the magazine — as managing editor, I work on everything from ELLE Life, Relationship and Society pieces to Career, Money, Travel and ELLE World stories. My fashion faves are just as eclectic—from modern minimalism to fantastical prints.
References
^ Afghanistan (www.ellecanada.com)
^ International Women's Day (www.internationalwomensday.com)
^ farandwidecollective.ca (www.farandwidecollective.ca)
^ ELLE World: Elevating Artisans (www.ellecanada.com)
^ Writing a new future for Afghanistan (www.ellecanada.com)
^ ELLE World Roundup (www.ellecanada.com)
^ ELLE Canada on feminism (www.ellecanada.com)
Source:: http://ellecanada.com.feedsportal.com/c/34164/f/621200/s/442575d1/sc/8/l/0L0Sellecanada0N0Cblog0C20A150C0A30C0A70Ctoronto0Einternational0Ewomens0Eday0Etwo0Emust0Esee0Eexhibits0Egardiner0Emuseum0C/story01.htm