Thalidomide survivors want clarity on federal compensation package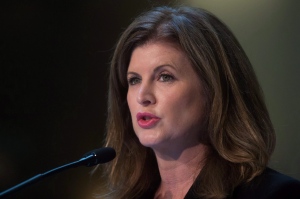 A group of Canadian thalidomide survivors is in Ottawa today to get more details on the compensation package offered by the federal government.
Mercedes Benegbi, executive director of the Thalidomide Victim's Association, said members of her organization will meet with federal health officials.
"We are seeking a lot of clarifications," Benegbi told CBC Montreal's Daybreak.
"We have a lot of questions. We want to be sure that the funds that got announced are going to be sufficient to meet the life-long needs of the survivors."
On Friday, Health Minister Rona Ambrose announced a $125,000 lump-sum payment to each of Canada's thalidomide victims.
Health Minister Rona Ambrose acknowledged that no amount of money can ever undo what happened to victims of thalidomide, but she said the compensation will help ensure that survivors receive the care they need for the rest of their lives. (Darryl Dyck/Canadian Press)
The long-awaited compensation package also included up to $168 million in total for ongoing medical assistance based on individual circumstances.
Benegbi said they only got word of the funding announcement 30 minutes before it was made and still haven't been given any details.
"We want to understand how this fund is going to work," she said.
Thalidomide was a government-approved, anti-nausea drug prescribed to pregnant women in the 1950s and 1960s.
Children of those mothers were born with a range of problems, including missing or malformed limbs, deafness, blindness, disfigurement and other disabilities.
Survivors were provided with compensation from Ottawa in 1991, but have long said it wasn't enough.
The House of Commons unanimously supported a New Democratic Party motion of support for the victims late last year.
Source:: http://www.cbc.ca/news/canada/montreal/thalidomide-survivors-want-clarity-on-federal-compensation-package-1.2986879?cmp=rss