'Just like a little Wayne Gretzky': Mikael Kingsbury poised to become the most successful moguls skier in history, and he's only 22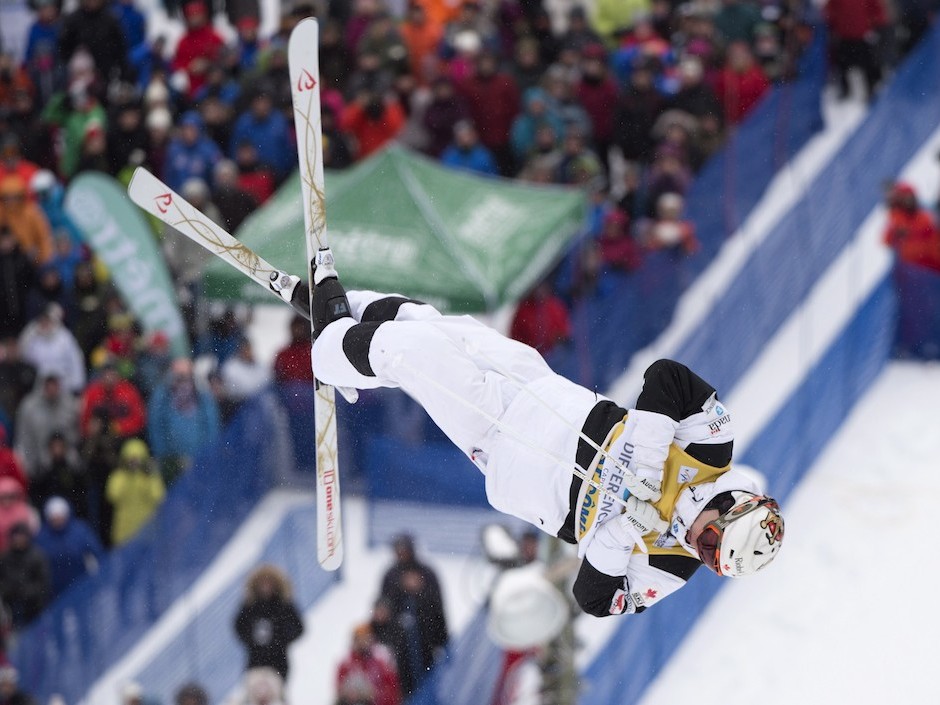 On skis by the age of four, with a printout of the Olympic rings stuck to his ceiling by the age of nine, Mikael Kingsbury is now poised to accomplish something, at age 22, that led one of his predecessors to describe him as the "little Wayne Gretzky" of their sport.
"Gretzky was a phenom, the best in his sport; he broke numerous records along the way," said Bruce Robinson, chief executive of the Canadian Freestyle Ski Association. "A guy like Kingsbury, he's got a good — as long as he wants to ski — four to eight years left in him. I think he will break every record that's in the book at some point in time."
A park has already been named in his honour in his hometown, Deux-Montagnes, Que., a half-hour outside Montreal. A local high school has named its gymnasium after him, too, after he won silver at the Sochi Olympics last year, just behind his decorated teammate and rival, Alexandre Bilodeau.
On Sunday, in Megève, France, he will have the chance to do what Bilodeau could not. A win would break his tie with retired French star Edgar Grospiron. Kingsbury won his 28th event in his 60th career start, where Grospiron needed 78 starts. Grospiron and Brassard are both expected to be watching from the spectator gallery on Sunday.
"When I'm in the start gate, I'm going to do everything to get the win," Kingsbury said on Friday. "I don't want to put pressure on myself. I know I have plenty of time to beat those records, but it would be a real plus if I could do it here in France, in front of Edgar and Jean-Luc."
Moguls skiers are judged on their turns down the hill, their speed and their jumping. They are expected to keep their knees close on their way through the bumps, showing that they can dip and squat and extend quickly and smoothly: "So it looks like water flowing down a moguls hill," said Robinson.
And Kingsbury has been competing at an elite level since he was a teenager.
Dominick Gauthier has coached elite moguls skiers in Canada, including his now-partner, Jennifer Heil, and he is a co-founder of B2ten, a group of wealthy Canadian boosters that has helped fill in the gaps in funding for some of the country's elite amateur athletes.
Kingsbury is among those athletes. The group has paired him with a sports psychologist, and it has him working with Scott Livingston, a certified athletic therapist who helped to get Montreal Canadiens defenceman Andrei Markov back on the ice after a series of knee injuries. The group only backs athletes who have real potential to succeed internationally.
"What we're seeing is an athlete who's been dominating a sport in a way that we don't see that often, especially in Canada," said Gauthier. "He's a Usain Bolt. He's one of those, who is so dominant, who has all the skills, all the attributes."
Among those attributes, he said, is an unusual capacity to handle pressure. Gauthier said most moguls skiers tend to keep to themselves at the top of the course, listening to music and avoiding eye contact with the competition. Kingsbury monitors everything: other skiers, other runs and other scores.
"He's an incredibly smart athlete who will calculate everything that he needs to do to be No. 1," Gauthier said. "So, whether he needs to go faster, whether he needs to focus more on jumps … he adjusts his skiing to what his opponents have done."
Kingsbury went last in Russia, right behind Bilodeau, who was trying to defend the gold medal he won four years earlier in Vancouver. Bilodeau executed an incredible run on a difficult course in the mountains above Sochi. Kingsbury could not catch him.
"These two guys together, you could feel that they were teammates, but it was a rivalry," said Brassard. "But this rivalry carried them to another level of skiing that, without each other, they would not have been able to reach."
Bilodeau has retired. Kingsbury, it seems, has continued to climb.
"I think until Mikael gets to 2018 and wins the Olympic gold, people won't really understand how amazing he is," said Gauthier. "But I think this record should put things in perspective."
Source:: http://www.canada.com/sports/Just+like+little+Wayne+Gretzky+Mikael+Kingsbury+poised+become+most/10887686/story.html