Director Paul Feig Slams Criticism of All-Female Ghostbusters as "Vile, Misogynistic S–t"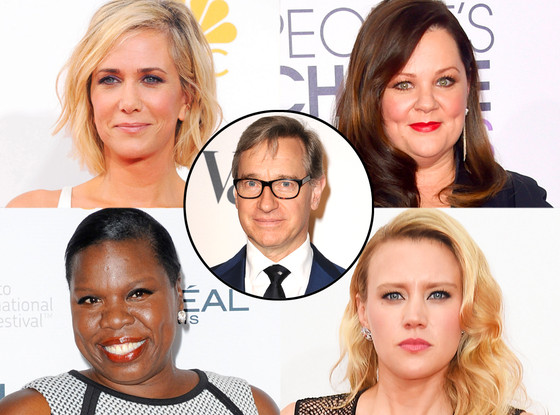 Getty Images
In January, the cast for director Paul Feig's all-female Ghostbusters was announced with Melissa McCarthy, Kristen Wiig, and Saturday Night Live players Leslie Jones and Kate McKinnon all confirmed to star in the forthcoming flick—and many jumped for joy at the news. 
However, while we're certainly big fans of the all-female main cast, Feig recently revealed in an interview with Variety that he has faced endless backlash over his casting of the four comedy queens, and he's not afraid to fight back against the criticism. 
"The Internet is really funny—I love it, but I hate it at the same time," Feig said. "The first wave when you make an announcement like that is overwhelmingly positive. Everyone's so happy and you're like, 'This is great.' Then comes the second wave and you're like, 'Oh my God.' Some of the most vile, misogynistic s–t I've ever seen in my life." 
McCarthy and Wiig, who starred in Feig's 2011 comedy Bridesmaids, as well as Jones and McKinnon, will take on the roles first played by Bill Murray, Harold Ramis, Dan Aykroyd and Ernie Hudson in the 1984 original directed by Ivan Reitman. 
MORE: Get the full scoop on the other Ghostbusters reboot!
Twitter
"The biggest thing I've heard for the last four months is, 'Thanks for ruining my childhood,'" Feig continued. "It's so dramatic. Honestly, the only way I could ruin your childhood is if I got into a time machine and went back and made you an orphan."
Feig also revealed that he typically checks out a commenter's Twitter bio when one leaves a particularly nasty remark, and he's often shocked by the immaturity in the Twitterverse. 
"I figure it's some wacked-out teenager. But almost constantly it's someone who's bio says 'Proud father of two!' And has some high-end job," he shared. "You're raising children and yet you're bashing me about putting women in my movie?"
Solid point. 
PHOTOS: Stars at SNL 40th anniversary after-party
Columbia Pictures
Backlash aside, Sony Pictures announced on Monday that another Ghostbusters reboot is in the works with Channing Tatum attached to the project. 
"I'd heard some rumblings about it," Feig said of the Sony Pictures film, which will be directed and produced by Joe and Anthony Russo. "Who knew there were so many ghosts to be busted in the world?"
Although Feig said he is a fan of both Tatum and the Russo brothers, the 52-year-old filmmaker is not involved in the project and will be focusing on his own film. "All I know is my ladies are going to kick ass and I would not want to go into battle without them."
The Ghostbusters all-female reboot is due in theaters July 22, 2016.
PHOTOS: More movie remakes
RELATED VIDEOS:
Source:: http://ca.eonline.com/news/635545/director-paul-feig-slams-criticism-of-all-female-ghostbusters-as-vile-misogynistic-s-t?cmpid=rss-000000-rssfeed-365-topstories&utm_source=eonline&utm_medium=rssfeeds&utm_campaign=rss_topstories