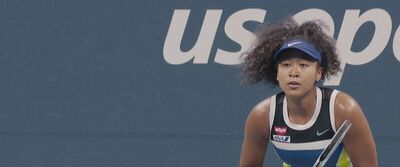 The relationship between athletes and the public can be somewhat inverse. On the side of the athletes, they work their entire lives at a particular sport, training for endless hours with countless drills and practices, until they make it to—through whatever combination of hard work and luck—the national or international stage. On the side of the public, unless we're devoted followers of said sport, we might not be aware of who these athletes are until they appear before us. Our judgments are based on our own snippets of time watching these people play or perform, while the athletes themselves are shouldering the enormous pressures of a lifetime devoted to this work. The dynamic is one of imbalance, and one in which neither side can truly understand the experiences, emotions, or opinions of the other.
Is that a too-heady way to start talking about a sports miniseries, like Netflix's "Naomi Osaka"? Maybe, if the sports miniseries were anything other than "Naomi Osaka," a meditative project from filmmaker Garrett Bradley. Bradley, who followed champion tennis player Osaka for two years between the ages of 20 and 22, applies her recognizably slow-burning, contemplative, featured-subject-first documentary style (used previously in the Academy Award-nominated documentary "Time") to the phenom. We don't see Bradley aim questions specifically at Osaka, although Osaka's parents, team, and boyfriend speak directly about her in talking-head interviews. We don't see many follow-ups, re-assessments, or any other peeling back of Osaka's statements or viewpoints—and this approach, similar to the one employed by co-directors Beyoncé and Ed Burke in her Netflix concert film/documentary "Homecoming" and by Michelle Obama and director Nadia Hallgren in their documentary "Becoming," hands narrative authority to the documentary's subject.
Is that done to head off criticism, or to take back control? An argument could be made either way—and there's a whole separate discussion to be had about how Osaka, Beyoncé, and Obama are asserting their voices through these documentaries in an America that has long been cruel and dismissive toward Black women. Whatever the reasoning, the result is that Osaka speaks for herself here, either in voiceover narration or in the self-recorded snippets to which Bradley is given access, and the effect is one of unshakeable intimacy.
Bradley isn't interrogating Osaka, but shadowing her: at 20 years old, representing Japan in her win at the US Open against idol Serena Williams in 2018; later pursuing her interest in fashion design and struggling with her tennis playing after myriad personal setbacks; and at 22, returning to the US Open in triumph and using her voice as an advocate for the Black Lives Matter movement. If you follow Osaka's career, some of the highlights in the trio of episodes "Rise," "Champion Mentality," and "New Blueprint" will probably be familiar. There are gaps of time and certain tournaments missing, but that's because "Naomi Osaka" isn't purely a docuseries about Osaka's tennis career, and is in fact better for its wider focus and broader breadth.
The aim here is to build a fuller portrait of Osaka as an athlete honest about her vulnerabilities, her ambition, her pride, and her conflict, with all the rawness and responsibility those extremes hold, and the result is summarily compelling. Each episode is roughly divided into thematic segments, and the series' linear progression tracks Osaka's explosion into fame and success, along with her struggle to find a personal and professional balance between so many demands.
With quiet confidence and thoughtful arrangement, Bradley builds Osaka's world with an eye on both the pressures Osaka puts upon herself and the pressures others put on her. In well-edited sequences, we see the countless cameras in her face from both news media and fans. We see her parents' encouragement, and watch her coach Wim Fissette comment on how incredibly hard Osaka is on herself. Home-video footage of Osaka as a toddler, training on public courts under the watchful eye of her father Leonard Francois and alongside her sister Mari, contrasts with a grown Osaka walking into stadiums packed with onlookers. Self-shot video of Osaka speaking about the devastating death of her mentor and hero Kobe Bryant leads into the young woman asking her mother Tamaki at her 22nd birthday dinner, "Did you think by the time I was 22, I would have done more? Or do you think this is, like, acceptable?"
Osaka has lately drawn headlines for her reticence in speaking to the media and her ensuing withdrawal from various tournaments to protect her mental health, and this docuseries helps contextualize those decisions as the relatable actions of a woman working to determine whether all this is tenable. Her intense schedule on the court: hours of hitting balls over and over, hours of stretching and sprinting, hours of making minute adjustments to her serve, backhand, and other shots. Bradley captures the fluidity and beauty of her movements, and the physical toll they take; a great scene involves Osaka shrugging off a fallen-off toenail that one of her trainers finds revolting. Her intense schedule off the court: not just facing rooms full of reporters after matches, but fashion shoots, promo work, recording sessions, interviews (including an amusingly monosyllabic appearance on "The Ellen DeGeneres Show"), meetings with her team, meetings with her agent, and meetings with all her business partners.
This is what it takes to maintain a competitive edge and cultural relevance (in particular for all the fans who see themselves in Osaka's mixed Haitian-Japanese heritage, and her pride in both), and yet Osaka assesses it all with a refreshing wariness. Bradley underscores that by interspersing revealing moments that speak to Osaka's youth: through a giggle, she asks whether she can get drunk on champagne; a Pikachu plush decorates her bed; she wonders what life experiences she missed out on by being home schooled and not attending college. More than once, Osaka calls herself a "vessel" for other people's dreams and desires, and that final musing fits into a pattern of self-reflection. "I think about what would happen if the world stopped. What would happen if tennis stopped?" she asks, and that curiosity and candor make "Naomi Osaka" an informative, rewarding portrait that resists hagiography in earnestly presenting a young woman in progress.
Whole series screened for review. "Naomi Osaka" premieres on Netflix on July 16.