Roadrunner: A Film About Anthony Bourdain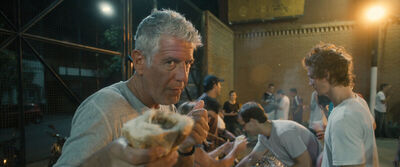 Morgan Neville shapes his documentaries so that they reflect their subject matter. "Twenty Feet from Stardom" has the exuberance of a backup singer; "Won't You Be My Neighbor?" has the warmth of Mister Rogers. His latest, and best yet, "Roadrunner: A Film About Anthony Bourdain," captures the restless curiosity of Anthony Bourdain, a world-famous chef and traveler who took his own life in 2018. Since then, people have been trying to wrap their brains and hearts around how someone who seemed so confident and brilliant could choose to end it all. Neville smartly avoids that question—the truth about suicide is that we can never fully know the "why"—and instead reframes the conversation around Bourdain so that it's about his life instead of just his death. The portrait here is of a man who valued experience over knowledge, as excited to speak to the chef at a roadside diner as to one with a Michelin star. It's a fascinating, moving documentary that transcends mere profile piece to reclaim a legacy, and it's as inspirational as its subject.
A graduate of the Culinary Institute of America, Anthony Bourdain was working as an executive chef at the famous Brasserie Les Halles in Manhattan when he became something of an overnight sensation through a book called Kitchen Confidential. A must-read about the inner workings of the kitchens in high-priced restaurants, the book shot Bourdain into the public sphere. He wasn't the first all-star chef, but he was a different kind of all-star chef, someone who felt purer than the Lagasses and Pucks of the world. He could cook you the best meal you ever ate and then sit with you to have a drink and reveal how he did it instead of just giving you a bill and retreating to his kitchen. (And the conversation would be more filling than the meal.) There was a transparency and relatability to Bourdain that made him a superstar, and the perfect person to take viewer to corners of the world they had never seen before.
Bourdain's first travel show was called "A Cook's Tour" in Food Network, and he didn't turn back from there, getting the most attention for his "Anthony Bourdain: No Reservations," which ran for seven years, and his CNN program "Anthony Bourdain: Parts Unknown," which he was filming up until his death. The rise to fame of Bourdain through Kitchen Confidential (which even became a TV show with Bradley Cooper) and the travel shows that brought him into millions of homes naturally makes up the largest portion of "Roadrunner" as Neville avoids the standard biopic structure of starting in childhood, beginning his doc with Bourdain's ascendance instead of focusing too much on his background. The result is that "Roadrunner" never feels like it's invading the privacy of a very public figure, revealing how much can be learned about the man and why he mattered largely through what he chose to show us, not through some sort of series of personal revelations.
That's not to say that "Roadrunner" is a clip reel or an impersonal account of a celebrity's fame. Neville chooses to allow the people who knew and worked with Bourdain over the last two decades to shape the story, and they all seem very eager to do so. "Roadrunner" often has the feel of a gathering after the death of a friend. Hours after the funeral, after the bar has been open for a while, people start sharing stories. Neville mostly doesn't shy away from Bourdain's temperamental, difficult side either, but he does seem to step back during the darker final year of Bourdain's life. One really wishes Asia Argento could have sat down and talked about her relationship, but the overwhelming sense here from those who chose to be interviewed is that of people who truly miss Anthony Bourdain. I know I do.
Anthony Bourdain believed we should be travelers and not merely tourists. That experiential take on the world doesn't just apply to Bourdain's passions and careers, but everything. Don't just watch the world. Don't just hit the popular restaurants or destinations. Be active. Be curious. Be involved. That's why I admired Bourdain, and why I was so heartbroken when he chose to leave it all behind. Neville's film arguably softens a little of those final years, but one gets the sense that the filmmaker wanted to emphasize how Bourdain lived—in a way that felt like he was just getting more out of it than most of us. The best thing I can say about "Roadrunner" is that it has the same impact of Bourdain's best work. It makes me want to get more out of life—to eat better meals and take better trips. It may be a story about a tragic death but it is as life-affirming as anything I've seen this year.
Note: This review was filed before the publication of this interview, in which Morgan Neville reveals using an A.I. to replicate the sound of Anthony Bourdain's voice, opening up a controversy around transparency and ethics in non-fiction filmmaking. We have decided to run the review as it reflects an initial response to the film that encompassed more than that regretful decision, one that has now taken the conversation away from Bourdain's life yet again.