Why Are Women Dissed and Dismissed in the Film Industry?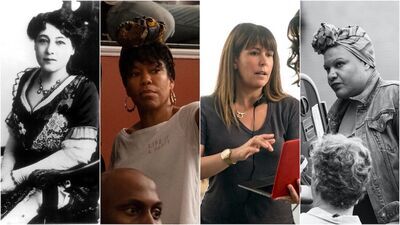 I'm an advocate of great cinematic art, but particularly cinema created by women. Women have a sense of storytelling that is unpretentious and unwavering with a sensitivity that sometimes lacks from our male counterparts. Alice Guy-Blaché is a name I'm sure was mentioned during my studies at Howard University, but somehow it escaped me. Guy-Blaché, a late 19th century French filmmaker, was the first women to make narrative fiction film from 1896 to 1906. She experimented and succeeded with talkies, color-tinting, interracial casting, and special effects. And yet her name has been whispered in the industry like some dirty little secret. Let's be real. All these mega-blockbuster films throughout the decades directed by men ("Star Wars," "Jaws," the Marvel Cinematic Universe, etc.) have benefitted from Alice Guy-Blaché.
In 2020, some of the most successful and high-profile films of the year, including "Birds of Prey" and "Wonder Woman 1984," were helmed by women. In the middle of COVID-19, a record number of women were thriving, from Autumn de Wilde's "Emma" to Céline Sciamma's "Portrait of a Lady on Fire." Radha Blank's savvy and poignant "The 40-Year-Old Version" is one of the few projects that doesn't have a Black woman as a sidekick, sex object, or punchline of a joke, but as a smart, creative, sensual force who is middle-aged and unapologetic while embarking upon a pivot into second chapter career. As a first-time writer, director, and star, Blank could be a contender for a Best Original Screenplay nomination at the 2021 Academy Awards; right behind her is Channing Godfrey Peoples' marvelous "Miss Juneteenth," delivering the possibilities of what the Black American dream looks like for a single mother (Peoples also directs an upcoming episode of Nat Geo's "Genius: Aretha," starring Cynthia Erivo). Gina Prince-Bythewood hopped into the action genre and elevated it with "The Old Guard." Stella Meghie showed the soft, complexities of romance with sensitivity through the lens of "Love Jones" realness with "The Photograph." "Farewell Amor," from Ekwa Msangi, takes her African upbringing and gives it a voice and life through a marriage faced with infidelity, growth and unconditional love. This is just the tip of the iceberg.
Why are these women consistently being dissed and dismissed in the film industry? Is it the blatant double standard that permeates across all lanes of entertainment? Or are the rules and restrictions placed upon minimally diverse voting bodies for the guilds, film critics organizations, AMPAS (Academy of Motion Picture Arts and Sciences), HFPA (Hollywood Foreign Press Association) to blame? Yes, it's all of that. According to a report from the University of Southern California's Annenberg Inclusion Initiative, women made up 10.6% of the directors of the top 100 grossing movies from 2019 and the highest since the institute began tracking the data in 2007.
This year's Oscars could be historic. For the first time in the over 90-year history of the Academy, we could witness, at the very least, three nominees who defy the gender norm of the film industry: Chloé Zhao ("Nomadland"), Regina King ("One Night in Miami") and Emerald Fennell ("Promising Young Woman"). On the heels of #OscarsSoWhite and #TimesUp, the Academy has attempted to diversify its ranks, with more than 2,000 new members since 2017—32% of its members were women, up from 25% in 2015 and 16% were people of color, up from 8% in 2015. So why aren't more women getting nominated in the directing category?
According to the Academy's website, the rules to join are structured in such a way that may actually limit the number of female directors who are able to gain entry. Members are required to have at least two directorial credits, at least one of which had to premiere in theaters within the last 10 years. The films must also "be of a caliber, which in the opinion of the executive committee, reflect the high standards of the Academy." Basically, that means a director with only one credit to their name might also qualify IF that film is nominated for Best Directing, Best Picture, or Best Foreign Language Film OR if the executive committee decides to make an exception based on some "unique distinction" or "special merit." One could argue as to whether these rules are reasonable or not.
However, what's not up for debate is the struggle just to get a film on the big screen. Patty Jenkins directed "Monster" (that garnered an Oscar in 2003 for Charlize Theron) and didn't direct a movie again until "Wonder Woman" with Gal Gadot. Jenkins has alluded in previous interviews that her long break was taken to prioritize her family, yet she spent years of that decade attempting to bring Wonder Woman to the silver screen. Studios simply weren't interested in a female superhero movie. Clearly, they have changed their tune, especially since the Wonder Woman franchise is a mega-hit. At the same time, Netflix has become a beacon of hope for women and people of color with aspirations to direct and produce, for and by US, with projects like the Shondaland-produced "Bridgerton," which shattered virtual audience records.
In the history of the Academy Awards, there have only been five women EVER nominated for Best Director and ONLY Kathryn Bigelow has been able to snag the prize. But there's clearly reason for hope across the landscape of female creatives and even at the Oscars. Here's hoping that Chloé Zhao, Regina King, and Emerald Fennell keep the momentum going in 2021. And here's hoping that, moving forward, there will be a recognition and celebration of directors for their cinematic brilliant storytelling of the human experience, and not a hinderance simply due to gender.