The Annotated Table of Contents for Women Writers Week 2021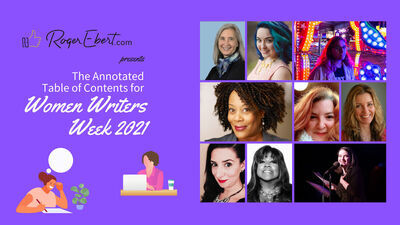 In honor of Women's History Month, I am happy to present the dynamic female writers for Women Writers Week 2021. We have been featuring their articles and reviews all week, and wanted to acquaint you with each of them in this annotated table of contents. Here are our featured writers in alphabetical order, accompanied by links to each of their articles published (and, in some cases, republished) this week…
---
SARAH KNIGHT ADAMSON
Sarah Knight Adamson is an entertainment and film freelance writer, and the weekly radio film critic for the nationally syndicated radio show Hollywood 360 Radio Network; she's heard on 80 Salem Radio Network News/Talk stations, including WNYM-New York, KRLA-Los Angeles, and WWRC-Washington DC. As the former weekly Regional Arts and Entertainment columnist for the TribLocal newspaper, a Chicago Tribune subsidiary, her interview with Roger Ebert appeared in print. She's also written for Chicago magazines. You can find additional information on her website: www.SarahsBackstagePass.com.
As a former teacher, Sarah's taught a film criticism class in Chicago at Facets Cinémathèque for children and has served two years on the Chicago International Children's Film Festival jury; and has served on other Film Festival juries in California and Tenn. Community interests include serving as a Chicago Public Library film panel participant, serving on the Executive Board for Variety Children's Charity of Illinois, and conducting monthly film Q&As at local cinemas.
Member of the Chicago Film Critics Assoc., Alliance of Women Film Journalists, NY, and the Critics' Choice Assoc., LA. Twitter: @SarahsBackstage Facebook: @SarahsBackstage
Featured Essay: Women Take Top Prizes at Critics Choice Awards
ANGELICA JADE BASTIÉN
Angelica Jade Bastién is a Chicago based critic and essayist. She's written for the New York Times, Vulture, The Atlantic, and The Village Voice.
Republished Essay: The Feminine Grotesque: On the Warped Legacy of Joan Crawford
HANNAH BENSON
Hannah Benson is a writer based in NYC. She enjoys writing about foreign and independent films made by women. Hannah has work published in Film Daze, Screen Queens, JumpCut Online, and more.
You can find Hannah's other work at https://hannahmbenson.contently.com and on Twitter at @HannahMBenson.
Featured Essay: The Smoke Gets in Your Eyes Universe
ARIELLE BERNSTEIN
Arielle Bernstein is a writer and cultural critic whose work has been published in The Guardian, The Atlantic, The Week, AV Club and other publications. She teaches writing at American University where she is also the co-director of the M.A. in Literature, Culture, and Technology.
Featured Review: Own the Room
MONICA CASTILLO
Monica Castillo is a freelance writer and University of Southern California Annenberg graduate film critic fellow. Although she originally went to Boston University for biochemistry and molecular biology before landing in the sociology department, she went on to review films for The Boston Phoenix, WBUR, Dig Boston, The Boston Globe, and co-hosted the podcast "Cinema Fix."
After a stint as an Entertainment Reporter for International Business Times, she's back to freelancing for RogerEbert.com, NPR, Village Voice, Tribeca Film, Paste Magazine, Remezcla, among others. She is a member of the National Association of Hispanic Journalists, Women Film Critics Circle, and served as a co-chair of the Boston Online Film Critics Association. Monica has traveled to a few film festivals, met a couple of living legends, and has some great stories about hitchhiking to red carpet premieres. She can usually be found online talking about the film she just watched.
Featured Reviews: Boogie, Trust
Republished Review: Cuties
OLIVIA COLLETTE
Olivia Collette has been deconstructing movies since she realized some of her friends were willing to humor her. She has a thing for Laxmi Chhaya dance routines, a crush on Fellini, and a non-negotiable fear of zombie flicks. Based in Montreal, Olivia has written for various print and online publications, including the Montreal Gazette, World Film Locations: San Francisco, Sparksheet, Indiewire's Press Play blog and the Spectator Arts Blog. She discusses pop culture at Livvy Jams and dissects our inconsistent obsession with body image on The Scrawn. If you see Olivia at Ebertfest, make sure to have your song ready, because she's totally dragging you to Karaoke.
Featured Essay: When Art Doesn't Age Well
KAYLEIGH DONALDSON
Kayleigh Donaldson is a critic and pop-culture writer based in Dundee, Scotland.
Her work can be found on Pajiba.com, Uproxx, IGN, SYFY, and various other outlets.
Featured Essay: The Case for Bo Burnham as 2020's Best Supporting Actor
CHAZ EBERT, Publisher and Editor-in-Chief of RogerEbert.com
In addition to being the Editor-in-Chief of Rogerebert.com Chaz Ebert produces television and movies at Ebert Productions and Black Leopard Productions, and appears in the film "Life Itself" about her late husband, Roger Ebert. She heads the Ebertfest Film Festival now in its 22nd year. She awards the Golden Thumb and Ebert Humanitarian Awards at Ebertfest, and the Toronto and Chicago International Film Festivals to filmmakers who exhibit an unusually compassionate view of the world.
Her civic interests include programs to help break the glass ceiling for women and people of color, and to provide education and arts for women, children and families. Some of the programs are administered through the Roger and Chaz Ebert Foundation. Other grants and support are made to Ebert Fellows programs at the Sundance Film Festival, Film Independent Spirit Awards -Project Involve, the University of Illinois Ebert Fellowships, the Hawaii International Film Festival-Young Critics Program, the Telluride Ebert/TFF University Seminars, the Chicago International Film Festival- Ebert Director Awards, and the Columbia College Links Journalism Awards in conjunction with the Chicago Urban League. Her mission: to encourage more Forgiveness, Empathy, Compassion and Kindness (FECK) in the world. She is a member of the African-American Film Critics Association, the Chicago Film Critics Association and the Alliance of Women Film Journalists.
Featured Essay: Introduction to Women Writers Week 2021
Republished Essay: I Would Like to Introduce the 101-Year-Old Man to the 102-Year-Old Woman
LAURA EMERICK
Currently digital content editor for the Chicago Symphony Orchestra, Laura Emerick spent most of her career at the Chicago Sun-Times, where she was arts editor, movies editor and the primary editor for 20 years of Roger Ebert.
A member of the Alliance of Women Film Journalists, she continues to write about film (and other genres, including Latin music) for various outlets.
Featured Essay: Let's Start Talking: On the Powerful a Concerto is a Conversation
CRISTINA ESCOBAR
A writer and activist, Cristina Escobar is the co-founder of latinamedia.co, uplifting Latina and gender non-conforming Latinx perspectives in media. A rehabilitated English major, she's a member of the Latino Entertainment Journalists Association and writes at the intersection of race, gender, and pop culture. Her words can be found in Glamour, Latino Rebels, Remezcla, Shondaland, and lost grocery lists.
Finally and most importantly, her abuelita made the best tamales this world has ever seen. You can follow her on Twitter and Instagram: @cescobarandrade.
Featured Review: Isabel
MARYA E. GATES
A native of California and of the internet, Marya E. Gates graduated with a degree in Comparative Literature and French Literature from U.C. Berkeley and an MFA in Screenwriting from the Academy of Art University. She has worked in editorial and social media for Warner Archive Collection, Rotten Tomatoes, Turner Classic Movies, FilmStruck, and NetflixFilm.
She is the creator of #Noirvember and #AYearWithWomen. Her specialties include women directors (past, present, future), film noir, silent film, and classic Japanese cinema. She's seen over 7,500 films—and has the receipts to prove it.
Featured Essay: Updating a Year with Women
ROXANA HADADI
Roxana Hadadi is a pop culture writer and film critic with particular interests in feminism, labor and class, and Middle Eastern representation. Her work can be found at Pajiba, The A.V. Club, Chesapeake Family, Bright Wall/Dark Room, and other publications.
She is a member of the Washington DC Area Film Critics Association, the Online Film Critics Society, and the Alliance of Women Film Journalists, and is a Tomatometer-approved critic on Rotten Tomatoes. She holds an MA in literature and lives outside Baltimore, Md. You can follow her on Twitter at @roxana_hadadi.
Featured Reviews: The Inheritance, Sophie Jones
Republished Review: The White Tiger
Featured Interview: Meet the Writers: Roxana Hadadi
Featured Essay: The Energy Can't Last: On the Grimy American Fringes of Jeremy Saulnier
Republished Essay: 'I Am Shiva, the God of Death': On the Deserved Anger of 'Michael Clayton'
JOYCE KULHAWIK
Joyce Kulhawik, best known as the Emmy Award-winning Arts & Entertainment Critic for CBS-Boston (WBZ-TV 1981-2008), has covered local and national events from Boston and Broadway to Hollywood, reporting live from the Oscars, the Emmys, and The Grammys. Kulhawik is currently President of the Boston Theater Critics Association, a member of the Boston Society of Film Critics, and the Boston Online Film Critics Association.
Nationally, Kulhawik has co-hosted syndicated movie review programs with Roger Ebert and Leonard Maltin. She regularly lectures on film, and annually judges the "48 Hour Film Fest" in Boston. Look for her reviews at JoycesChoices.com.
Featured Essay: The Queen's Gambit: On and Off the Board
TOMRIS LAFFLY
Tomris Laffly is a freelance film writer and film critic based in New York. She regularly contributes to Time Out New York, Film Journal International, Film School Rejects and RogerEbert.com, and her byline has appeared in Indiewire, Variety and Vulture, among other outlets.
She has a special interest in the awards season and women in film, covers various film festivals throughout the year including New York Film Festival, Sundance and Telluride and tweets from @TomiLaffly.
Featured Reviews: Come True, My Salinger Year
Republished Review: The Invisible Man
CHRISTY LEMIRE
Christy Lemire is a longtime film critic who is proud to have her work appear at RogerEbert.com. She co-hosts the podcast "Breakfast All Day" and is a regular critic for shows on both of Los Angeles' NPR stations: KPCC's "FilmWeek" and KCRW's "Press Play With Madeleine Brand." She's also a correspondent for the arts and entertainment show "The SoCal Scene" on Spectrum News 1.
A third-generation Los Angeles native, she is a member of the LA Film Critics Association and the Broadcast Film Critics Association. You can find Christy's writing at ChristyLemire.com. She's also on Twitter @christylemire and on Facebook at https://www.facebook.com/christy.lemire2. Read her answers to our Movie Love Questionnaire here.
Featured Reviews: Cosmic Sin, The SpongeBob Movie: Sponge on the Run
Republished Review: Let Him Go
MARY BETH MCANDREWS
Mary Beth McAndrews is currently a Digital and Communications Specialist for the Humane Rescue Alliance, Washington, D.C.'s only open access shelter. She creates video content that highlights adoptable animals, as well as HRA's various community programs. She is also the senior editor for Much Ado About Cinema, a senior contributor for Nightmare on Film Street, and co-host of the Scarred For Life podcast. She has bylines online and in print for outlets such as Polygon, Bloody Disgusting, Bitch Mag, Daily Grindhouse, Grim Magazine, and Girls on Tops.
Previously, she worked for National Geographic and Discovery Communications in social and digital media. She received her Master's of Arts degree from the University of Chicago in 2019. While there, she focused on cinema and media studies and gender studies. When she's not writing, she's scouring the Internet for the next weird horror movie to watch or bothering her cat, Zucchini.
Featured Interview: What Dreams May Come: Julia Sarah Stone on Come True and The Mysteries of the Subconscious
Featured Essay: When Catharsis Doesn't Cut It
Republished Essays: On the Disempowerment of 'Promising Young Woman', Realizing You're Just a Fantasy in 'I'm Thinking of Ending Things'
NELL MINOW, Assistant Editor of RogerEbert.com
Nell Minow reviews movies and DVDs each week as The Movie Mom online and on radio stations across the US. She is the author of The Movie Mom's Guide to Family Movies and 101 Must-See Movie Moments.
Her articles have appeared in the Chicago Tribune, the Chicago Sun-Times, the Kansas City Star, USA Today, Family Fun, Daughters, Parents, and three editions of The Practical Guide to Practically Everything. She has been profiled in the New York Times, the Economist, Forbes, the Chicago Tribune, Working Woman, CFO Magazine, the Ladies Home Journal, Washingtonian Magazine, and the Chicago Sun Times, and has appeared as The Movie Mom on CBS This Morning, Fox Morning News, NPR, and CNN. She is the founder of Miniver Press, a publishing company specializing in non-fiction ebooks and print books about the arts, music, sports, history, and culture. She is a graduate of Sarah Lawrence College and the University of Chicago Law School and her wonderful husband allows her to have a "10 best movie" list with 20 movies on it.
Featured Reviews: Martha: A Picture Story, Sometime Other Than Now, Yes Day
Republished Review: Clouds
Featured Interview: Empowered and Joyful: Alicia Pascual-Peña and Hadley Robinson on Moxie
Featured Essays: Introduction to Women Writers Week 2021, 19 Films That Celebrate the Art of Female Friendship
FARRAN SMITH NEHME
Farran Smith Nehme has written about film and film history for Sight & Sound, the New York Post, Barron's, the Wall Street Journal, Noir City, Criterion, Film Comment, and the Village Voice, as well as for her blog, Self-Styled Siren.
Her novel Missing Reels, about the search for a lost silent movie, was published in 2014.
Featured Essay: Two by Louis Valray: La Belle de Nuit and Escale
ABBY OLCESE
Abby Olcese is a film critic and writer based in Kansas City, where she is the film editor for The Pitch Magazine. Abby is a regular contributor to RogerEbert.com, /Film and Crooked Marquee, as well as Sojourners Magazine and Think Christian, where she writes about the intersection of popular culture and spirituality.
Republished Essays: Everlasting Arms: The Sustained Power of 'The Night of the Hunter', Getting to the Heart of America in David Lynch's 'The Straight Story'
SHEILA O'MALLEY
Sheila O'Malley received a BFA in Theatre from the University of Rhode Island and a Master's in Acting from the Actors Studio MFA Program. Along with Rogerebert.com, her work has also appeared in Film Comment, The Dissolve, Masters of Cinema, Movie Mezzanine, Flavorwire, Capital New York, Fandor, Press Play, and Bright Wall/Dark Room. She has contributed video and print essays for various releases from The Criterion Collection.
O'Malley wrote the narration (read by Angelina Jolie) for the Governors Awards Lifetime Achievement tribute reel to legendary actress Gena Rowlands. O'Malley also wrote the narration for the Governors Awards tribute to editor Anne Coates, played at the 2016 Governors Awards. O'Malley writes about actors, movies, and Elvis Presley at her personal site, The Sheila Variations. A short film she wrote, "July and Half of August," premiered at the 2016 Albuquerque Film and Music Experience. Read her answers to our Movie Love Questionnaire here.
Featured Reviews: Center Stage, Cherry, Lucky, Moxie
CARLA RENATA
Carla Renata aka The Curvy Film Critic is a graduate of Howard University and named one of 2018's Underrepresented Critics of Color by the Los Angeles Times. Her reviews, articles and/or op-ed's have been featured at AAFCA.com, Ebony.com, NPR.org, her own site The Curvy Film Critic, ET Live! Maltin on Movies, RogerEbert.com, as well as Shadow and Act, EUR Web, FOX 11-LA and Variety. She is a highly sought after host/moderator who had the privilege to host an evening of The Black Experience on Film for Turner Classic Movies sponsored by AAFCA, Q&A's for Bentonville Film Festival, Netflix, SAG-AFTRA, American Cinematheque, Lionsgate, Film Independent and more
Being a proud member of AAFCA (African American Film Critics Association), (OAFFC) The Online Association of Female Film Critics, (AWFJ) Alliance of Female Journalists, Tomatometer approved critic on Rotten Tomatoes and a member of (CCA) Critics Choice Association.
The Curvy Critic with Carla Renata streams LIVE every Sunday 5pm PST via YouTube featuring reviews, news and interviews with stars in front and behind the camera.
Featured Essay: Why Are Women Dissed and Dismissed in Our Industry
ALLISON SHOEMAKER
Allison Shoemaker is a freelance film and television critic based in Chicago. A member of the Chicago Film Critics Association, Allison's work can be found at The AV Club, Comic Book Resources, and at Consequence of Sound, where she's a Senior Film and Television Writer.
You can hear her on the podcasts TV Party, Debating Doctor Who, and Podlander Drunkcast: an Outlander Podcast, and you can heckle her on Twitter @allisonshoe.
Republished Review: The Queen's Gambit
JUSTINE SMITH
Justine Smith is a freelance writer based in Montreal, QC. Aside from Roger Ebert, she's contributed to The National Post, Hyperallergic, Cult MTL and Little White Lies. She is the Vice-President of the Quebec Critic's Association (AQCC).
Featured Review: Still Life in Lodz
WHITNEY SPENCER
Whitney Spencer is a native of Louisville, Kentucky but has called Chicago home for the last six years. She is a writer, educator, and visual storyteller who believes deeply in the power of story to engage and organize communities. As the current Marketing and Distribution Associate for the documentary powerhouse Kartemquin Films, Whitney lives for the process of discovery that brings both narrative and documentary film to life.
In her work, she enjoys the creative action needed to translate that into strategy and insight. Whitney was a 2019 Roger Ebert Sundance Fellow, a 2018 TEDxDePaul University speaker, and a timeless lover of healthy debate on the best television series of all-time.
Republished Essay: 22 Years Later, Kasi Lemmons' 'Eve's Bayou' is Still Making an Impact
KATHERINE TULICH
Katherine Tulich began her career in Australia, writing film reviews and features for the country's leading newspapers and was the Australian correspondent for the Hollywood Reporter and Entertainment Weekly. She is a well known radio and TV personality working for the Seven Network Australia and the Australian Broadcasting Corporation (ABC). Based in the US for the past ten years she has contributed regularly to Los Angeles Times, Variety and Washington Post.
Appearing on the renowned "At the Movies" TV show as a guest host filling in for Roger Ebert, she is now a contributor for his ongoing site, rogerebert.com. She has served as a judge on numerous film festivals around the world including Toronto, Chicago, Seattle and Palm Springs. Katherine is a member of the Film Critics Circle of Australia (FCCA), the prestigious FIPRESCI (International board of film critics) and the Hollywood Foreign Press Association (HFPA) as a voting member of the Golden Globes.
Republished Interview: Video Interview: Greta Gerwig, Saoirse Ronan on 'Little Women'
SARAH WELCH-LARSON
Sarah Welch-Larson writes about aesthetics of science fiction and character-driven narratives in film. She is interested in feminist theory and theology, and in stories about agency and creation, particularly regarding cyborgs and androids. She lives in Chicago with her husband, their dog, and about two dozen houseplants.
Featured Essay: Book Excerpt: Becoming Alien: The Beginning and End of Evil in Science Fiction's Most Idiosyncratic Film Franchise
SUSAN WLOSZCZYNA
Susan Wloszczyna spent much of her nearly 30 years at USA TODAY as a senior entertainment reporter doing her dream job: Visiting the New Zealand film set of "The Lord of the Rings," being a zombie extra in George Romero's "Land of the Dead" and interviewing countless show biz figures including icons (Vincent Price, Shirley Temple, Peter O'Toole, Mr. Rogers), A-list stars (George Clooney, Julia Roberts, Meryl Streep, Tom Hanks, Will Smith, Sandra Bullock, Denzel Washington) and big-name filmmakers (Steven Spielberg, George Lucas, Martin Scorsese, Jane Campion, Nancy Meyers, Spike Lee, Wes Anderson and Alexander Payne).
Her positions at the newspaper included being a film reviewer for twelve years as well as the Life section copy desk chief. Now unchained from the grind of daily journalism, she is ready to view the world of movies with fresh eyes.
Featured Essay: Five Female Directors Who Made Waves in 2020, Five Unforgettable Actress Newcomers of 2020