Updating a Year with Women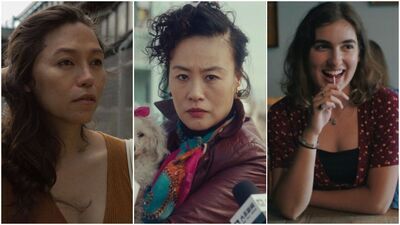 In 2015, I spent the entire year only watching films directed by women. In the year prior, I discovered the works of Susan Seidelman and was flummoxed as to why I hadn't seen her movies discussed in the same way as the work of many of her male peers. About a year before that, I watched two documentaries, Judy Chaikin's "The Girls In The Band" and Sini Anderson's "The Punk Singer," both films directed by women about women in the music industry. These documentaries pushed me to reexamine my own blind spots and consider how and why a voracious movie watcher, such as myself, had those blind spots to begin with. I began to see how so many of the lists I had used to guide my film journey as a young cinephile were completely male-centric. I noticed how most of the big films that were talked about by media outlets were male-centric. So, my year-long project was both a palette cleanser in response to having become increasingly frustrated with the films I was watching, but more so a challenge and a protest. I wanted to show that it could be done.
When I started the project, there were several people who expressed doubt I would be able to find enough films directed by women to fill an entire year. They were wrong. Before I started, I found over 100 films directed by women available on various streaming services alone. Between those and new releases, I determined I could find enough films to fill out a whole year. In fact, I watched over 300 films directed by women that year. It was doable.
In that year I did not watch any of the films nominated for Best Picture at the Oscars, as all eight of them were helmed by men. In fact, there were very few films directed by women nominated for any Academy Awards that year besides Deniz Gamze Ergüven's "Mustang" in the Best Foreign Language Film category and Liz Garbus' "What Happened, Miss Simone?" in the documentary category. Both lost. Currently, there are three movies directed by women that are frontrunners during this year's awards season: Chloé Zhao's "Nomadland," Emerald Fennell's "Promising Young Woman," and Regina King's "One Night In Miami." There have been plenty of films released in the six years since I started my A Year with Women project that should have also had the honor. Greta Gerwig has had both "Lady Bird" and "Little Women" nominated in multiple categories. But what about the films of Marielle Heller, Lynne Ramsay, Debra Granik? Baby steps, I guess.
What else did I skip in 2015? Blockbuster comic book adaptations. There was nary a female director to be found in the bunch six years ago. Since then, Patty Jenkins has tackled two Wonder Woman films; Anna Boden co-directed a Captain Marvel film, Gina Prince-Bythewood helmed "The Old Guard," and Cathy Yan partnered with producer/star Margot Robbie on the solo Harley Quinn film "Birds of Prey." And that's just the beginning. Soon we'll have three more superhero movies directed by women: Cate Shortland's take on "Black Widow," Chloé Zhao is shifting gears with "The Eternals," and Nia DaCosta will be helming "Captain Marvel 2."
I learned in 2015 that while many films debut in theaters only in New York and Los Angeles, they're also available to audiences on VOD. With the closure of many theaters across the country due to the ongoing pandemic, audiences have shifted greatly to VOD and lo and behold those films are still there. Each week you'll find at least one—and often many more than that—films directed by women available on VOD. For example, this March alone you can watch Jill Gevargizian's "The Stylist," Jessie Barr's "Sophie Jones," Miranda Nation's "Undertow," Jasmila Žbanić's "Quo Vadis, Aida?," Elizabeth Lo's "Stray," Livi Zheng's "Insight," Zoé Wittock's "Jumbo," and more. While inequality in distribution remains a pressing issue for films directed by women, the normalization of VOD and virtual cinemas could promote positive change, as audiences may be less likely to pre-judge these films based on their direct-to-video status.
Another huge change that has occurred is the landscape of direct-to-streaming films. In 2015, Netflix had just begun releasing movies as a studio and one of the few helmed by a woman was Liz Garbus' "What Happened, Miss Simone?". In the years since, they've become one of the biggest employers of female directors, from awards contenders like Dee Rees' "Mudbound" and Tamara Jenkins' "Private Life," to their clean teen slate from development executive Naketha Mattocks, in which every single film has been directed by a woman. Netflix is also the streaming home of Ava DuVernay's ARRAY, which is dedicated to distributing movies by people of color, including Deepa Mehta's "Funny Boy" and Isabel Sandoval's "Lingua Franca" in 2020. Amazon Studios has put their weight behind everything from indie films like Tayarisha Poe's "Selah and the Spades" to Regina King's "One Night In Miami," while Hulu has become the streaming home for movies from Neon like Céline Sciamma's "Portrait of a Lady on Fire" and Chloé Zhao's "Nomadland." Genre filmmakers have found new audiences via Shudder, while Mubi has been picking up international fare like Dea Kulumbegashvili's "Beginning" and Cathy Yan's "Dead Pigs." Compared to where streaming distribution was at in 2015, there is now a veritable feast to be had for any kind of film lover.
But what about older films directed by women? When I first embarked on this project, I discovered many directors and films that were just impossible to find or only available in bootleg formats. For example in 2015, I watched bootleg copies of Barbara Loden's "Wanda" and Mira Nair's "Mississippi Masala" on YouTube. Since then Criterion has released "Wanda" on Blu-ray and Nair just confirmed that a new restoration of "Mississippi Masala" is on its way. Back then, Hulu had just a handful of the movies from prolific French filmmaker Agnès Varda. Now, almost her entire filmography is available on Criterion Channel. In fact, Criterion Channel is so dedicated to celebrating movies by women they highlight one on the service every Wednesday. You can find canonical classic, experimental cinema, and even short films from up-and-coming talent. While the amount of catalogue movies has declined on Netflix, the rise of obscure films like Stacy Title's "The Last Supper" or Rose Troche's "Go Fish" on sites like Tubi and PlutoTV continues to be a delight.
Along with streaming, physical releases of classic films by women have also been on the rise. In 2018, Kino released "Pioneers: First Women Filmmakers," which includes nearly 30 hours of movies directed by women from the silent era. Almost every single early film from New Hollywood pioneers like Joan Micklin Silver, Susan Seidelman, and Elaine May have been released on Blu-ray. The works of DIY filmmaker Sarah Jacobson have found a home with Vinegar Syndrome. The Criterion Collection continues to add new films by women almost every month. While there are still many films directed by women awaiting restoration and rediscovery, there sure seem to be a real shift in effort just in the last few years from these boutique home video distributors.
So, if I were to embark on this same challenge now what would the difference be? Well, I think you could very easily spend five years watching a film a day directed by a woman and you wouldn't come close to running out. The history is there and the ability to watch those gems from the past is rapidly increasing. The future is there and equality in distribution is approaching. All that's left is for audiences to make watching films directed by women a priority. Since the end of my A Year With Women project, I've had several people reach out to me to tell me how it changed their viewing habits. It made them more cognizant of their own bias and turned them into conscious consumers, actively seeking out films directed by women.
Even the industry itself has pushed new measures to combat the celluloid ceiling. In the 2021 edition of the Sundance Film Festival 50% of films included were directed by women and the festival made it easy to seek out those films. The Toronto Film Festival is coming close to reaching their goal of parity in their selections. Netflix has set up a fund to directly inspire the next generation of female creatives. Turner Classic Movies dedicated three whole months to showcasing films directed by women from around the globe. And with Chloé Zhao's "Nomadland" taking top prizes at the Golden Globes, it appears even the awards voting bodies are starting to come around too.
When I look at where the discourse is now compared to where it was six years ago, my heart is filled with hope. Not only are movies directed by women more readily available, there is a hunger for them too. While there is still a long way to go for gender parity in the industry, it has been wonderful to see more film-goers join the fight by voting with their dollars and choosing to seek out films directed by women, past and present.