Five Female Directors Who Made Waves in 2020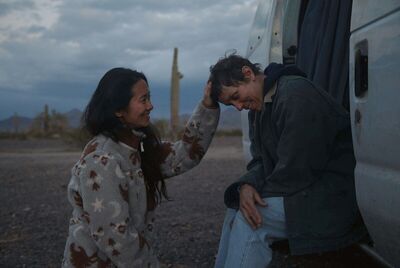 While most cinephiles would rather watch films on the big screen instead of hunkering down at home during the pandemic, there has been a lovely upside to all the diverse female talent in front of the camera as well as behind in 2020. They might not have made as much of a dent during awards season if they were up against the flashy big-budget blockbuster titles that were postponed from opening due to COVID-19. After all, it took the academy voters 82 years to finally give the directing prize to a woman director when Kathryn Bigelow won for 2009's "The Hurt Locker," and it hasn't happened again in the decade-plus since. Without so many A-level male directors competing this year, there could be a majority of women in the directing category for the first time ever.
In light of that aspect of this awards season, let's shine a spotlight on five female filmmakers whose unique talents for storytelling gave us both a lift and insight into our humanity as well as great entertainment.
Chloé Zhao ("Nomadland")
This indie director of Chinese descent uses real people and their life stories to enhance the authenticity of her fictional work. Her 2015 debut, "Songs Brothers Told Me," took place on a South Dakota reservation and focused on the bond between a Lakota Sioux brother and sister. Her second feature, "The Rider" focused on a rodeo-riding cowboy from the Badlands of South Dakota who suffers brain damage after a fall. He grows close to a temperamental bucking Bronco named Apollo, who trains and helps him heal.
With "Nomadland," Zhao recruited one of the most authentic and grounded actresses around, Frances McDormand, to play Fern, a widow who joins a band of vagabonds looking for temporary jobs after the Great Recession, while living in their RVs. Like Zhao's previous films, her lead is surrounded by real-life travelers, who celebrate the freedom and community shared by these wanderers. Ever since "Nomadland" won top prizes at the Venice and Toronto fests in September, it has been the frontrunner for Best Picture at the Oscars.
As for Zhao, she made Golden Globe history by becoming the second woman (after Barbra Streisand, who won for 1983's "Yentl") and first Asian woman to win, and is also considered the favorite in the directing category at the Academy Awards. And, this week, she made the cut for the Directors Guild of America Award. Zhao already has another achievement in the pipeline—she has joined the Marvel Cinematic Universe with her superhero thriller "The Eternals," scheduled to be released in November 2021.
Regina King ("One Night in Miami")
King, who got her start on the '80s sitcom "227" as an inner-city teen and went on to star in such '90s films as "Friday" and "Jerry Maguire," has grown into a one-woman showbiz award magnet. She won two supporting Emmys for her work on "American Crime" and won a third for "Seven Seconds." More recently, she collected a fourth Emmy for her work on "Watchmen." On top of that she won a Best Supporting Actress Oscar for her devoted mother in 2019's "If Beale Street Could Talk." Last year, after directing several TV episodes of such series as "Scandal" and "This Is Us," she made her big-screen directorial debut with this nostalgic yet relevant look at four Black male icons from the past who gather in a hotel room to celebrate the future Muhammad Ali's 1964 win over Sonny Liston.
It isn't easy to bring a talk-a-thon four-hander to life. But King assembled a charismatic team of actors to bring alive such legends, namely Eli Goree as Muhammad Ali, Aldis Hodge as NFL player and soon-to-be cinematic action hero Jim Brown, Kingsley Ben-Adir as human rights activist Malcolm X, and Leslie Odom Jr. as crooner Sam Cooke. If King slips into one of Best Director slots and wins, she would be the first Black filmmaker to do so. Alas, the Directors Guild overlooked her. Here's hoping the Academy will include her on the ballot.
Emerald Fennell ("Promising Young Woman")
Like King, Fennell is making her directorial debut with this #MeToo-era dark revenge comedy with a bitter bite. It is worth noting that she was pregnant with her newborn son and in her third trimester as she called the shots. David Fincher and Aaron Sorkin should try doing that.
As for the film itself, Carey Mulligan plays Cassie, a pastel-and-posies fashion-plate barista by day and by night an avenger against slut-shaming men who take advantage of inebriated women at clubs. Her MO? She tricks guys into thinking she is drunk and allows them to pick her up and take her to their place. Just as they make a move on her to have sex, she suddenly reveals she is stone-cold sober. The reason for this avocation is to pay homage to her best friend who was a victim of a rape at a party when both of them were in medical school.
For a first-time effort, which she also wrote (and produced alongside Margot Robbie), Fennell has a wickedly fertile mind. She knows how to captivate an audience, while making a huge statement about how certain men allow themselves to take advantage of women and then turn around and blame them for what happened. Here's hoping that Fennell continues to use her feminine wiles to entertain and make a statement. She made the Directors Guild cut, and rightly so.
Kirsten Johnson ("Dick Johnson Is Dead")
Dementia has been a theme in a number of movies this awards season. Among the most notable are "The Father" with Olivia Colman and Anthony Hopkins and "Supernova" with Stanley Tucci and Colin Firth.
Kirsten Johnson, previously the cinematographer for feature-length documentaries like "Citizenfour" and "The Oath," goes on screen as a director by recruiting her dad, Richard—who suffers from memory loss—to act out imaginative fantasies that contain black humor and sometimes violence. The retired clinical psychiatrist gleefully enacts his own impending death, such as falling down a flight of stars or being struck in his neck and bleeding out. She even has him show up at his own funeral, along with a scene of him entering the gates of heaven.
At one point in a scene, he happily suggests, "You can euthanize me." Such bittersweet humor hits the spot. His actions serve as a kind of therapy as well as a bonding moment for both Dick and his daughter. For a culture that just lost a half a million victims to a terrible pandemic, this is just the right kind of dark, healing humor for a society that doesn't always handle the facts of aging and the demise of loved ones all that well. The title did make the Oscar short list, with 14 others documentaries, and is deserving of a nomination.
Eliza Hittman ("Never Rarely Sometimes Always")
Based on her three features so far, Hittman understands modern young people with empathetic realism. Her third film follows teen Autumn (Sidney Flanigan) and her cousin Skylar (Talia Ryder), who live in rural Pennsylvania, as they travel to New York City in order for Autumn to get an abortion for an unwanted pregnancy without the need for parental approval.
Such a topic couldn't be timelier considering how a certain conservative political party cares more for unborn children than they do those who struggle with poverty. But the chemistry between the two girls as they wander through the Big Apple with no place to sleep and little cash has its moments of humor, including a run-in with a combative chicken. Meanwhile, Autumn likes to sing '60s oldies like "He's Got the Power" and "Don't Let the Sun Catch You Crying."
Hittman wisely avoids being preachy with her observational storytelling, while focusing on survival, friendship, endurance, empathy, and sisterhood. Her film has been a favorite at festivals, including Sundance, where it won a Special Jury Award for Neo-Realism, and at the Berlin fest, where it won a Silver Bear Grand Jury Prize. It is up for seven honors at the Film Independent Spirit Awards, including Best Feature, Best Director, Best Actress and Best Supporting Actress. It's doubtful that it will make a big splash when Oscar noms are announced on March 15, but perhaps a Best Original Screenplay acknowledgement could be in the offing.