On the Graceful Work of Composer Emile Mosseri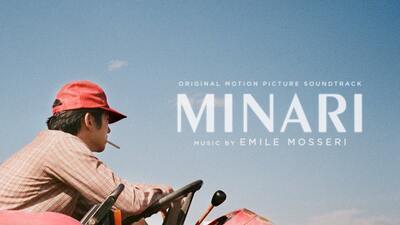 It feels like only yesterday that composer Emile Mosseri exploded onto the film music scene with his incredible score to 2019's "The Last Black Man in San Francisco," and since then his lush neo-classical style has been applied to projects on the big and small screen. His latest project, director Lee Isaac Chung's "Minari," about Korean farmers trying to make a start in the American Midwest, is tipped for big things in the award season.
But how did a young composer/indie band musician go from late-night HBO comedy to possible Oscar glory? Simply, today's film music landscape is much more democratic than in previous eras and filmmakers are eager to work with composers that have come from a rock and pop background. The idea of composers emerging from such areas is much quainter than people might think; one only needs to go from jazz legend Miles Davis scoring Louis Malle's "Elevator to the Gallows" in 1958 to industrial metallers Trent Reznor and Atticus Ross' 2010 success with "The Social Network." But while Emile Mosseri spent several years in the '10s with indie band The Dig, he had previously attended the legendary Boston institution Berklee College of Music, whose previous alumni included Howard Shore and the great Quincy Jones.
The Dig actually made their film debut in 2012, with their song "Black Water" appearing in the phone sex comedy "For A Good Time, Call…". In the same year, Mosseri contributed music to Terence Nance's film "An Oversimplification of Her Beauty," together with Oregonian musician Alex Schiff. Mosseri and Schiff scored several shorts including the 2017 award-winning "Coin Operated" before Mosseri was recruited the following year by Nance to help score his HBO sketch show "Random Acts of Flyness." Within this, Mosseri's style began to emerge, notably his powerful use of orchestration that emphasizes the emotion underneath in a way that feels antithetical to a lot of modern scoring, where it seems that producers don't want those big melodies. However, it was there that Mosseri caught the ear of director Joe Talbot, leading to Mosseri's first feature and one of the most genuinely masterful scores of recent years.
The first thing you hear in Talbot's directorial debut "The Last Black Man in San Francisco" is a woodwind, a wonderful lamenting clarinet that first appears under the furious words of a street preacher before it becomes the voice of Jimmie Fails (playing himself) as he visits his grandfather's old home, instantly capturing his melancholic mood. This is important because of the history of the instrument in Black music, where it played an important role during the infancy of jazz and the emergence of swing in the '30s and '40s, and while later seen as a dated instrument, the great Duke Ellington wrote for it throughout his career. This is Black heritage, especially as the house was built in 1946, roughly around the time when the clarinet's use became minimal. The woodwind section is no longer given prominence in mainstream scoring, but this beautiful section puts it back in the limelight.
However, Mosseri's secret weapon is in how he uses the orchestra as a potent, emotional conduit, so overwhelmingly lush and effusive, but never to the point where it unbalances the film. As Jimmie finds himself living in the house with his friend Mont (Jonathan Majors), the score continues to follow that crucial woodwind line but expands as the picture shows Jimmie and Mont achieving a modicum of happiness, celebrating their relationship as well as the film's portrayal of vulnerable Black men. Mosseri also uses a male choir that adds a gospel flavor, with director Talbot echoing that with the chorus during Mont's play and reprising it right at the climax.
Soon after, Mosseri was able to bring his considerable talent to the second season of Amazon's TV drama "Homecoming," where he built not only on his voice from "The Last Black Man in San Francisco" but also several famous score cues that director Sam Esmail had insisted on for the first season. Mosseri's work was lauded in keeping a Hollywood sound that was fully his own work, but which matched music by Bernard Herrmann and Michael Small from films such as "Vertigo" and "Klute."
Subsequently, Miranda July's "Kajillionaire" presented a different challenge for Mosseri, in having to deal with material that was more comedic and irreverent. From this, he created a bright and melodic score that has an infectious "love theme" at the center of it, with a piano riff and female vocal that makes it sound like a Nino Rota piece. Mosseri here really digs into his vocals, as soprano Theodosia Roussos hits some stunning high notes. But Mosseri also uses her vocals as a bed for a more melancholy setting, as Evan Rachel Wood's character Old Dolio realizes the disconnection between her and her parents.
This comes to a head over their inability to call her "Hon," and Mosseri scores it with a glowing cue that builds and builds until it comes to an emotional climax as she leaves, followed by an exceptional piano cue as her view on life changes after an earthquake. Mosseri is terrific at writing these life-affirming pieces that work like hyper-efficient machines in conveying emotional truth while not feeling too much, or too obvious. While the film plays out somewhat episodically, the score helps "Kajillionaire" greatly cohere into a whole.
With "Minari," Mosseri's talent feels like it has evolved to a new level. The picture is all about struggles: the struggles of building a new home, of making a business, and of maintaining a relationship. And yet Mosseri has scored Chung's film with beauty, tenderness, and a touch of idiosyncrasy. The score opens and closes with the same theme in different settings, and it washes over you, with this heavenly lullaby vocal and delicate piano, and takes you into this bucolic world of nature. There's an ethereal nature to it, just like the fragility of the American dream that Steven Yeun's Jacob is clinging on to, something that isn't tangible and can disappear in a whisper. Mosseri scores Jacob's dream in the beginning as if it were just that, and that Jacob is trying to interpret to Monica (Yeri Han) and his family what he can see in his head, with frustratingly limited results. But we can hear what is in there, a gorgeously serene cue for strings as intoxicating as the dream itself.
Related to that, Mosseri scores Jacob's clash with a dowser, mainly over how much it will cost, with an interestingly dissonant piano melody and an elemental female vocal behind it, illustrating his frustration over something unexplainable yet which is vital to his success. When he eventually does hire one and they do find water, the score reprises the beautiful music from Jacob's dream, finally realized. Mosseri also uses an exploratory variation on the main theme to score grandma Soon-ja's fractured relationship with grandson David, the resolution of which is just gorgeous as they finally bond.
There are moments in the score where it goes into darker elements, such as the stressed flutes and eerie vocals as they take David to a doctor in Oklahoma City, but they are small and almost too traditional for Mosseri to focus on. They're almost like waking moments, and while they're a necessary evil for color and theme, he doesn't linger on them enough to detract from the overall mood of the piece. And he uses vocals in a significant way through two songs in the film; the wonderful "Wind Song" and "Rain Song," both of which are sung by Han. "Wind Song" is a wonderfully upbeat guitar piece that feels almost like a prayer as it plays in the film, where Jacob and Monica are looking for water, while "Rain Song" is set to the opening main theme melody and plays over the end titles, a stunning lullaby to end the film and the dreamlike state Mosseri has placed it in.
It would be hugely deserved if Mosseri were to receive an Oscar for "Minari," with his work appearing on both music shortlists, for Best Original Score along and Best Original Song (for "Rain Song"). Mosseri's score is integral to the success of the picture and is undoubtedly going to become a film music classic if it isn't considered one already. His explosion into the scoring world is a blessing, and based on scores like "Minari," his reputation can only grow exponentially.