The SpongeBob Movie: Sponge on the Run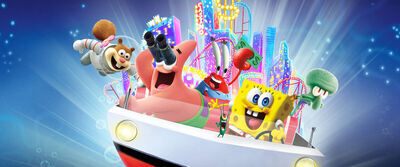 He may be absorbent and yellow and porous, but wring SpongeBob SquarePants out and he barely contains enough substance for one full-length film, much less three.
And yet, we now have "The SpongeBob Movie: Sponge on the Run," following in the sloshy footsteps of "The SpongeBob SquarePants Movie" (2004) and "The SpongeBob Movie: Sponge Out of Water" (2015). They're all fine for the littlest of kids, who likely will delight in the zany adventures and colorful animation. Voiced as always by a reliable Tom Kenny, SpongeBob is deliriously enthusiastic about everything and he's certainly pleasant company—a sunny diversion during these troubling times.
But much of what's made the "SpongeBob SquarePants" TV series such a joy over the past 20-plus years is its zippiness. These quick bursts of entertainment, with their eccentric characters, surreal energy and silly wordplay, are perfect in bite-size bits. Stretched out to 90 minutes in "Sponge on the Run," the pacing lags, the goofiness sags, and you discover over time that there's not much holding these antics together. This latest film, written and directed by "SpongeBob" veteran Tim Hill, feels especially thin, as it's actually a launching pad for "Kamp Koral: SpongeBob's Under Years." The animated series—featuring a "Muppet Babies" version of SpongeBob and his pals meeting for the first time in their youth—just happens to begin airing on Paramount+ the same day as this movie in a bit of streaming synergy.
Again, if you're a harried parent seeking some mindless happiness for your children and a little "me" time while you're stuck at home, this is a totally suitable choice for everyone involved. Far be it for me to judge. I'm right there with ya. And there are a few celebrity cameos aimed more at grown-ups' amusement. Just don't expect anything groundbreaking—although this is the first of these films to be produced entirely through CGI, so at least there's a visual slickness that's novel.
As always, SpongeBob is enjoying a blissful existence in the underwater world of Bikini Bottom, beginning each new day by cheerily greeting his pal, Patrick the starfish (Bill Fagerbakke), to the annoyance of the cranky Squidward (Rodger Bumpass). By his side is his big-eyed best friend, Gary the snail (which Kenny also voices in charming gurgles and groans), who's as loyal as he is adorable. Seriously, you will find yourself saying: "Awww …" every time he's on screen.
But one day, SpongeBob comes home from work at the Krusty Krab fast-food joint to the shocking discovery that Gary has been snail-napped. The vain King Poseidon (Matt Berry) has run out of face cream, and needs the mucus that snails like Gary provide to maintain his immaculate complexion. Naturally, the diminutive, villainous Plankton (Mr. Lawrence), rival restaurateur of Mr. Krabs (Clancy Brown), has something to do with the disappearance. In time, you, too, will be deeply saddened by the absence of Gary as it becomes increasingly obvious that he's the best part of the movie.
So SpongeBob and Patrick set off on a road trip to rescue their mollusk mate from the clutches of the conceited king. Since they can't drive, they get some help from a defective robot named Otto (voiced by an underused Awkwafina, who has a meatier role this week in Disney's glorious "Raya and the Last Dragon"). Their destination is the royal palace in the Lost City of Atlantic City: a tacky and glittering metropolis where "Livin' La Vida Loca" plays on a constant loop as you indulge your every desire. Along the way—in a mixture of live-action and animation, similar to the second "SpongeBob" movie—they encounter several colorful figures, the funniest being the head of Keanu Reeves inside a tumbleweed, leaning into his Zen persona as a sage named Sage. Appearances from Danny Trejo, Snoop Dogg, and Tiffany Haddish aren't nearly as thought-out.
But the enduring power of friendship is the force that fuels this journey, as evidenced by the lengthy summer-camp flashback that serves as a sort of "This Is Your Life" celebration of SpongeBob's kindness. It's sweet, but it's also a major detour. Still, until schools reopen nationwide—and your kids can return with their supplies stuffed inside their SpongeBob backpacks—you could end up in worse places.
Now available on Paramount+.