Home Entertainment Guide: March 2021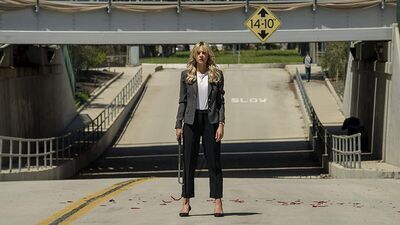 10 NEW TO NETFLIX
"Batman Begins"
"Crazy Stupid Love"
"Dances with Wolves
"The Dark Knight"
"I Am Legend"
"Jason X"
"The Pursuit of Happyness"
"Rain Man"
"Training Day"
"Two Weeks Notice"
10 NEW TO BLU-RAY/DVD
"Celine and Julie Go Boating" (Criterion)
The only thing surprising about Jacques Rivette's 1974 masterpiece joining the Criterion Collection is that it took this long. One of the most beloved films of all time, Rivette's comedy plays with the very rules of filmmaking, rewriting them in an improvisational, joyous manner. Working with his stars Juliet Berto and Dominique Labourier, Rivette created a truly collaborative gem that would become one of the most influential films of the French New Wave. The Criterion release treats the film's legacy with the respect it deserves, presenting a dense collection of supplemental material, including a two-part documentary about Rivette by Claire Denis.
Special Features
New 2K digital restoration, with uncompressed monaural soundtrack on the Blu-ray
Audio commentary from 2017 featuring critic Adrian Martin
Jacques Rivette: Le veilleur, a 1994 two-part feature documentary by Claire Denis, featuring an extensive interview with Rivette by film critic Serge Daney
New interviews with actor Bulle Ogier and producer and actor Barbet Schroeder
New conversation between critic Pacôme Thiellement and Hélène Frappat, author of Jacques Rivette, secret compris
Archival interviews with Rivette, Ogier, and actors Juliet Berto, Dominique Labourier, and Marie-France Pisier
New English subtitle translation
PLUS: An essay by critic Beatrice Loayza and a 1974 piece by Berto
Now streaming on:
---
"The Croods: New Age"
Remember the days of big animated blockbusters in movie theaters? Believe it or not, "The Croods: New Age" kind of qualified as one under the weird rules of 2020 movie-going, landing in the top ten for months for the places in the country where families felt safe going to the movie theater. And this hit film gets the kind of home Blu-ray release that usually accompanies high-budget family fare, with new short films to entice fans of the franchise and numerous other special features, including deleted scenes, a commentary, and featurettes. Modern CGI animation from major studios usually lead to some of the best Blu-ray releases in terms of A/V quality and special features, and this is no exception. I wish I liked the movie as much as some of my peers (and my kids), but this isn't about me.
Special Features
FEATURE COMMENTARY WITH DIRECTOR JOEL CRAWFORD, PRODUCER MARK SWIFT, HEAD OF STORY JANUEL MERCADO AND EDITOR JIM RYAN
DEAR DIARY: WORLD'S FIRST PRANKS – In this exclusive original short film, Eep reveals how a comical accident led her and Dawn to discover the joys of tricking their families and set about performing "the world's first pranks"
FAMILY MOVIE NIGHT: LITTLE RED BRONANA BREAD – In another exclusive original short, join the Croods as they settle down for a very prehistoric family movie night experience. With shadowy figures around every corner, Eep must keep Gran and her delicious Bronana Bread safe from punch monkeys.
GAG REEL
TO: GERARD – In this original DreamWorks animated short, an elderly man brightens the day of a little girl through magic.
DELETED SCENES
THE CROODS' FAMILY ALBUM – Meet the actors who portray the Croods and their new cast members, the Bettermans. What makes them tick, how do they resemble their characters and what lessons have they learned from making the film.
THE EVOLUTION OF… – In this fun making of, we hear from the filmmakers and stars of THE CROODS: A NEW AGE about the evolution of the Croods franchise.
HOW TO DRAW: CAVEMAN STYLE – Join one of DreamWorks talented illustrators inside the cave as they demonstrate how to draw our favorite characters.
FAMILEAF ALBUM – Inspired by the prehistoric family album given to guy by the Betterman's, we create a fun video showing you how to make your own using real leaves or green construction paper for pages and string (or even dental floss!) to hold it all together.
STONE AGE ATTACK – A three-part featurette highlighting fun, easy to make recipes that kids and parents can make together.
Now streaming on:
---
"Event Horizon"
Paul W.S. Anderson's best film remains this 1997 genre exercise in sheer terror that didn't make much of an impact when it was released, but has developed a cult following in the nearly quarter-century since. Anderson's approach to the story of a rescue mission near Neptune is like a haunted house movie in space. What if something truly evil could be found not in the creepy house down the street but at the edge of the universe? Unapologetically brutal, it's a movie that Paramount had no idea what to do with, ordering the original 130-minute cut to be heavily edited. Some vision of what "Event Horizon" could have been can be found on this Scream Factory special edition through interviews, deleted scenes, and featurettes. It's a packed release for a beloved genre film.
Special Features
BRAND NEW 4K RESTORATION OF THE FILM FROM THE ORIGINAL CAMERA NEGATIVE
NEW Reflecting on Hell – an interview with director Paul W.S. Anderson
NEW Ghost Galleon – an interview with writer Philip Eisner
NEW Organized Chaos – an interview with actress Kathleen Quinlan
NEW Compassion in Space – an interview with actor Jack Noseworthy
NEW The Doomed Captain – an interview with actor Peter Marinker
NEW Space Cathedral – an interview with production designer Joseph Bennett
NEW Something New – an interview with set decorator Crispian Sallis
NEW Taking Care of It – an interview with production manager Dusty Symonds
NEW Reinforcements – an interview with second unit director Robin Vidgeon
NEW Almost Real – an interview with location manager Derek Harrington
NEW Screams from the Cosmos – an interview with sound designer Campbell Askew
Audio Commentary with director Paul W.S. Anderson and producer Jeremy Bolt
The Making of EVENT HORIZON – a 5-part documentary
The Point of No Return – a 4-part look at the filming of EVENT HORIZON with narration by Paul W.S. Anderson
Secrets – deleted and extended scenes with director's commentary
The Unseen EVENT HORIZON – The un-filmed rescue scene and conceptual art with director's commentary
Theatrical Trailer
Video Trailer
Now streaming on:
---
"John Hughes: 5-Movie Collection"
Five films by the beloved filmmaker John Hughes are now available in a new collection that includes the first ever Blu-ray releases for "Some Kind of Wonderful" and "She's Having a Baby." Those two films join previously available films "Planes, Trains & Automobiles," "Ferris Bueller's Day Off," and "Pretty in Pink," all included here with previously available special features and HD quality. Pick your fave but mine will always be "PTA," the only film in this collection that was included in Roger Ebert's Great Movies.
Special Features
All Original Special Features on Previous Releases Plus the Following…
On "Some Kind of Wonderful"
NEW BACK TO WONDERFUL: A Conversation with director Howard Deutch
Commentary by director Howard Deutch and Lea Thompson
The Making of Some Kind of Wonderful
Meet the Cast of Some Kind of Wonderful
John Hughes Time Capsule
On "She's Having a Baby"
From the Archives: Kevin Bacon Interviews John Hughes
Theatrical Trailer
---
"The Legend of Korra"
I was relatively unfamiliar with Nickelodeon's hit animated series before the opportunity arose to cover it in this gorgeous steelbook box set. I knew it was popular and was related to "Avatar: The Last Airbender," but that's about it. The first thing a newcomer notices about "The Legend of Korra" is that it's gorgeous, especially in the HD quality of this release. The character design and world-building of this show really comes to life on Blu-ray. The storytelling can be a little cluttered for my taste, but I'm eager to keep watching this visually striking show come together, and admire the stunning packaging, which should be enough for hardcore fan to pick this one up.
Special Features
Audio Commentaries
Featurettes on Dozens of Episodes
Comic-Con Panel
---
"On-gaku: Our Sound"
GKIDS is just the best. The latest addition to their Blu-ray catalog is this Kenji Iwaisawa charmer that is technically from 2019 but received more attention stateside in late 2020 and early 2021. Based on the comics by Hiroyuki Ohashi, it's the story of a trio of delinquent young people who lack focus in life until they discover the transformative power of music. While that makes it sound cheesier than it is, this is a sweet, funny little film (only 71 minutes) that may not amount to much more than a fun time, but that's sometimes that's all you need.
Special Features
The Making of On-Gaku: Our Sound
Our Movie: Behind the Scenes
Live Musical Performance
On-Gaku (Demo)
Rock Festival Pencil Test
Short Films by Kenji Iwaisawa
Mountain
Mourning Ice Pop
Nicky
Taro Wanted to be Water
Storyboards Gallery
Trailers
Now streaming on:
---
"Promising Young Woman"
The Oscar-nominated directorial debut of Emerald Fennell was one of the most fascinating film stories of 2020. It premiered at Sundance early that year, just as COVID-19 was building up steam, and the film was forced to delay its planned April release. Unlike almost all other delays in 2020, this one likely helped the movie, which dominated the pop culture conversation right when it needed to in order to be nominated for awards. Carey Mulligan is fantastic as a woman trying to get some form of vengeance for the death of her friend. There has been phenomenal writing both pro and con regarding this film. As conflicted as I am about its success (I think maybe my three-star review out of Park City was a little high, even though I love Mulligan's work here), I love the conversation it's started. It's one of the absolutely essential films to see from 2020.
Special Features
Feature Commentary with Writer/Director Emerald Fennell
A Promising Vision – Writer/Director Emerald Fennell discusses her inspirations for writing this bold, genre-bending film.
Two-Sided Transformation – A look at why Carey Mulligan was the perfect choice to play "Cassie" and how filmmakers used wardrobe, hair, and makeup to express the balance between light and dark.
Balancing Act – Cast members discuss their unexpected reactions to the careful balance of levity and tragedy in director Emerald Fennell's take on female revenge.
Now streaming on:
---
"Rick & Morty: Seasons 1-4"
After every release of a season of the excellent "Rick & Morty," Warner Bros. packages all the current seasons together into one lower-priced release, and that's what they've done with this strong collector's edition. Should you wait until the series is done and just buy a "complete" edition then? Sure. But maybe you want the entire run of this show earlier. Who can blame you?
Special Features
SEASON ONE
Commentaries for Every Episode
Animatics for Every Episode
Behind the Scenes
Deleted Scenes
SEASON TWO
Commentaries for Every Episode
Animatics for Every Episode
Deleted Animatic Sketches
Rick and Morty Season 2 Premiere Party Featuring Chaos Chaos
SEASON THREE
Commentaries for Every Episode
Animatics for Every Episode
"Inside the Episode" for Every Episode
Exclusive "Inside the Recording Booth"
Origins of Rick and Morty Part 1 & 2
SEASON FOUR
A Day at Rick and Morty: Inside Season 4
"Inside the Episode" for Every Episode
Creating Snake Jazz
Directing Rick and Morty
Samurai and Shogun
Prop Process
Character Creation
Animation Challenges
---
"Touki Bouki" (Criterion)
Criterion has heard complaints that their collection is a bit too European and American, focusing mostly on white male directors, and they have responded by including more female filmmakers and reached to other parts of the world. That's likely how one of the reasons they chose to include 1973's "Touki Bouki," a film by Djibril Diop Mambety about life in post-independence Senegal in the early 1970s. Restored in 2008, this is a unique African story, the kind of film that one hopes Criterion (and others) continues to elevate. In an era of overwhelming streaming options, "Touki Bouki" feels like something that could easily be lost to history if not for companies like Criterion.
Special Features
2K digital transfer, restored by the Cineteca di Bologna/L'Immagine Ritrovata laboratory in association with The Film Foundation's World Cinema Project and the family of director Djibril Diop Mambéty, with uncompressed monaural soundtrack on the Blu-ray
Introduction from 2013 by The Film Foundation's founder and chair, Martin Scorsese
Interview from 2013 with filmmaker Abderrahmane Sissako
Interview program from 2012 featuring musician Wasis Diop and filmmaker Mati Diop, Mambéty's brother and niece, respectively
Contras' City, a 1968 short film by Mambéty, in a new 4K restoration by The Film Foundation's World Cinema Project and the Cineteca di Bologna
PLUS: An essay by film programmer and critic Ashley Clark
Now streaming on:
---
"Wrong Turn"
I have to admit to a healthy degree of skepticism when our very own Nick Allen praised a reboot film that was playing Fathom Events for one night in February. While I try to approach everything optimistically, let's just say horror reboots that are barely playing anywhere don't have a real strong track record. I'm happy to report that Nick is (mostly) right. While I think this one runs a little too long, it's much smarter than I expected, particularly in its scene construction that feels like it owes more of a debt to Tobe Hooper than modern horror sequel directors. This is the kind of brutal chiller that forms a fan base. It already feels like a cult hit in its own way.
Special Features
None
Now streaming on: