SXSW 2021: 12 Films We Can't Wait to See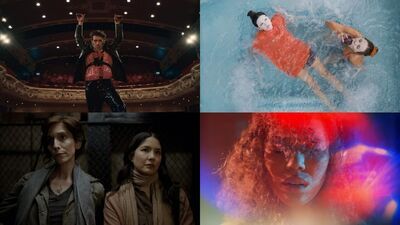 Yesterday's Oscar nominations proved that there's something to be cherished about rare moments when the big names step away from the limelight, leaving room for smaller but just as mighty filmmakers. That same dynamic carries on as 2021's virtual film festival experience goes from Sundance to Berlin to its next exciting stop, SXSW. In previous years, the Austin-based film festival would be balancing major studio movies (it's where "A Quiet Place," "Us," and "Long Shot" had their world premieres in the past) with their indie fare, one part getting far more mainstream attention than the other. In 2021, the "Headliners" are all music docs—about Demi Lovato, Tom Petty, and Charli XCX, in order of their world premieres—but there's little here that's from a major distributor; the list below is going to be full of names you are not yet familiar with, and movies that are looking for virtual audiences to support them, and for distributors to share them. For a film festival that has a history of becoming too commercial, and in turn encouraging viewers to mostly attend premieres at the city's massive, star-populated Paramount Theater, this lineup for SXSW's virtual iteration is a small cause for celebration. It's a shorter festival this year (running from Tuesday, March 16 through Saturday, March 20, with 75 features premiering), but it's just as promising.
Like the expansive festival that surrounds it—which includes music, conferences, video games, VR, and much more—the film section of SXSW honors a bit of everything. It caters to storytellers across genres and voices, building out from what is fresh and who is telling it. The movies below, highlighted using the synopses provided by SXSW, are just a sampling of what we'll be seeing and reviewing. During the festival's run, be sure to check out dispatches by myself, Abby Olcese, and Kristy Puchko.
"Alien On Stage" (United Kingdom)
Directors/Producers: Danielle Kummer, Lucy Harvey
Category: Documentary Spotlight
British bus driver's amateur stage show of Ridley Scott's "Alien," accidentally makes it to a famous London theatre! With awkward acting and special effects requiring more luck than judgement, will their homemade homage be alright on the night? (International Premiere)
"Delia Derbyshire – the Myths and the Legendary Tapes" (United Kingdom)
Director/Screenwriter: Caroline Catz, Producer: Andy Starke
Category: Visions
A portrait of the character and legacy of electronic sound pioneer Delia Derbyshire, who realized the Doctor Who theme tune in 1963 and explores the idea that this extraordinary composer lived outside of time and space as other people experience it. Featuring Caroline Catz, Cosey Fanni Tutti, Julian Rhind-tutt, Tom Meeten, Richard Glover, Saskia Reeves, Michael Higgs. (International Premiere)
"The End Of Us"
Directors/Screenwriters: Henry Loevner, Steven Kanter, Producers: Claudia Restrepo, Henry Loevner, Steven Kanter, Lovell Holder
Category: Narrative Feature Competition
After a savage breakup, two exes must continue living together when California issues its stay-at-home order for COVID-19. Now they'll try to move on without moving out. Cast List: Ben Coleman, Ali Vingiano, Derrick DeBlasis, Gadiel Del Orbe, Kate Peterman, Colin Weatherby, Caroline Kwan, Will Neff, Jesse Benjamin, Claudia Restrepo (World Premiere)
"The Fallout"
Director/Screenwriter: Megan Park, Producers: David Brown, Shaun Sanghhai, Rebecca Miller, Cara Shine, Joannie Burstein, Todd Lundbohm, Giulia Prenna
Category: Narrative Feature Competition
High schooler Vada navigates the emotional fallout she experiences in the wake of a school tragedy. Relationships with her family, friends and view of the world are forever altered. Cast List: Jenna Ortega, Maddie Ziegler, Niles Fitch, Will Ropp, Lumi Pollack, John Ortiz, Julie Bowen, Shailene Woodley (World Premiere)
Kid Candidate
Director: Jasmine Stodel, Producers: Jasmine Stodel, Chevis LaBelle, William Dorrien-Smith
Category: Documentary Feature Competition
Kid Candidate tells the story of Hayden Pedigo, a 24-year old experimental musician and his unlikely run for Amarillo city council after his Harmony Korine inspired spoof campaign video went viral. (World Premiere)
Islands (Canada)
Director/Screenwriter: Martin Edralin, Producer: Martin Edralin, Priscilla Galvez
Category: Narrative Feature Competition
Joshua, a shy Filipino immigrant on the cusp of 50, has lived in the comfort of his parents' home his entire life. With his parents now in old age, he pleads with God for a companion, terrified of being alone after they pass. Cast List: Rogelio Balagtas, Sheila Lotuaco, Esteban Comilang, Vangie Alcasid, Pablo Quiogue, Isys Szuky, Maximus Szuky (World Premiere)
"Not Going Quietly"
Director: Nicholas Bruckman, Screenwriters: Nicholas Bruckman, Amanda Roddy, Producer: Amanda Roddy
Category: Documentary Feature Competition
When a young father chances to meet a powerful senator on an airplane, their exchange goes viral, sparking one of the most unlikely political movements in a generation. (World Premiere)
"Paul Dood's Deadly Lunch Break"
Director: Nick Gillespie, Screenwriters: Brook Driver, Matt White, Nick Gillespie, Producer: Finn Bruce
Category: Narrative Spotlight
When Paul's chances of winning a national talent contest are ruined and his dreams of fame are slashed, he plans a deathly revenge rampage!! 1 lunch break, 5 spectacular murders! Each wrongdoer dispatched in a fitting manner by the sparkly suited Paul! Cast List: Tom Meeten, Katherine Parkinson, Kris Marshall, Alice Lowe, Mandeep Dhillon, Johnny Vegas, Steve Oram, Craig Parkinson, Kevin Bishop, Pippa Haywood (World Premiere)
"See You Then"
Director: Mari Walker, Screenwriters: Kristen Uno, Mari Walker, Producers: Mia Schulman, Kristen Uno, Mari Walker
Category: Narrative Spotlight
A decade after abruptly breaking up with Naomi, Kris invites her to dinner to catch-up on their complicated lives, relationships, and Kris' transition. Cast List: Pooya Mohseni, Lynn Chen, Nican Robinson, Danny Jacobs, Nikohl Boosheri (World Premiere)
"Sound Of Violence" (Finland, United States)
Director/Screenwriter: Alex Noyer, Producer: Hannu Aukia, Alex Noyer
Category: Midnighters
A young girl recovers her hearing and gains synesthetic abilities during the brutal murder of her family. Finding solace in the sounds of bodily harm, as an adult, she pursues a career in music composing her masterpiece through gruesome murders. Cast List: Jasmin Savoy Brown, Lili Simmons, James Jagger, Tessa Munro (World Premiere)
"Women is Losers"
Director/Screenwriter/Producer: Lissette Feliciano
Category: Narrative Feature Competition
In 1960s San Francisco, a once-promising catholic school girl, Celina Guerrera (Lorenza Izzo), sets out to rise above the oppression of poverty and invest in a future for herself that sets new precedents for the time. Cast List: Lorenza Izzo, Bryan Craig, Chrissie Fit, Simu Liu, Steven Bauer, Liza Weil, Cranston Johnson, Alejandra Miranda, Shalim Ortiz, Lincoln Bonilla (World Premiere)