David Fincher's Mank Leads 93rd Oscar Nominees with 10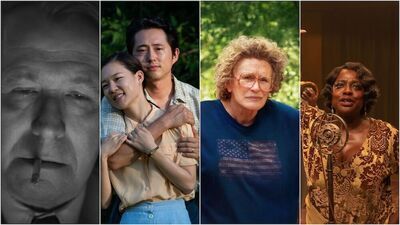 After an awards season like no other, the Academy of Motion Picture Arts and Sciences finally revealed their nominations for the 93rd Academy Awards that will that place on April 25, the latest date ever.
Leading the pack of contenders with 10 nods is Netflix's "Mank," a showbiz saga about the scripting process behind the 1941 cinematic classic "Citizen Kane." Besides Best Picture, it scored a Best Director slot for David Fincher, a Best Actor perch for Gary Oldman for his role as screenwriter Herman J. Mankiewicz, and a Best Supporting Actress nomination for Amanda Seyfried for her portrait of actress Marion Davies. It did miss out for Best Original Screenplay, which was written by Fincher's late father, Jack. But the black-and-white film swept the below-the-line categories.
In a year when streaming outlets allowed film fans and voters to shelter in place while catching up with the latest hopefuls, Netflix once again gathered the most nominations with 35 after receiving 24 last year.
Seven other Best Picture hopefuls shared second place among number of nominations with six apiece: "The Father," "Judas and the Black Messiah," "Minari," "Nomadland," "Sound of Metal," and "The Trial of the Chicago 7." "Promising Young Woman" landed five nominations. "One Night in Miami," which was snubbed in the Best Picture and directing category for actress Regina King's directorial debut, earned three bids: Leslie Odom, Jr. for his supporting role as crooner Sam Cooke; Kemp Powers for Best Adapted Screenplay; and a Best Original Songs nod for "Speak Now," sung by Odom Jr.
One film that almost shut out was Spike Lee's "Da 5 Bloods," including the under-appreciated leading man Delroy Lindo. Its lone nomination was for Terence Blanchard's score. The Netflix production came out in the mid-summer, but with a rush of recent titles taking advantage of the extra two months of qualification, it might have gotten lost in the shuffle.
Given the unusual circumstances of a year when many pricey blockbusters were put on the shelf by studios until audiences felt safe enough to go back to their local multiplexes, there was history to be made in several categories. For one, "Judas and the Black Messiah" will be the first Best Picture winner with an all-Black producing team, composed of director Shaka King, Ryan Coogler, and Charles D. King.
Meanwhile, Fincher is the only director who was previously nominated, for "The Social Network" and "The Curious Case of Benjamin Button," but has yet to win.
Also, female talent behind the camera made significant strides. Previously, only five women have competed in the directing category and only one has won, Kathryn Bigelow for 2009's "The Hurt Locker." This year, two have made the cut—Chloé Zhao, who is the first Chinese woman and female of color to be nominated in the directing category and is considered the favorite to win for "Nomadland," and British helmer Emerald Fennell in her big-screen directing debut for "Promising Young Women." Fennell also became the first woman to be up for her first film.
Zhao can also earn the title of the first woman to receive four ballot spots in the same year. Meanwhile, just as talented women monopolized this year's Grammys, a record 70 women were nominated in a single year.
As for male directors on the ballot, Danish director Thomas Vinterberg made the cut for "Another Round," which is also competing for the Best International Film category. Meanwhile, Tunisia got its first nomination in the same category with "The Man Who Sold His Skin," about a tattooed refugee who becomes an exhibit in art galleries.
A first also took place in the Best Actor competition, as two actors of Asian descent secured a spot in the line-up, Steve Yeun for "Minari" and Riz Ahmed for "Sound of Metal." Ahmed is also the first Muslim to be nominated in the category.
Viola Davis also made strides by becoming the most nominated Black actress ever with her lead role in "Ma Rainey's Black Bottom." It's also just the second time, and the first in 48 years, that two Black actresses made the lead line-up, with Andra Day ("The United States vs. Billie Holiday") also receiving a nomination for her performance as Holiday. So far, Halle Berry is the lone Black actress to win the award for 2001's "Monster Ball."
And let's give a shout-out to Glenn Close, who earned her eighth Oscar bid for her supporting role as chain-smoking, foul-mouthed and tough-love proponent Mamaw in Ron Howard's much-derided "Hillbilly Elegy," based on the 2016 memoir by J.D. Vance. But, even more notably, she will join a club with just two other members, who were up for an Academy Award and a dreaded Razzie for the same role: Amy Irving in 1983's "Yentl" and James Coco for 1981's "Only When I Laugh." If Close doesn't hook an Oscar finally, she will tie the late Peter O'Toole, who lost out on a trophy eight times.