Why Representation Won't Bring Change to the Oscars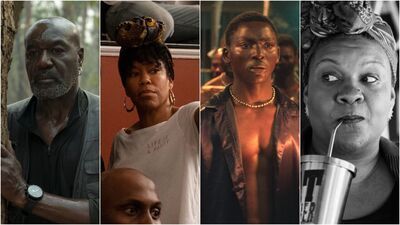 "Ma Rainey's Black Bottom." "Judas and the Black Messiah." "One Night in Miami." "The Forty-Year Old-Version." "Da 5 Bloods." "Night of the Kings." That sampling represents the Black films that held viable Oscar chances in 2021. All were highly acclaimed. At one point or another, each garnered the descriptor of "timely." During and after the summer of Black Lives Matter, some of these films steered the conversation. They were for white viewers; if you will, a reading list. And yet, when Oscar nominations were announced Monday morning, only one Black-directed film garnered a Best Picture nomination ("Judas and the Black Messiah"), one earned Best Documentary short recognition (Sophia Nahli Allison's "A Love Song for Latasha") and finally one for Best Documentary (Garrett Bradley's "Time"). None received a Best Director nod.
In this supposed "Black Cinematic Renaissance," which spans nearly a decade, only one year has witnessed more than one Black-directed film nominated for Best Picture (2018: "Black Panther" and "BlacKkKlansman"). And in the Academy's 92-year history, there have only been six Black Best Director nominees. Among them, none have been Black women, and only one film directed by a Black woman has ever received a Best Picture nomination ("Selma"). And this problem isn't just contained to Black Western films. Since 2000, only six films from Africa have received nominations for Best International Feature (Tunisia received a nod this year for "The Man Who Sold his Skin"). None have made the jump to Best Director or Best Picture.
Ever since #OscarsSoWhite, the Academy's strides with regards to diversifying its membership have of course widened while causing the number of Black nominees to multiply. And yet that change remains insulated from the Best Director and Best Picture fields.
Considering the soul-searching white people supposedly did over the summer, shouldn't more than one Black movie have received recognition for the ceremony's two biggest prizes? Shouldn't Black women like King and Blank who earned recognition from the DGA for their debut features break through?
Wasn't representation supposed to fix this? Or as Vulture critic Angelica Jade Bastién elucidates in her thought-provoking Twitter thread, is the leveraging of representation near useless in the Hollywood machine?
The Academy, as much as it says otherwise, has never been about quality (shocker, I know). Money. Narratives. Star power. These shape who lands a nomination. So it's fruitless to argue over what films, based on quality, deserve to be there. Especially when competition should not be endemic to art. These factors, however, should cause one to question the limits of representation. Can a diverse voting body make diverse decisions when a capitalistic system predicated on prejudice says otherwise?
For instance: It's telling that amid the scandals surrounding the Hollywood Foreign Press Association and their Golden Globes awards, diversity is being used as a cudgel. The HFPA, and Hollywood for that matter, want viewers to believe that the biggest issue in the organization stems from a dearth of diversity. And while there are, of course, no Black journalists as members of the HFPA, multiple allegations of corruption also have been levied against the organization. So why focus on diversity?
Because the establishment knows that an influx of Black voting members doesn't fix the systemic issue: The HFPA monetizes recognition. And no amount of representation matters if the foundation sits on the faltering ground of award bodies influencing bigger salaries and bigger budgets, while propping up its own prejudiced power structures. Now take the Oscars as an example of what happens when the earth is rotten in itself. Because if a diversified voting base, during Black Lives Matter, with a wealth of highly-acclaimed Black films to recognize, can't net out on more than one Best Picture nominee and receives zero Best Director nods, then when can it?
When do the Black veterans in a Vietnam War film, among them a Trumpian protagonist, receive higher recognition? Or what about the four Black 1960s cultural icons discussing the advancement of Black folks in a Miami Hotel room; the Black musicians (adapted from an August Wilson play) fighting for artistic autonomy; the Black woman playwright caught in the same battle for creative independence nearly 100 years later; and the storyteller in an African prison trying to survive the night? The Academy loves films about filmmaking. Except when they're Black. They love films about storytelling. Except when they're Black. And they can't get enough of black-and-white films (like this year's "Mank"). Except, ironically, when they're Black.
For now, the "there can only be one Black film" rule dominates the Academy's mindset. As does the erasure of African filmmaking. Even with prior years accumulating acclaimed filmmakers like Dee Rees, Ava DuVernay, Steve McQueen, Barry Jenkins, Jordan Peele, Spike Lee, and now Shaka King, Regina King, George C. Wolfe, Radha Blank, and Philippe Lacôte—there remains no Black Best Director winner. There remains no Black woman nominated for Best Director.
That's not a blip. It's a trend that shows no signs of abating. And while we surely will see a Black filmmaker win Best Director some day—and it's worth noting the strides Asian American and MENA talent found today—long-lasting change won't happen because of a representative voting bloc. Nor will it be because of reading lists. Or supposed soul-searching. In fact, it doesn't matter how or why it happens. Because a single win wouldn't ensure that Hollywood has entered into a post-racial era. These systems are irreparable while they're in place. They offer crumbs masquerading as solutions. They're merely redefining the status quo when radical change can only occur when there's a radical dismantling.